Watsonville High sophomore David Rocha-Vargas and freshman Katelynn Ruiz were on the outside looking in after they didn't qualify in last week's Central Coast Section Track and Field Championships semifinals.
But then they received news earlier this week that their seasons are still alive after a pair of athletes who qualified in their respective event dropped out.
The Wildcatz duo will compete alongside 13 other athletes from local schools at Saturday's CCS finals at Gilroy High School. Field events begin at 3pm and track events start at 5pm.
"I think that looks good for our program," Watsonville coach Rob Cornett said.
The future's looking bright for the young Wildcatz, who will lose 15 of their senior athletes due to graduation. Cornett said they'll be rebuilding next season but it's nice to have a pair of CCS finalists to build upon.
Rocha-Vargas will try to muscle his way to a podium finish in the discus, while Ruiz will pace herself on the track in the 3,200-meters.
The top six finishers in each event receive medals. But the top three athletes will advance to the California Interscholastic Federation State Championships at Buchanan High in Clovis.
The preliminary round begins May 27, followed by the finals May 28.
Cornett said the school is doing their best to celebrate the small victories and this is one of them.
"We're doing great things…we've got a great mindset," he said. "This push that we're doing is a great opportunity for all our sports at the high school to say 'Hey, this is what we should be doing. Participating in everything we can.'"
Other local competitors looking to qualify for a state berth is Aptos High senior sensation Elizabeth Churchill, who was already looking in championship form at last week's CCS semifinals.
She is the only local athlete—boy or girl—to compete in three different events.
Churchill had the best mark in the high jump (5 feet), and the second best finishes in the long jump (17-06) and 100 hurdles in 15.10 seconds at last week's CCS semifinals.
"This was kind of an expected thing because [Churchill's] been so consistently amazing all year," Aptos coach Zach Hewett said. "She's had a bunch of moments this year where I have been in awe of her and her competitive spirit, competitive drive."
Hewett said it'll be difficult to find another athlete in the area that's accomplishing what Churchill has done and at the level she does it in.
"I'm really hoping that she has a great day," Hewett said. "It would be cool to have her go to the state meet again in anything, but it would be super cool to have her go in everything."
Churchill has definitely put herself in that position, Hewett said.
Here's a breakdown of what's in store for Saturday evening at Gilroy High.
Field events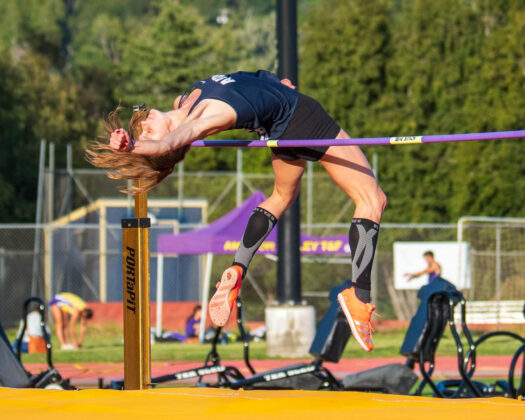 Churchill, the reigning CCS champion in the high jump, is expected to medal in both the high jump and long jump.
She set a personal record in the high jump (5-8) at the Knights Invite Meet in April, which is tied for a CCS best along with Los Gatos junior Hannah Slover.
Churchill also currently owns the best mark in the long jump (18-10.75) that she set at the CCS Top 8 Meet in Los Gatos.
"She's a pretty special, pretty incredible competitor," Hewett said.
Soquel High's Jonelle Scott has a personal record of 11-6 in the pole vault, which is significantly higher than any other competitor in the field.
Sequoia High's Abigail Goetz (11-1) is the other lone girl in the CCS to have a personal record of more than 11 feet.
Scott will need to match her personal best or come close to clearing it if she wants to repeat for back-to-back CCS championships.
The rest of the field includes Pacific Collegiate School's dynamic leaping duo of Ariel Ferrell and Katharina Guth, who can overthrow Scott for the title.
On the boys side, Ceiba College Prep senior Giovanny Melgoza will need to exceed his personal record of 12 feet if he wants to medal or advance to the CIF State preliminaries.
Monte Vista Christian senior Clayton King will attempt a run for the discus title. His personal record of 151-1 placed him third overall in last week's CCS semifinals.
King will need to repeat that performance or better if he wants a shot to advance to the CIF State preliminaries.
Rocha-Vargas snuck his way into the discus final after one of the competitors scratched his name from the event.
Cornett said he had a conversation with the coaching staff before the trials and thought who had the best chance to advance.
"In no way did we feel like David would've improved by 10 feet and gotten that spot," Cornett said. "That was exciting."
Rocha-Vargas finished with a throw of 129-02 at last week's semifinals. He improved nearly 13 feet from his Pacific Coast Athletic League Masters Meet performance and should make a run for a spot on the podium.
Track events
Churchill will attempt her trifecta in CIF State qualifying marks with a top-three finish in the 100 hurdles final. Her personal record (15.10) is the third best time in the CCS with Lynbrook High senior Alison Tjoe (15.22) right on her heels.
Aptos High sophomore Rachel Hoops qualified for the 800 final after she finished in a personal best 2:18.28, which is nearly eight seconds slower than Castilleja High junior Samira Kennedy (2:10.72).
Hoops might be one of the underdogs but she still has a great chance to advance to the CIF State preliminary round.
Hewett said he's not surprised Hoops made it this far, especially after a strong freshman season in the 400 and 800. But the coaching staff wasn't sure what direction they wanted to put their hybrid runner in.
"She's a very talented runner and there's a lot there," Hewett said.
Hewett also mentioned that Hoops has the same competitive spirit as her teammate, Churchill.
"She's got a little darkness to her in a cool way sometimes where she doesn't just want to win, she wants to go out and show out," he said.
Scotts Valley sophomore Ashlyn Boothby was dealing with a cold going into last week's semifinals, but she managed to finish with the fifth fastest mark in the 1,600 in 5:03.42.
She set a personal record in 4:52.47 at the CCS Top 8 Meet, which is three seconds slower than Castilleja junior Samira Kennedy (4:49.37)
Boothby is expected to medal and advance to the CIF State preliminaries, but a possible upset against Kennedy could be in the making.
Ruiz finished with the 13th fastest time at last week's CCS semifinals in 12:03.84, which was one spot away from qualifying.
However, Cornett broke the news to Ruiz that she was advancing to the finals after they found out one of the athletes dropped out of the race.
Cornett said he called Ruiz to congratulate her, but she knows that last week wasn't her best effort. Plus, the blistering warm temperatures were a bit daunting for her.
"The talent that was there was obviously also daunting for her," Cornett said. "I think just her getting that opportunity for a do-over, she's relishing this opportunity."
Ruiz, who won the 3,200 at the PCAL Masters Meet in 11:56.74, will need to finish faster than her personal best of 11:27.08 if she wants to medal.
She will be going up against Mitty High freshman and Santa Cruz resident Evie Marheineke, who earned a qualifying mark in 11:06.17.
St. Francis High senior Julian Vargas, who committed to compete next year at Xavier University, qualified for the 3,200 final after he finished in 9:36.86 at last week's semifinals.
Vargas will need to run near his personal best (9:14.94) in order to capture a medal. Standing in his way is York School senior Michael Julian, who has a blazing personal best finish of 09:03.85.
Other runners include Palo Alto High sophomore Grant Morgenfeld (9:08.39) and the Pretre brothers— freshman Landon and junior Justin—of Menlo High, who ran their season best of 9:10.03 and 9:08.38, respectively.
This is a fast group and Vargas should hold his own.
Another great race to watch will be the 400 dash featuring Scotts Valley High senior Sam Freeman and Santa Cruz High senior Caleb Womack.
Both runners had the best times at last week's semifinals, finishing in 49.62 and 49.73, respectively.
Freeman set a personal best at last week's CCS semis, while Womack clocked in a personal best in 49.68 at the Santa Cruz Coast Athletic League finals.
The competition ahead of them are Los Gatos High junior Will Brennan (49.51) and Menlo-Atherton senior Jeremiah Earby, who has a blazing personal record of 48.75.
Kain, who is committed to compete next year at Duke University, had the second fastest times in the 800 (1:55.84) and 1,600 (4:18.50) at last week's semifinals.
He was satisfied with his results and he believes it was very telling of what the finals could look like.
"The seed goal is always to survive and advance, just make it to the next round," he said. "These more championship-style races definitely can be a bit more strategic but I was pretty confident in my body and how I was feeling."
Kain will once again race against Nosky, who won the 1,600 at the SCCAL finals. This newly formed friendly rivalry should be fun to watch.
"Trent has only been getting better," Hewett said. "He had a good cross country season this year and that led directly into this track season."
Hewett said running against an athlete such as Kain and having that type of competition to push others is great. He said for Nosky to beat him twice this season boosted his confidence.
"He's the next in a very long line of talented distance runners that [cross country coach] Dan Gruber has guided to prominence," Hewett said.
Nosky set a personal best in 4:14.87 at the CCS Top 8 Meet in April, while Kain set a personal record in the 1,600 meters in 4:07.77 at the Arcadia Invitational.
Kain is expected to advance to the CIF state qualifiers but Nosky along with at least three other runners can crash the party.
Bellarmine senior Tanish Chettiar, who has a season best finish in 4:12.88, along with Saratoga senior Harrison Dance (4:12.12), Palo Alto junior Mateo Fessimeier (4:14.05) and Menlo junior Justin Pretre (4:12.75) will provide some serious competition for both Nosky and Kain.
Kain will have a second race about an hour later in the 800. He will need to fend off Crystal Springs High junior Furious Clay if he wants to be top dog.
*Additional reporting by Juan Reyes. All personal records mentioned in this story are from the Athletic.net website. 
CCS Track and Field Championships
| | | | | | | |
| --- | --- | --- | --- | --- | --- | --- |
| School | Name | Grade | Event | Lane | Time of Event | PR |
| PCS | Ariel Ferrell | 10 | Girls Pole Vault | | 3:00 p.m. | 9'6″ |
| Soquel | Jonelle Scott | 10 | Girls Pole Vault | | 3:00 p.m. | 11'6″ |
| PCS | Katharina Guth | 11 | Girls Pole Vault | | 3:00 p.m. | 10′ |
| Aptos | Elizabeth Churchill | 12 | Girls Long Jump | | 3:15 p.m. | 18'10.75″ |
| Aptos | Elizabeth Churchill | 12 | Girls High Jump | 7 | 3:25 p.m. | 5'8″ |
| Scotts Valley | Ashlyn Boothby | 10 | Girls 1,600 | 5 | 5:20 p.m. | 04:52.8 |
| Scotts Valley | Jeremy Kain | 12 | Boys 1,600 | 7 | 5:30 p.m. | 04:07.8 |
| Aptos | Trent Nosky | 11 | Boys 1,600 | 3 | 5:30 p.m. | 04:14.9 |
| Ceiba | Giovanny Melgoza | 12 | Boys Pole Vault | | 5:30 p.m. | 12′ |
| MVC | Clayton King | 12 | Boys Discus | | 5:35 p.m. | 151'1″ |
| Watsonville | David Rocha-Vargas | 10 | Boys Discus | | 5:35 p.m. | 129′ 2″ |
| Aptos | Elizabeth Churchill | 12 | Girls 100 Hurdles | 5 | 5:45 p.m. | 15:10 |
| Santa Cruz | Caleb Womack | 12 | Boys 400 | 5 | 6:15 p.m. | 49:68 |
| Scotts Valley | Sam Freeman | 11 | Boys 400 | 4 | 6:15 p.m. | 49:62 |
| Aptos | Rachel Hoops | 10 | Girls 800 | 7 | 6:40 p.m. | 02:18.3 |
| Scotts Valley | Jeremy Kain | 12 | Boys 800 | 2 | 6:50 p.m. | 01:53.1 |
| Watsonville | Katelynn Ruiz | 9 | Girls 3,200 | 12 | 7:35 p.m. | 11:27.1 |
| St. Francis | Julian Vargas | 12 | Boys 3,200 | 7 | 7:55 p.m. | 09:14.9 |