WATSONVILLE—When author Edward R. Weingold was only 8 years old, he was scanning through his parents' world atlas when he came across a life-changing photograph.
The graphic image showed a pile of corpses—victims of the Buchenwald concentration camp in Nazi Germany.
Weingold said he remembers his body freezing in fear.
"I was absolutely horrified," Weingold said. "I never forgot that [photo], it always stayed in the back of my mind… It was a clear image about the realities of our world."
Weingold said his interest in world history, and how it was presented through cartography, began at that moment. He dove in headfirst, soaking up as much knowledge as he could.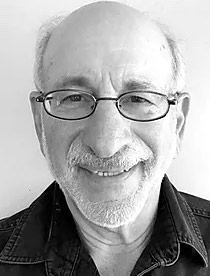 "It really was like turning over a wasp's nest," he said. "There was so much that I didn't know. There still is. The world is an incredible, but sometimes terrifying place."
Weingold published his first novel, "A Map of the World (With All Faults)" last year. The book is a culmination of lifelong study, he said, but he was finally inspired to start writing it after taking a class at Cabrillo College.
"My instructor gave us a prompt," he said. "It was: 'A map and a dream.' That set the ball rolling."
"A Map of the World (With All Faults)" focuses on a 16th-century bloodstained map that comes up for auction in San Francisco in 2016. The novel follows the map's history—from its creation to the families who owned it over its 400 years. It touches upon the Eighty Years' War, the Spanish Inquisition and the Dutch Revolt, to 20th-century anti-Semitism and the recent rise of neo-Nazis in Europe and the United States.
Weingold described the book as "a long, hard look at authoritarian and religious brutality."
Despite his interest, Weingold did not write historical fiction until later in his career. He had initially focused on comedic and character pieces, publishing short stories (including in the Porter Gulch Review and "Santa Cruz Weird") and 12 plays. He has also written and recorded a piece for First Person Singular (an NPR affiliate) and KSQD-FM.
"I feel like all of that helped me get to where I am with this book," Weingold said. "Theater especially… helped me with improvisation, with giving each character their own voice, and story structure."
"A Map of the World (With All Faults)" has already garnered glowing online reviews from Amazon and Barnes and Noble readers. Weingold will be at Kelly's Books, 1838 Main St., to discuss and sign copies Saturday from 1-3 p.m.
"I hope readers are moved," Weingold said. "I hope they are challenged to stand up and do the right thing… to rise above."
For information visit edweingold.com.