Every year Sindy Hernandez, local fashion designer and owner of Queen's Shoes, heads up two fundraisers to support local nonprofits.
Dubbed Fashion Cares, the fundraisers have amassed money for Jacob's Heart, CASA, Monarch Services and more.
"It's my way of giving back to my community," Hernandez says.
The first fundraiser typically is held in April—the anniversary month of Queen's Shoes. But this year, the outbreak of COVID-19 and subsequent closing of Hernandez's business nearly shut everything down.
But Hernandez noticed there was a growing need in her community: face masks. She began designing and producing immediately and was able to give out about 70 in the first week. Hernandez says she was expecting them to be donations, but that people wanted to return the favor.
"Suddenly they were donating money back to me… and I realized I could continue this year's Fashion Cares," she says. "That's how we came up with Masks for a Cause."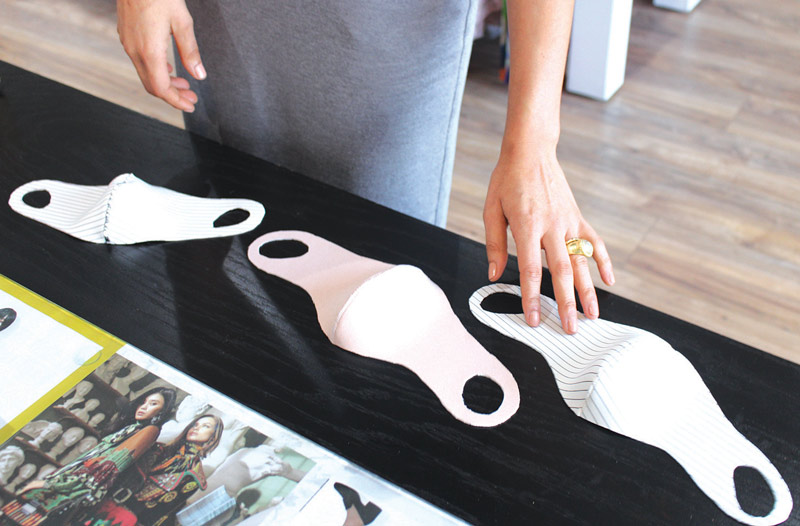 By bringing back some of her staff to sew, Masks for a Cause was able to make 885 masks to support local organization Families in Transition. And as of this week, the small group has made a total of 2,000 masks.
Hernandez says she has been experimenting with different fabrics to find the most breathable and lightweight possible. A new type of reversible mask released this week is made from an antibacterial fabric similar to wetsuit material.
"Now, because of this project, we are able to give jobs to my ladies, help an important cause, and I'll be able to pay my rent," Hernandez says. "I am so grateful and happy because just a month ago everything was uncertain."
Four years ago, Queen's Shoes and several other businesses were evicted from the Crossroads Shopping Center on Main Street. Hernandez says she would have never been able to survive without the support of her customers.
"They came together and said, 'We are here for you, we want you to stay in business.' And now I hear that again," she says. "For 13 years my customers have kept me alive."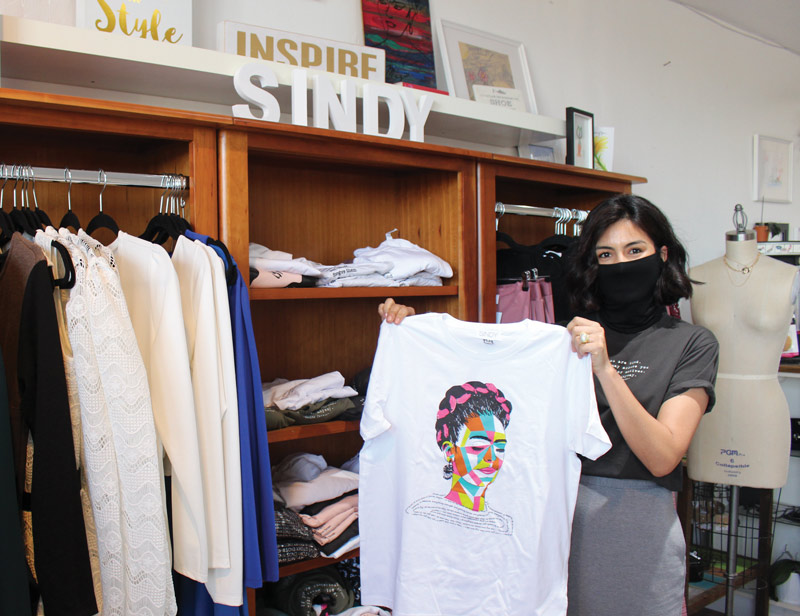 Queen's Shoes is taking online orders and shipping to anywhere in the U.S. Items including masks, shoes and Hernandez's own clothing line, named simply "Sindy," are available.
Hernandez says the most important thing to her is quality—finding comfortable, sustainable material to make clothes that last longer—and that she hopes people will start putting value into that after the COVID-19 outbreak.
"If we go back to 'normal,' all our struggles will be pointless," she says. "We shouldn't go back to normal… the way we buy fast-fashion, things we use once and throw away. We should start embracing sustainability and local talent."
For information and to order from Queen's Shoes visit queensshoes.net or follow the store on social media.