The start of the 2023 football campaign officially kicks off this weekend after weeks of summer practices and offseason workouts.
It's a fresh start for the five local teams: Aptos, Monte Vista Christian, Pajaro Valley, St. Francis and Watsonville high schools, which are set to embark on a journey full of ups and downs including joy, frustration and all-out excitement.
The Mariners return as tri-champion of the Pacific Coast Athletic League Gabilan Division and are expected to compete for a league title yet again. They also want to return to the Central Coast Section playoffs in hopes of bringing home a sixth section title in the program's history, and fifth for head coach Randy Blankenship during his tenure at Aptos.
Speaking of new starts, the Mustangs will have first-year head coach Spencer Ferrari-Wood take over the program as he tries to revitalize MVC, which has suffered back-to-back losing seasons.
The Grizzlies also welcome a new head coach in Casey Neligh who was PV's defensive coordinator last season. He will use his intense, yet fiery coaching style to a program in need of a spark.
John Ausman returns at the helm for the Sharks and he will have his players ready to go come kickoff this upcoming weekend.
Finally, the Wildcatz have an alumni and former player in Joe Gregorio—who was recently appointed interim principal of Watsonville High—take over as interim head coach and attempt to turn the program around.
Here is a breakdown of each team for the upcoming season.
Aptos High
Head coach: Randy Blankenship (14th season)
League: Pacific Coast Athletic League Gabilan Division
Last season's record: 9-3, 5-1 (Gabilan Division tri-champion)
Playoffs: CCS D-II semifinalist
Players to watch
• Phoenix Ghiglione, (Sr.): Versatile tailback that can catch and block
• Matt Hood, (Sr.): Veteran quarterback will lead this year's offense
• Lawrence Ingram IV, (Sr.): Powerful running back that is also elusive on the field
• Tyler Silverman, (Sr.): Made the switch from offensive line to tight end
• Jordan Torres, (Jr.): Speedy back that can bounce to the outside quickly
2023 football schedule
Aug. 25: Oakdale, 7:30pm
Sept. 1: vs. Mitty at Foothill College, 7:30pm
Sept. 8: at Mission College Prep, 7:30pm
Sept. 15: vs. North Salinas at Rabobank Stadium, 7:30pm
Sept. 29: Everett Alvarez*, 7:30pm
Oct. 5: at Salinas*, 7:30pm
Oct. 14: Palma*, 7:30pm
Oct. 21: at Monterey*, 2pm
Oct. 27: at Hollister*, 7:30pm
Nov. 3: Soquel*, 7:30pm
*Pacific Coast Athletic League Gabilan Division game
Monte Vista Christian
Head coach: Spencer Ferarri-Wood (1st season)
League: Pacific Coast Athletic League Mission North Division
Last season's record: 3-7, 1-5 (6th in Mission Division)
Playoffs: Did not qualify
Players to watch
• Nico Downie, (Jr.): Speedy receiver slowly emerging as one of the top targets
• Anthony Loredo, (Sr.): Expected to make a huge impact on the line with strength and speed
• Dominic Pierini, (Jr.): Young quarterback is quickly adapting to speed of the game
• Wesley Stalker, (Sr.): Powerful lineman will be anchor in the trenches
• Max Torres, (Jr.): All-around player especially on the defensive side
2023 football schedule
Aug. 26: at Los Altos, noon
Sept. 1: Santa Clara, 7:30pm
Sept. 8: Rancho San Juan, 7:30pm
Sept. 15: vs. Monterey at Monterey Peninsula College, 7pm
Sept. 22: Seaside*, 7:30pm
Sept. 29: North Monterey County*, 7:30pm
Oct. 13: at Scotts Valley*, 7:30pm
Oct. 20: Santa Cruz*, 7:30pm
Oct. 27: Watsonville*, 7:30pm
Nov. 4: at St. Francis*, 11:30am
*Pacific Coast Athletic League Mission North Division game
Pajaro Valley High
Head coach: Casey Neligh (1st season)
League: Pacific Coast Athletic League Santa Lucia Division
Last season's record: 2-8, 2-4 (5th in Santa Lucia Division)
Playoffs: Did not qualify
Players to watch
• Aron Bernabe, (Jr.): Should be a huge impact on both sides of the ball
• Brian Flores, (Jr.): Should see a lot of time as running back and defensive end
• Eddie Mendoza, (Jr.): Skilled player who continues to show daily growth
• Neo Moreno, (Sr.): An anchor on both offensive and defensive lines
• Miguel Solano, (Jr.): Taking over the offense as starting quarterback
2023 football schedule
Aug. 25: at Ripon Christian, 7:30pm
Sept. 1: at Watsonville, 7:30pm
Sept. 9: Pacific Grove, 12:30pm
Sept. 16: at St. Francis, 12:30pm
Sept. 23: at San Lorenzo Valley*, 12:30pm
Oct. 6: at Gonzales*, 7:30pm
Oct. 14: Stevenson*, 12:30pm
Oct. 20: at Harbor*, 7pm
Oct. 28: Greenfield*, 11:30am
Nov. 4: Marina*, 2pm
*Pacific Coast Athletic League Santa Lucia game
St. Francis High
Head coach: John Ausman (7th season)
League: Pacific Coast Athletic League Mission North Division
Last season's record: 9-2, 5-1 (2nd in Cypress Division)
Playoffs: CCS D-IV quarterfinalist
Players to watch
• Ben Dewig, (Sr.): Big offensive target at tight end and a ballhawk at safety on defense
• Javier Fonseca, (Jr.): Will use his baseball arm to sling the football at quarterback this year
• Markel Parker, (Sr.): A huge weapon for the Sharks at tight end and a beast at defensive end
• Pedro Ibarra, (Sr.): Speedy receiver and defensive back makes his return to the field
• Gavin Valencia, (Sr.): All-around skilled player will be busy at running back and linebacker
2023 football schedule
Aug. 25: vs. Monterey at Monterey Peninsula College, 7:30pm
Sept. 2: at Stevenson, 2pm
Sept. 9: Greenfield, noon
Sept. 16: Pajaro Valley, 12:30pm
Sept. 22: at North Monterey County*, 7:30pm
Sept. 30: at Scotts Valley*, 2pm
Oct. 7: Santa Cruz*, 12:30pm
Oct. 21: Watsonville*, 2pm
Oct. 27: at Seaside*, 7:30pm
Nov. 4: Monte Vista Christian*, 11:30am
*Pacific Coast Athletic League Mission North Division game
Watsonville High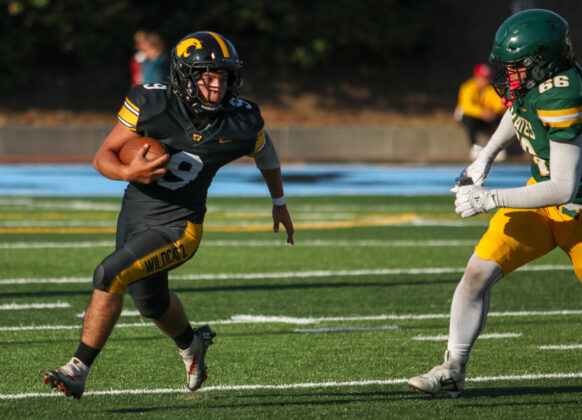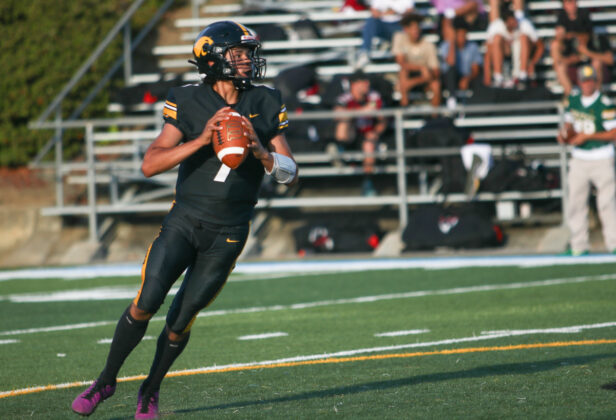 Head coach: Joe Gregorio (1st season)
League: Pacific Coast Athletic League Mission North Division
Last season's record: 2-8, 0-6 (7th in Cypress Division)
Playoffs: Did not qualify
Players to watch
• Alex Arevalo, (Jr.): Will lead the 'Catz as team's running back and middle linebacker
• Jovani Guerrero, (Sr.): Speedy receiver that could get open by zipping past defenders
• Andres Fernandez, (Sr.): Key lineman hoping to recover from leg injury that has him sidelined
• Isaac Urbina, (Sr.): Helping lead a defensive unit that switched to a 46 formation
• Marcos Villalta, (Jr.): Will wear many hats this season playing as a lineman and fullback
2023 football schedule
Aug. 26: at Carmel, 2pm
Sept. 1: Pajaro Valley, 7:30pm
Sept. 9: at Menlo School, 2pm
Sept. 14: San Lorenzo Valley, 7:30pm
Sept. 22: at Santa Cruz*, 7:30pm
Oct. 6: Scotts Valley*, 7:30pm
Oct. 13: Seaside*, 7:30pm
Oct. 21: at St. Francis*, 2pm
Oct. 27: at Monte Vista Christian*, 7:30pm
Nov. 4: North Monterey County*, 7:30pm
*Pacific Coast Athletic League Mission North Division game