With most people staying close to home during the pandemic, looking for things to do and ways to stay safe, local nurseries have seen an uptick in customers. Stay-at-home orders have prompted many to find new hobbies—and gardening has been a popular choice.
Sierra Azul Nursery & Gardens manager Alexa Rosendale said she has noticed more foot traffic through their grounds in Watsonville. The nursery, located at 2660 East Lake Ave., features a wide selection of plants from around the world, a gift shop and two acres of demonstration gardens.
"People like to come walk around, have some time outside by themselves or with family," Rosendale said. "And while they're here they usually pick something up."
Rosendale, daughter of owners Jeff and Lisa Rosendale, noted that in addition to keeping people busy, gardening also gives them the option to grow their own food, foregoing stressful trips to grocery stores or markets. And with the mostly mild winter California has had, the trend has continued into the new year.
At Sierra Azul, sales of bare root fruit trees, berries and other edibles have been increasing. Rosendale said that veggie starts in particular have been very popular.
"We sold more veggie starts in the past year than we ever had," she said. "And with the weather generally being so warm, people have been looking to winter gardening, planting things they normally wouldn't."
But sales of non-edible plants also remain strong. Protea plants, including leucadendrons, are common this time of year. Native to Australia and South Africa, the colorful plants typically bloom in the winter, and thrive in Mediterranean climates like the Central Coast.
"Natives will start blooming soon too, so people will also probably start coming in for that," Rosndale added.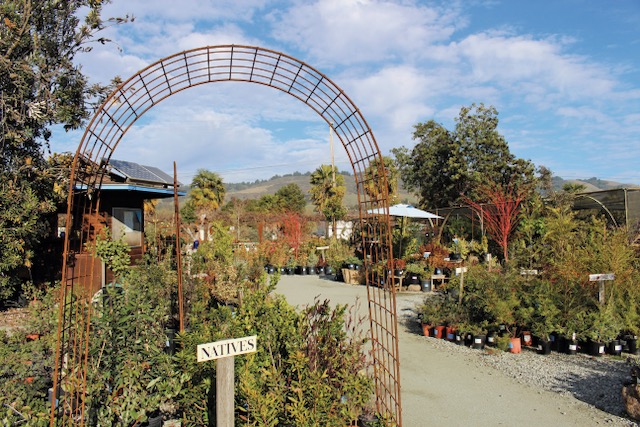 This past week, the Pajaro Valley has seen its first major rain storms since the start of the winter season. The precipitation is welcome relief from the abnormally higher temperatures in early January and dry winds that sparked more wildfires in recent days. But the region is still not in the clear, as drought remains widespread throughout California.
For this reason, many gardeners are looking for ways to save water and utilize it more efficiently. Rosendale said Sierra Azul generally focuses on plants that are "water wise," but is stocking up on them in case the drought continues. This includes herbs such as sage, and manzanita varieties.
"No matter what, we have to water, we can't change that," she said. "It's more about what we choose to grow."
At Sierra Azul, staff advise people to find ways to conserve water. This includes converting lawns to gardens and installing drip irrigation systems, which moisten roots while using less water. Mulching helps to keep an insulation layer of soil to retain moisture.
Rosendale also recommended constructing watering basins around plants, which will hold irrigation water and concentrate it over the roots.
"If it's just a flat surface, the water will run off and away from the plant," she said. "Basins help keep the water flowing where it should."
Last year, Sierra Azul celebrated its 30th anniversary. Their planned celebration had to be postponed due to the pandemic, but the nursery remains active, even holding its annual Sculpture Is exhibit with Pajaro Valley Arts.
Rosendale said she has enjoyed working at her family's business. More than just customer service, the position has let her connect with people and the plants she tends in a peaceful environment.
"I grew up here, so I always knew it was a cool place," she said. "But actually coming back and working here has made it a lot more special. Hearing everyone say how much they love to come here, and being able to work with my family. Especially during Covid, when a lot of people are separated… I feel lucky."
Sierra Azul Nursery & Gardens is open to the public daily, 10am-4:30pm. Face masks are required. For information and gardening advice, visit sierraazul.com.