GILROY—The Aptos High boys' track and field squad displayed another powerful performance to help claim the team title at the Garlic Classic Invitational at Christopher High on March 19.
The Mariners finished with a score of 66.25 in the 21-team field. Enterprise (57.5) took second, followed by Westmoor (54.5), Santa Teresa (42) and Monte Vista Christian (41).
Mariners junior Trent Nosky won the 1,600-meter in 4 minutes, 22.70 seconds. Leland senior Sami Shafi took second (4:36.92) and Monte Vista Christian junior James Ponzio was third (4:40.16).
Ponzio won the 3,200 in 10:07.86. Watsonville senior Emanuel Renteria-Garcia took fifth (11:14.38).
Aptos junior Aidan Buckler took third in both the 110 hurdles (17.56) and 300 hurdles (45.31), and teammate Rylan Sampson, a junior, won the pole vault (13-0).
Aptos senior Wade Watson won the discus with a throw of 141 feet, 2 inches, and MVC senior Clayton King (123-7) took second.
King won the shot put (43'-9"), Watson took second (43-1.5) and Mustangs senior Andrew Hendrickson took fourth (38-7).
Girls track and field
Garlic Classic Invitational: Aptos senior Elizabeth Churchill won three individual events at the 19-team Garlic Classic Invitational at Christopher High in Gilroy on March 19.
Churchill, committed to compete for UC Davis next year, won the 100 hurdles (15.81), long jump (17-2.50) and triple jump (32-6.75).
Aptos junior Brooke Willoughby won the 1,600 (5:32.10) that helped the Mariners (51 points) finish in third place in the team standings behind champion San Benito (86) and runner-up Santa Teresa (74).
Pajaro Valley's 4×100 team (sophomore Kimberly Aguirre-Orozco, freshman Ellie Moore and seniors Joceline Ortega and Aania Araiza) took third in 55.79.
The Grizzlies' Aguirre-Orozco, senior Maria Partida, Ortega, and sophomore Katie Ortega teamed up for third in the 4×400 relay in 4:59.55.
PV's junior Alexa Flores took fourth in the shot put (26-1.50).
High school baseball
Aptos 10, Harbor 0: Jack Spinelli batted 2-for-2 with a double, sacrifice fly and two RBIs for the Mariners in their win against the Pirates in Santa Cruz Coast Athletic League play Tuesday.
Senior teammate Owen Dueck batted 2-for-3 with a run scored, and Sam Chitwood was 2-for-4 with two runs scored for Aptos, which remains unbeaten at 6-0 in league play.
Dueck also got the start on the mound. He gave up four hits and two walks while striking out four batters in four innings.
Chase Aiken gave up a hit and recorded two strikeouts in one inning of work, and sophomore Jorden Espinoza recorded six strikeouts in two innings for Aptos (6-4, 6-0), which plays at Harbor (7-5, 3-3) on Friday at 4:30pm.
Aptos 6, Scotts Valley 0: A trio of Mariners' pitchers struck out a combined 17 batters in their SCCAL win against the Falcons on March 18.
Aptos senior Reed Moring, committed to play at UC Santa Barbara next year, threw for three innings, giving up one hit, no walks and recording seven strikeouts.
Gabe Gaeckle also threw for three innings, giving up two hits and two walks while recording eight strikeouts for the Mariners, and Chase Aiken threw an inning with a walk and two strikeouts.
Gaeckle batted 1-for-2 with an RBI and three runs scored, Moring had a pair of base hits and Sam Chitwood was 1-for-3 with two RBIs for Aptos.
St. Francis 10, North Salinas 0 (6 innings): Nash Horton tossed a no-hitter for the Sharks in last week's Pacific Coast Athletic League Mission Division win against the Vikings.
The freshman pitcher recorded nine strikeouts and gave up one walk in six innings of work March 18 in a game shortened by the mercy rule.
Horton was the second player for St. Francis who threw a no-hitter last week. Kai Price threw a five-inning no-hitter in a 12-1, five-inning win over the Vikings on March 16.
Horton had three hits, an RBI, and scored twice. Price had two hits, including a solo home run and two RBIs.
Joel Mendoza had a hit and three RBIs, and Dez Litel had three stolen bases, an RBI and scored twice.
The Sharks (7-1, 4-1) host Piedmont Hills (3-5) of San Jose in a non-league game Friday at 4pm.
High school softball
North Monterey County 6, St. Francis 5 (8 innings): Johana Alonzo scored the game-winning run for the Condors in their PCAL Mission Division victory against the Sharks on March 18.
Ariyah Morgan had multiple hits for NMC, and pitcher Amelia Visesio recorded 16 strikeouts en route to the win.
St. Francis senior catcher Mariah Montalvo hit a two-run home run in the seventh inning that tied the score at 5-all. She had three of the Sharks' nine hits.
The Gomez sisters, Aaliyah and Aaliysah, each had two hits. Losing pitcher Alicia Mendez gave up six runs on eight hits, with two walks and 12 strikeouts for the Sharks (5-1, 0-1), who plays Santa Catalina on Thursday at 4:30pm.
Boys golf
Aptos 195, San Lorenzo Valley 219: Vito Riccabona, a senior, shot a 34 on the back blue tees at DeLaveaga Golf Course to help the Mariners beat the Cougars in SCCAL play Tuesday.
Senior teammate Seamus Carey shot a 36, followed by sophomore Andrew Cox (41), senior Dominic DeLuca (42) and senior Patrick Mackle (42).
With the win, the Mariners improved to 2-0 in league play. They beat Harbor, 205-220, on March 17.
DeLuca shot a 37 that afternoon, followed by senior Ben Meltzer (40), Riccabona (40), Carey (44) and sophomore Andrew Cox (44).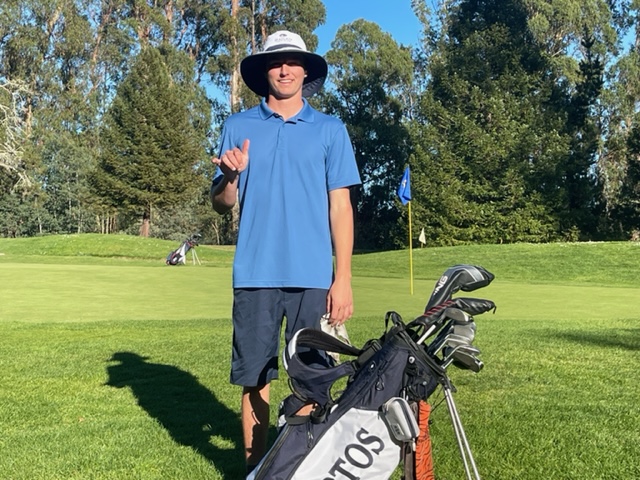 Boys tennis
Aptos 6, Scotts Valley 1: The Mariners swept in singles action in a win against the Falcons in SCCAL play Tuesday.
Koosha Safari, Bennett Biscotti, Aaron Buchanan and Heath Hegna each won their singles match for Aptos, which improved to 5-0 in league play.
The No. 1 team of John McGowan and Jack Eldredge, and No. 3 team Andrew Morrissey and Jack Taylor were victorious in their doubles match.
The No. 2 team of Sean Spencer and Nick Hambright lost their doubles match to Scotts Valley's Devin Taing and Paxton Fleming (7-6, 3-6, 10-7).
The Mariners will host Harbor on Thursday 4:30pm.
College baseball
Monterey Peninsula 6, Cabrillo 1: The Seahawks suffered their first loss in Coast Conference South Division play against the Lobos on Tuesday.
Kawana Soares batted 2-for-2 with an RBI that came on a sacrifice fly in the top of the fourth inning. Ryan Mathiesen batted 1-for-4 with a triple and a run scored.
Ian Koenig recorded three strikeouts and gave up seven hits and four earned runs in five innings for Cabrillo (11-13, 6-1), which will host MPC on Thursday at 2:30pm.
Cabrillo 12, Hartnell 8: Ryan Mathiesen batted 3-for-3 with two walks, five RBIs and three runs scored for the Seahawks in their win against the Panthers in Coast Conference South Division action March 19.
Anthony Karagiannopoulos had a hit, walk, two RBI and one run scored for Cabrillo.
Kinsal Plunkett had two hits, a walk, an RBI and two runs scored. Javier Felix had two walks and two runs scored, and Dominic Giuffre had two hits, a run and RBI.
David Eichhorn threw six innings to get the win for the Seahawks.
Boys soccer
'Catz recognized at city council meeting: The Watsonville High soccer team accepted a proclamation from Watsonville Mayor Ari Paker at Tuesday night's city council meeting.
The proclamation recognized the Wildcatz's stellar season in which they won Pacific Coast Athletic League Gabilan Division and Central Coast Section Open Division titles, and finished runner-up in the California Interscholastic Federation Northern California Regionals Division I championship.