If you've ever strolled through Pioneer Cemetery in Watsonville, you might have come across the final resting place of Charley Darkey Parkhurst, a stagecoach driver, farmer and rancher who has become a local legend since their death in 1879.
Born Charlotte Darkey Parkhurst, Charley was raised female in Vermont before running away from an orphanage at age 12 and living the rest of their life as a man. Charley found work as a stable hand and eventually became a well-respected stagecoach driver, moving to California during the Gold Rush.
After Charley lost an eye from being kicked by a horse, they were given the nickname "One-Eyed Charley."
In honor of Charley's life and legacy, a local winery recently created a new wine of the same name. El Vaquero Winery in Corralitos was looking at starting a heritage series honoring local historical figures when they learned Charley's story.
"Charley is a super interesting character," said head winemaker Alex Prikazsky. "We thought their story was really inspiring. It was super dangerous back then, being a stagecoach driver, carrying all those valuables and mail. Charley was held up by bandits at least once, and braved really awful conditions. They had routes from San Juan Bautista to Santa Cruz, San Jose to Oakland … It wasn't an easy life."
The wine features artwork depicting Charley driving a stagecoach, pulled by the skeleton horse from El Vaquero's original label. It was created by local artist and graphic designer Caitlin Richardson.
The wine itself is a Carnignane, a medium-bodied red wine that Alex described as having "a nice, bright fruit flavor … hints of raspberries, cranberry … with earthy, savory flavors." The grapes were harvested from old, head-trained vines at Sandy Lane Vineyard in Contra Costa County. Since the vineyard is right next to the Sacramento River delta, which washes away most sediment, the grapes are planted mainly in sand.
Alex says that Carignane is uncommon as a single varietal. It is usually used in blends, not on its own.
"Carignane, in the past, has gotten a bad reputation," she said. "It can be a heavy cropper, producing more fruit but not of a high quality. But because these vines are so old, in the sand, and dry farmed … they produce a higher quality grape. I was so excited to get connected with this vineyard because I've always been interested in making Carignane."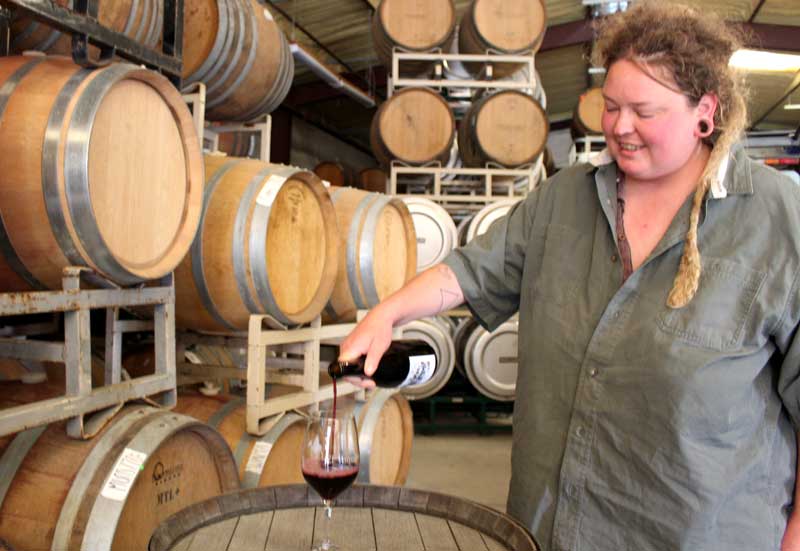 Bob Prikazsky, Alex's father who owns El Vaquero with his wife Dean, says that so far, "One-Eyed Charlie" has been a big hit with customers.
"We've been pouring it at tasting events, and a lot of people have never heard of Carignane," he said. "We poured it at the Aptos Wine Walk and ended up selling twice as much as any other wine. We were really happy about that response."
Alex said that while the wine is good, people have especially been responding to the branding.
"A lot of people in this area know about Charley, and rightfully so," she said.
After retiring from stagecoach driving, Charley retired to Watsonville, where they began farming, logging and raising chickens at an Aptos ranch. No one knew that Charley had been born a woman, or that they had once conceived a child, until they died.
Legend has it, says Prikazsky, Charley was the first person of the female sex to vote in a U.S. presidential election, at the Soquel fire station.
"They still have a plaque at the station in Charley's honor," she said. "Charley's name was on the official poll list there. However, there's no solid proof that they did or didn't vote. It's still unclear."
Bob said they've been researching other local historical figures in order to continue the heritage series. They are open to suggestions and input by customers.
"We're still searching for the next one," he said. "We keep finding semi-candidates but honestly, so far no one has compared to Charley."
El Vaquero Winery's tasting room is located at 2901 Freedom Blvd. and is open Thursday-Sunday. The winery hosts a Trivia Night every Thursday, and will soon kick off a live music series during the summer. For daily hours and updates, visit elvaquerowinery.com or call 831-607-8118.