Hundreds of spectators hid under umbrellas and embraced bags of ice to combat the sun beaming down upon them during last week's Central Coast Section Track and Field Semifinals at Gilroy High School, trying to cool off any way they could.
However, for many of the athletes competing on May 13 it was nothing but a mental obstacle in the way of securing a spot in the finals.
Monte Vista Christian senior James Ponzio was one of several dozen competitors attempting to beat the heat and earn his trip to Saturday's championships at Gilroy High.
He qualified for the 1,600 meters with the seventh best time in 4 minutes, 19.02 seconds just behind Palo Alto junior Grant Morgenfeld (4:14.77), who had the best qualifying time of the afternoon.
On top of the hot conditions, Ponzio battled throughout the season just to stay healthy. He missed four weeks due to a whooping cough and two weeks to nurse an injury.
"I knew that I had the ability to get fourth, I just had to push myself," he said. "It was definitely more of a mental battle with the heat."
Aptos senior Trent Nosky continued to prove himself to be among the premier track athletes in the area, winning the second heat of the 800 in 1:55.69.
Nosky—who also won the 800 at the Santa Cruz Coast Athletic League championship on May 5—has been dealing with injuries, as well. He tore two ligaments (ATFL and PFL) on the outside of his ankle and had to sit out for six weeks.
He's had less than a month of workouts and rehab to get back on the track, which makes his trip back to the CCS finals all that much more special.
"There's nothing but up from here," said Nosky after the SCCAL finals. "I still have lots of progress to make and I'm feeling good about it, so far."
Scotts Valley junior Mason Lantz (1:56:47) finished fourth and qualified for the CCS championship round, while MVC freshman Conor Gilliam placed 22nd in 2:03.
Those who qualified will get a chance to showcase their talents once more at Saturday's CCS finals at Gilroy High School starting at 3pm.
"I'm looking to get as low a time as possible because next week is literally my last race as a high schooler," Ponzio said.
Aptos senior Rylan Sampson came into the pole vault event seeded at just 11 feet but he qualified with a substantially higher mark of 13-0. Fellow teammate sophomore Logan Brantley placed fourth in the discus with a qualifying throw of 141-3.
Junior Mateo Calfee qualified for the high jump with a mark of 6-0 for the Mariners, who won the SCCAL Track and Field championship this season.
Watsonville High senior Adan Rivas missed the cut by six spots in the 100 after he placed 14th in 10.99 and took 16th in 22.54 in the 200, ending his tremendous career on the track.
Fellow teammate junior Ruben Mora also barely missed the qualifying mark with a 41.59 finish in the 300 hurdles.
MVC junior Trent Hendricks (51.21) took 16th and Scotts Valley senior Sam Freeman (50.35) took 12th in the 400.
Aptos senior Tosh Woods didn't qualify for the CCS finals in any of his events, yet he had possibly the most exceptional day in his career.
Woods served as the anchor leg for the 4×100 meter relay team (Wade Ellis, Aiden Buckler, Joe Mcgibbon, Woods), which set a record-setting mark of 43.42 seconds. They beat the previous record by .09 seconds.
"It's euphoric, it's incredible," Woods said. "The previous school record was held by a really fast group of guys and it's nice to break that."
It wasn't the only record Woods managed to break, as he outjumped his personal record in the long jump by leaping 20 feet, 11 1/2 inches. He missed the qualifying mark by almost two inches but it's a major improvement from his season start of 19-6.
"I've done a lot to improve," he said. "I've been working out constantly and really focusing on getting faster and all those aspects to it."
Girls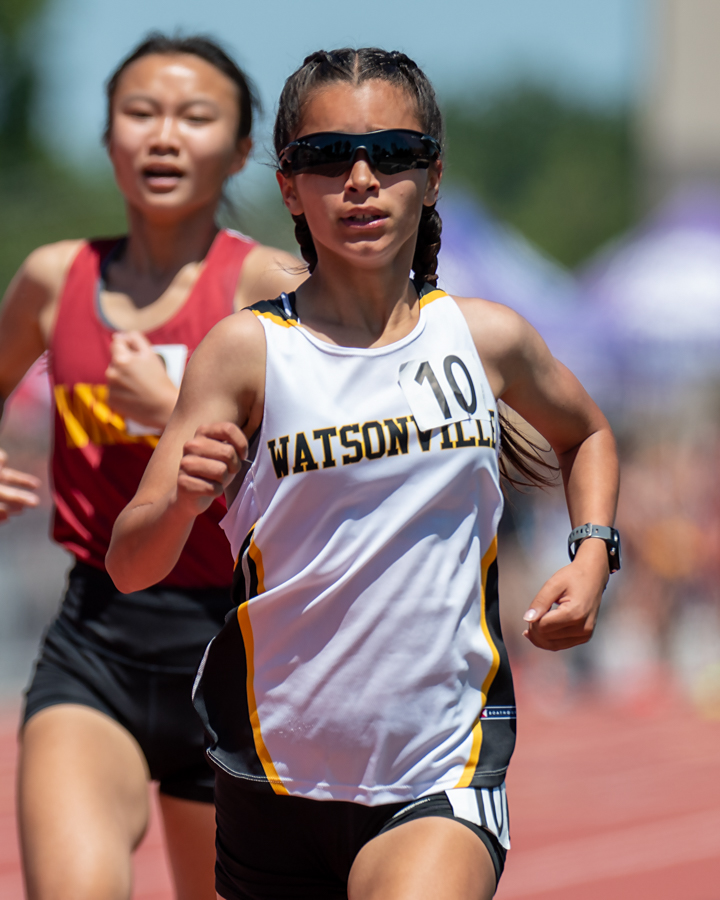 Aptos High senior Lena Manchester won her heat in the 100 meter hurdles and had the fourth fastest qualifying time of 15.26 seconds. Her goal wasn't to set a personal record but instead to focus on winning against the first group of opponents standing in her way.
"I took the win, so I'm really excited to move on to race with the girls that are faster than me," she said.
Like most of the athletes in last week's semifinals, the 80-plus degree temperatures messed with Manchester's normal warmup routine because it was already hot to begin with.
"It wasn't too bad," she said. "Sitting under the tent was a little stressful but it definitely played a big role in the way I performed."
Watsonville senior Kassandra Hernandez battled her way into the 100 hurdles semifinals but she finished in 18.13, which wasn't enough to earn her a spot into the finals.
Fellow Wildcatz teammate sophomore Katelynn Ruiz punched her ticket to the CCS finals after she finished with the 10th best qualifying time in the 3,200 meters in 11 minutes, 42.44 seconds.
Scotts Valley High junior Ashlyn Boothby (4:59.75) and San Lorenzo Valley High senior Colleen Murata (5:11.32) qualified in the 1,600, while Ruiz (5:21.21) and fellow Wildcatz teammate senior Dahlia Barranco (5:22.37) both missed the cut.
In the 800, Barranco (2:23.56) and senior Ana Ruiz (2:28.63) finished behind San Lorenzo Valley senior Kaitlin Seigle (2:21.58) for the final spot in the CCS championships.
However, a pair of runners who scratched from the 800 will allow Barranco to compete in Saturday's finals.
Scotts Valley High's Ava Decleve (57.71) had the sixth fastest time in the 400 and is the lone freshman to qualify into the finals.
In the 300 hurdles, Aptos junior Ella Shoemaker (48.24) and Monte Vista Christian senior Caelan Gilliam (48.01) finished behind Saratoga senior Jalyn Harrigan (46.67), who snatched up the final spot in the finals.
Aptos senior Brooke Willoughby finished in 12:32.00 in the 3,200 and fellow teammate junior Rachel Hoops finished in 2:24.51 in the 800.
Watsonville's 4×400 relay team (Edith Rodriguez, Ruiz, Hernandez, Barranco) had the 24th fastest time in 4:20.88.
Other standout performances that didn't qualify include Watsonville sophomore Jayleen Arredondo, who finished with a leap of 9 feet in the pole vault and was one foot away from earning a trip to the CCS finals.
Aptos freshman Kenzie Smith finished with a jump of 15-8 1/4 in the long jump, and Manchester (33-10 1/4) and junior Ava Churchill (33-04 3/4) in the triple jump.
Aptos senior Mikayla Santaella finished in the discus with a throw of 96 feet, while junior Ashley Matys' best throw was 82. Santaella had a throw of 25-10 in the shot put.
Additional reporting by sports editor Juan Reyes.