SALINAS—St. Francis High senior Julian Vargas came storming out of the gates at the sound of the pistol, looking to capture his first Pacific Coast Athletic League cross country title.
But it was York School standout senior Michael Julian who crossed the finish line first in 15 minutes, 10 seconds to win the Cypress Division race and notch the fastest time at Toro County Park on Oct. 30.
Vargas took second in 15:39 and finished second overall in a field of 178 runners from all four divisions.
"I'm a little bit disappointed. It's just one of those days where I wasn't feeling it," he said.
Vargas earned an all-league patch and extended his season with a berth at the upcoming Central Coast Section Championships.
"I want to win CCS, that's the goal," he said. "My times have proven that I can. I just gotta be mentally stronger."
Vargas said he felt fine during warmups but he also mentioned that there was something a little off prior to the race.
"[Something's] not clicking," he said.
Vargas said he felt strong in the first mile and tried to keep pace with Julian. But the first set of hills were rough on him. Vargas thought the downhills would be the easy part, but he said it's where he struggled the most.
"I don't really know why," he said. "I felt good during warmups, I just don't know why."
Sophomore Sole Ramirez stampeded past 20 runners in the last 300 meters to place 28th in 19:22, punching his ticket to the CCS finals.
Junior Santiago Ramirez (19:27; 31st), freshmen Van Ridgeway (19:49; 35th) and Phillip Kuriakose (21:13; 47th) and senior Jacques Morin (22:12; 48th) all scored for the Sharks.
St. Francis coach Ramona Young said that Vargas trained extremely hard during the offseason and teamed up with the Santa Cruz Track Club.
"I love how Division V represented in the varsity boys' race," she said. "It's fun to go against Salinas High, the big cats, and represent well even though they're small schools, still we have young athletes working hard to get better."
Marina High senior Steven Aspeitia (16:28) took third, followed by Pacific Collegiate School sophomore Spencer Koontz (16:36) and Rancho San Juan junior Jacob Duff (16:58).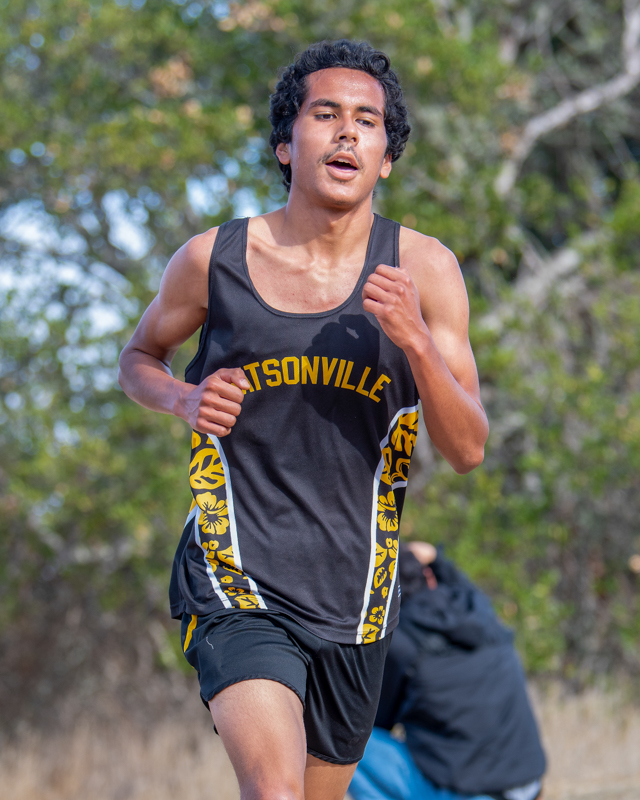 Watsonville senior Sebastian Abonce (17:20) set a personal record with a sixth-place finish for the Wildcatz.
Watsonville finished second behind Rancho San Juan, which captured the school's first-ever championship with a 60-61 win.
Soledad (81) took third. PCS (92), Monterey (111), St Francis (135) and York (152) rounded out the rest of the division.
Watsonville coach David Knight said he was proud of them for not giving up and he credits Rancho San Juan for a tremendous race.
"No one gave up, everyone ran tremendously," he said. "At the end of the day that's racing, that's sports. You win some, you lose some."
Abonce said he came out of the starting gate too fast and other runners began to pass him as they approached the first set of hills.
However, he managed to make up some ground using his downhill speed and stayed slightly behind the pack leaders.
"I stuck with three kids and they were a little bit ahead of me," Abonce said. "At the end, I used my kick and I was able to pass all three."
Senior Emanuel Renteria-Garcia (18:32; 11th), freshman Rodrigo Barranco (18:43; 13th), senior Elias Vasquez (18:49; 17th), sophomore Eli Romero (18:56; 19th), senior Danny Mata (19:06; 21st) and senior Chris Lopez (19:27; 30th) all scored for the Wildcatz. They also qualified to compete in next week's CCS Championships.
"First of all, we're going to celebrate today, live in the moment because they worked really hard to get to this point," Knight said.
Knight said they were already starting to talk about the next two weeks leading up to the CCS Championships. He added there's also the possibility for some to qualify for the CIF State Championships at Woodward Park in Fresno.
"We got a winning formula," Knight said. "We want to keep things the same, keep the ball rolling and make sure that on race day we're 100% ready to go."
Mission Division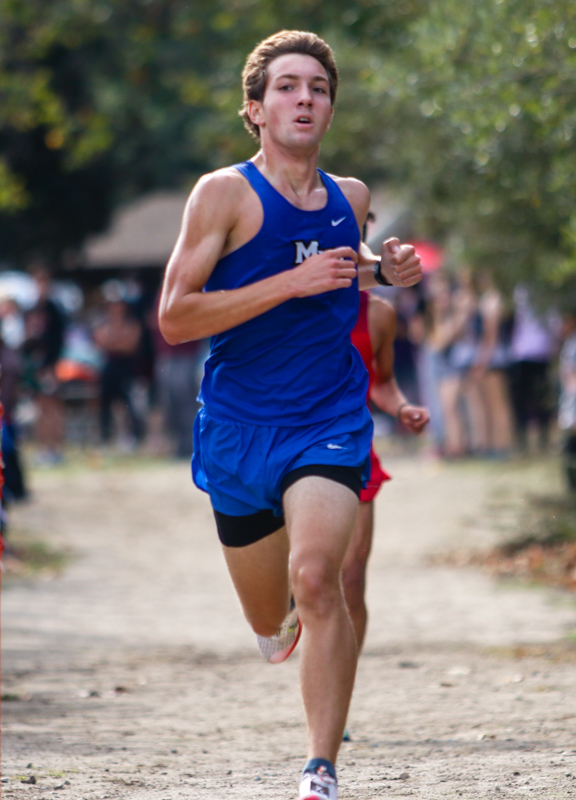 Monte Vista Christian junior James Ponzio (15:55) won the Mission Division race, finishing ahead of Gilroy High senior Nicholas Guzman (16:17) and Carmel High junior Aiden Tarantino (16:25).
Guzman won all three Mission Division Center Meets this season, with Ponzio placing third at the first two and second in their last meeting.
Junior James Rose (17:44; 14th), senior Michael Martin (17:44; 15th), junior Dominic Ursino (18:30; 28th) and senior Koen Vandenberg (18:46; 34th) also scored for the Mustangs, who took third as a team. MVC sophomore Aarush Nalawadi also finished in 18:46, placing 35th.
All season, North County Monterey County High and Carmel have gone back and forth in league center meets in the boys' division
NMC (56) bested Carmel (64), MVC (92), Gilroy (110), Everett Alvarez (113), Hollister (122), Stevenson (142), Seaside (202) and North Salinas (209) for the top spot in the division.
UP NEXT
CCS Championships
Where: Crystal Springs Cross Country Course, Belmont
When: Nov. 13 at 10am.