WATSONVILLE—A man was arrested on New Year's Eve after he allegedly stole more than $2,000 worth of equipment from Watsonville High School.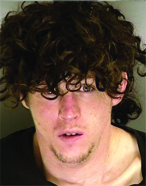 Michael Mortimer, 27, was charged with felony burglary, possession of stolen property, a probation violation and possession of drug paraphernalia. He was already on probation for burglary. He was booked into Santa Cruz County Jail in lieu of $25,000 bail, jail records showed.
Mortimer is homeless, but is from Orangevale, Calif., Watsonville Police Department spokeswoman Michelle Pulido said.
According to Pulido, officers responded to a call of a burglary in progress at the school at 250 E. Beach St.
Mortimer had already fled when they arrived, but two residents provided a description that led to his capture about a block away, Pulido said.
Mortimer was in possession of nine stolen laptops, a projector and an equipment cart when he was caught.