LIVE OAK — Santa Cruz County Sheriff's deputies on Sunday arrested a man who reportedly fired several shots into the air in the area of Winkle Drive and Soquel Avenue.
Anthony Martinez-Franco, 18, was charged with willful discharge of a firearm, possession of a firearm with an altered identification and carrying a loaded firearm in a public place. He was booked into Santa Cruz County Jail in lieu of $100,000 bail.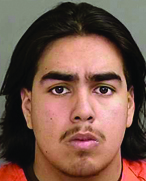 According to Sheriff's spokeswoman Ashley Keehn, deputies responded to a call of shots fired at about 3:30 p.m.
Multiple people called 911 and provided Martinez-Franco's description, and said he was seen running into Emerald Bay Apartments.
The deputies established a perimeter around the apartment complex, and found a 9mm shell casing near the intersection, Keehn said.
They later saw a suspect matching Martinez-Franco's description walking through the apartment complex and arrested him.
Deputies found a loaded handgun in Martinez-Franco's backpack matched the caliber of the casing found at the scene.
No injuries were reported.
Santa Cruz Police, California Highway Patrol and Capitola Police Department assisted in the incident.