WATSONVILLE—A man was stabbed to death early Friday morning in a rural setting east of Watsonville.
Santa Cruz County Sheriff's deputies responded to a home on the 1400 block of Green Valley Road at 2 a.m. for a report of a disturbance, Sheriff's spokeswoman Ashley Keehn said.
When deputies got to the home they found 26-year-old Christopher Keeler suffering from a stab wound. He was flown to an out of county trauma center, where he later died.
The incident marks the first homicide of the year in Santa Cruz County.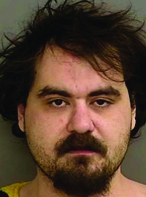 Deputies arrested his 28-year-old brother Joseph at the scene. He is facing murder charges and his bail was set at $750,000, Keehn said.
At 11 a.m. several members of the Sheriff's Crime Scene Investigation unit were combing over the property of two side-by-side, single-story homes situated at a 90-degree bend of Green Valley Road. The remote location is surrounded by older apple orchards and berry fields where vehicles saunter past about every 10 minutes.
Investigators photographed both properties extensively and were seen assembling a collection of evidence sacks and a biohazard plastic bag near the door of one of the homes. Much of their attention seemed to be focused on the back yard of one home.
Keehn said an autopsy is scheduled for Monday. Keehn said the brothers lived together at the property. The suspect does not have a criminal history in Santa Cruz County.
A knife was recovered at the scene.
Emergency dispatchers received two 911 calls about the initial disturbance.
The investigation is ongoing. Anyone with information about the case is asked to call 454-7635.