APTOS—Aptos High starting pitcher Gabe Gaeckle last week had a career day on the mound with 16 strikeouts.
The junior ace gave up two hits and one walk for the Mariners baseball team in its 10-0 smashing victory against Burlingame in non-league action March 26.
Reed Moring, who is committed to play at UC Santa Barbara next year, threw for one inning and struck out three batters. Aptos pitchers combined for 19 strikeouts in a game that ended in the sixth due to the 10-run mercy rule.
Jack Spinelli batted 3-for-4 with a double, triple and three RBIs, raising his batting average to .500 for the season.
Matt Hood was 2-for-4 with two RBIs and fellow teammate Sam Chitwood was 1-for-3 with three RBIs for Aptos, which had 11 hits as a team.
The Mariners, who have won five straight games, were coming off a 13-2 victory against Harbor in Santa Cruz Coast Athletic League play March 25.
Quinn Hocom got the start, giving up three hits and one run while striking out seven batters in four innings of work.
Chitwood threw for three innings, giving up one run and one walk while recording two strikeouts. He also batted 3-for-4 with a double, triple, three runs scored and two RBIs.
Spinelli was 2-for-2 with a walk and three RBIs, and Matt Hood was 2-for-3 with two runs scored and an RBI for Aptos (8-4, 7-0), which hosts Alvarez (0-9, 0-4) on Tuesday at 4pm.
Local games postponed: Monte Vista Christian, Pajaro Valley, St. Francis and Watsonville high schools had their games postponed Monday due to poor weather conditions.
The Wildcatz (10-2, 5-1) and Mustangs (4-4-1, 1-3) were set to square off in Pacific Coast Athletic League Mission Division action, but the game was called off due to a major water issue on MVC's campus. They are rescheduled to play Saturday at 11am.
The Grizzlies are rescheduled to play Anzar on Friday at 4pm, and the Sharks will play against Alisal on a later date and time yet to be determined.
Softball
Aptos 7, North Monterey County 1: Ada Neu recorded seven strikeouts for the Mariners in their non-league win against the Condors on March 26.
The senior pitcher gave up five hits and an earned run in the complete game victory.
Charlotte Ramirez batted 3-for-4 with a double, three RBIs and a run scored for Aptos, and Kailani Aquayo was 3-for-3 with three RBIs.
Jewels Chavez batted 2-for-4 with a double and two runs scored and Lilly McGee was 2-for-4 with a double and one run scored for the Mariners (8-5, 4-1).
Girls lacrosse
Monte Vista Christian 12, Salinas 8: Junior midfielder/attacker Courtney Miller led all scorers with six goals for the Mustangs in their PCAL Gabilan Division win over the Cowboys on March 25.
Tori Ferrante, a junior, finished with two goals and two assists for MVC, which outscored Salinas 7-3 in the second half.
The Mustangs scored the first two goals of the game and the score was tied at 5-all going into halftime.
Kyra Driscoll, a sophomore, added two assists and a goal for MVC, and fellow freshman teammate Jana Bacero Duncan had 11 saves.
The Mustangs (5-2, 1-1) had their home game against Carmel (3-1, 0-1) postponed due to a major water issue on campus. MVC will play at York (0-1, 0-1) on Thursday at 4pm.
Girls track and field
Evie Marheineke takes third at Firebird Relays: Archbishop Mitty freshman Evie Marheineke, a Santa Cruz resident, took third place in the 1,600-meter at the Firebird Relays at Fremont High School on March 26.
Marheineke will be running in both the 3,000 and the mile race at the Stanford Invitational starting on Friday. She also hit the standard for both the 3,200 and the mile for the prestigious Arcadia Invitational on April 8.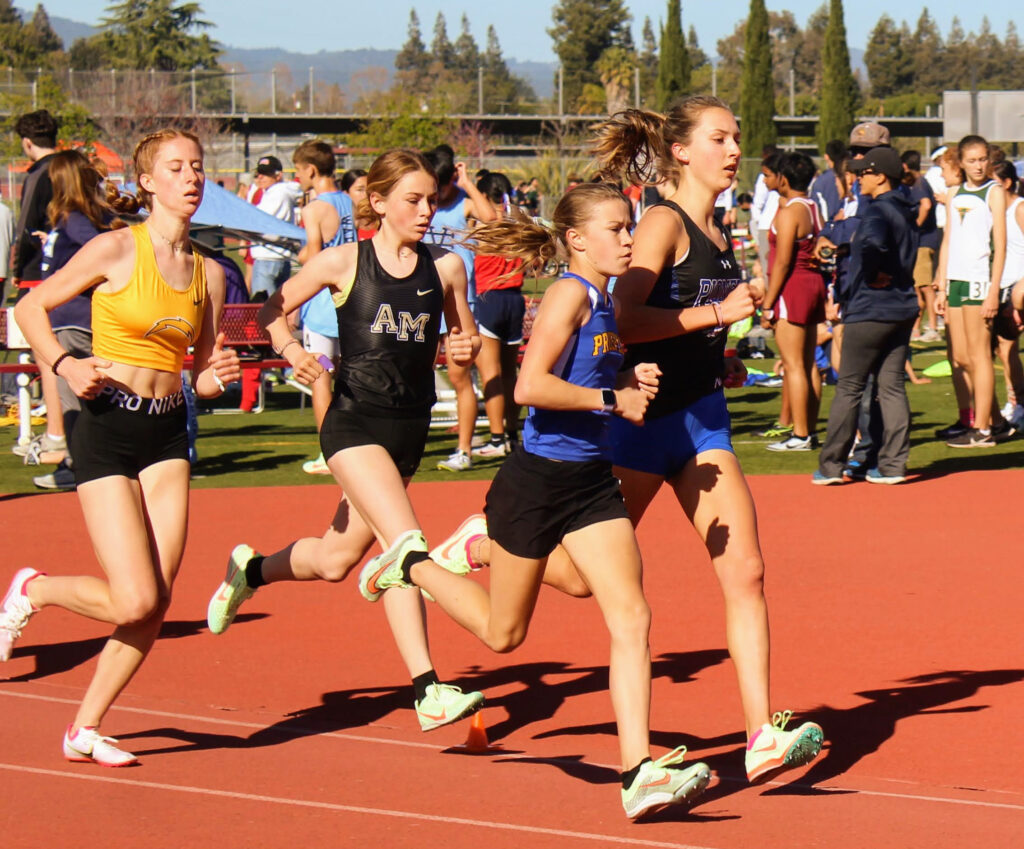 Reporting Scores
Coaches and athletic directors are encouraged to report scores and highlights to [email protected] following games. Please include your name and contact information in the email.