APTOS—The last time the Aptos High boys soccer team beat Watsonville High the Nintendo Game Boy was a hot item, "Home Alone" was the top movie and Vanilla Ice's "Ice Ice Baby" was No.1 rap song in the nation.
That was 30 years ago, but Mariners' coach Roberto Zuniga remembers it like it was yesterday. He was wearing his Wildcatz uniform when they lost that game.
On Tuesday, he was able to experience it all over again. Only this time on the winning side as the Mariners defeated the Wildcatz, 4-1, in Santa Cruz Coast Athletic League action at Trevin Dilfer Memorial Stadium.
Zuniga was still a little stunned after the game, almost in disbelief that they'd beaten one of the best programs in the state.
"We are kind of in shock just to say the least," he said. "It was a matter of the whole team working collectively as a unit and staying focused, being aggressive through the entire 80 minutes."
Aptos senior Miles Tennant said he was confident that they had the right guys on the team to beat Watsonville this season, especially after a close first meeting in April.
Watsonville won that meeting, 4-3, but the Mariners (4-0-1) didn't make it easy. They scored the final three goals and nearly a fourth one that would've tied the game.
Tennant said playing Watsonville (3-1-0) is always a good test to see where they stand.
"This year we finally got it done and we beat them," he said.
Zuniga said they prepared hard for Tuesday's match, changing up the team's formation and trying to solidify their midfield.
The first goal came in the 21st minute. Tennant blasted a shot past Wildcatz goalkeeper Edgar Angel. A minute later the senior winger notched his second goal of the evening.
Watsonville had plenty of chances to take an early lead, including a shot on goal by senior Jeal Leal that sailed just above the crossbar. Wildcatz coach Roland Hedgpeth said they missed out on those opportunities at the beginning of the game, which came back to haunt them in the end.
"Some of the time we're playing where we should and other times we weren't," he said. "I'm kind of disappointed in this [game], really. It's the worst that Aptos has ever beat us, probably."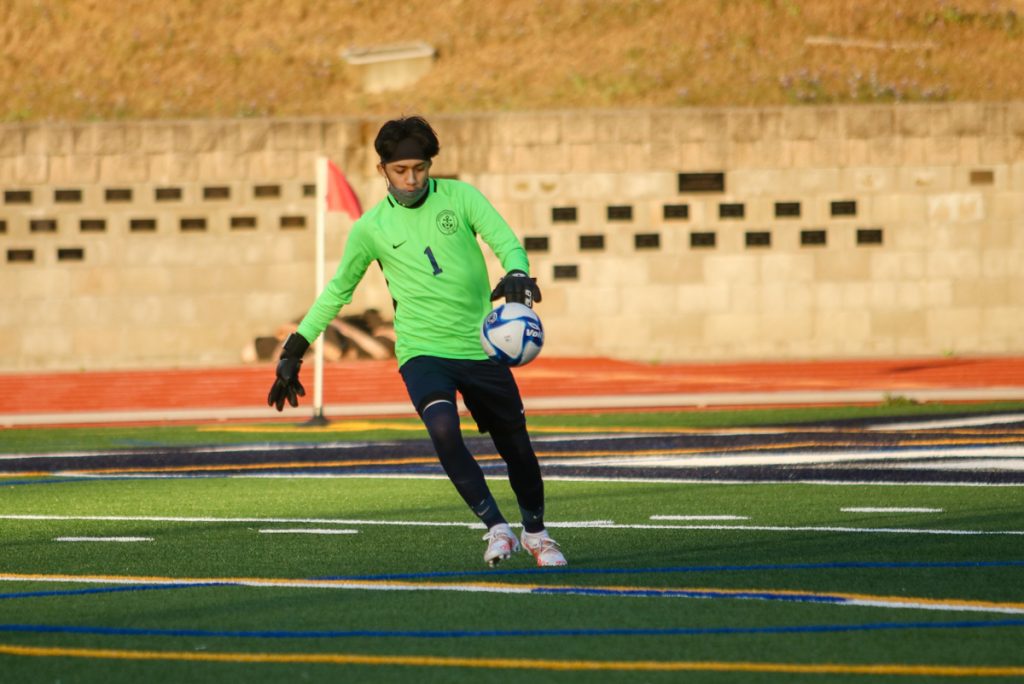 Leal managed to slip one past Mariners goalkeeper Ulises Hernandez in the 28th minute to pull the Catz to within a goal at 2-1. But it was the only score that Hernandez gave up, as he finished with 12 saves on 13 shots on goal.
The junior goalie got some extra help at the start of the second half when Diego Tiran knocked in a goal in the 44th, putting them up 3-1.
Elias Veran put the game out of reach with a goal just before the 70th minute, stunning one of the most successful programs to date in the Central Coast Section.
Hedgpeth admitted they didn't react the right way as a team. But, the longtime coach knows they're capable of playing better as the season moves forward.
"We only have one place to go now and that's up," he said.
Tennant sensed something was different about this year's squad and it's been fun having the chance to play together. He said in years past he felt like there was always tension within the locker room, a lot of egos to deal with.
"This year we're just friends and we enjoy playing together," he said.
Plus, he mentioned that he's lucky to be able to play his last year at Aptos, especially after the Covid-19 pandemic threatened to nearly cancel all high school sports for safety concerns.
Zuniga said they managed to put together a group of players that features a good amount of underclassmen. He said luckily there's players such as Veran and Tennant that are leading the team.
Tuesday's win was three decades in the making, which is what it probably felt like for Zuniga as the seconds continued to tick away with a three goal lead. He told the team after the game that a win against his alma mater definitely defined whether or not they could play at that next level.
"They came out with heart, they came out with that mentality that they can definitely do some good things today," he said. "We kept the momentum going, we kept that pace, we were aggressive. We wanted it today."