CARMEL—Aptos High senior guard Cameron Saldana scored 17 points for the Mariners boys basketball team in a 63-41 win against Monterey High at the 73rd Annual Carmel Invitational on Thursday.
Jack Spinelli also had 17 points along with several rebounds, and Max Baldeh had 14 points for Aptos (9-0) in the opening day of the event.
The Mariners continue invitational play against Whitney High of Rocklin today at 6:30pm.
Aptos 55, Salinas 52: Cameron Saldana finished with a game-high 27 points for the Mariners in Tuesday's non-league over the Cowboys. Max Baldeh added 17 points for Aptos, including a clutch 3-pointer that put them ahead of Salinas, 53-51, with 26 seconds remaining in the game.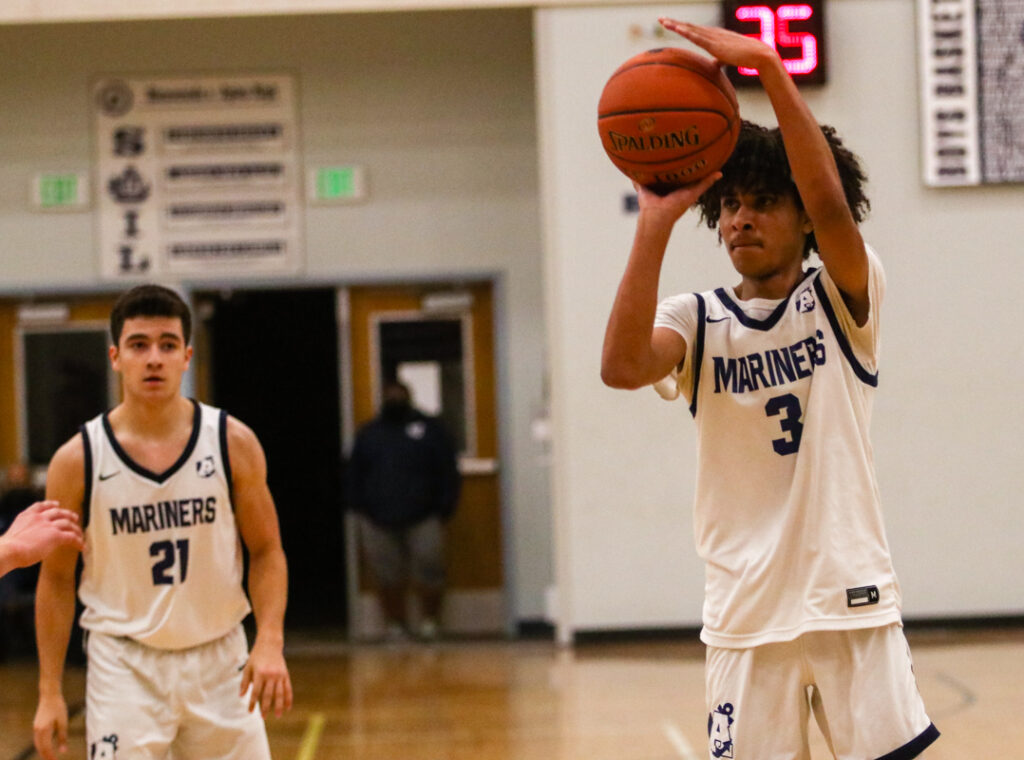 Scotts Valley 54, Monte Vista Christian 44: Senior Ryan Cahalan led the Mustangs with 15 points and eight rebounds in Tuesday's non-league loss to the Falcons.
MVC trailed by as many as 16 points in the opening stanza. They responded with a solid defensive effort in the second half but the deficit was too large to overcome.
Luke Finney and Sean Bautista each scored nine points for the Mustangs (2-7), who play at Seaside on Saturday at 5pm.
Watsonville 46, St. Francis 29: Anthony Campos scored 12 points for the Wildcatz in Wednesday's non-league against the Sharks.
Karlos Corpus added nine points on three 3-pointers for Watsonville.
Joseph Rose made three 3-pointers and finished with 13 points to lead the Sharks. Miles Guardino scored 11 points and Nash Horton added seven points for St. Francis (3-4), which will host Pajaro Valley on Dec. 22 at 7pm.
St. Francis 43, Gilroy 42: Christian Magaña knocked in a buzzer beating shot that lifted the Sharks past the Mustangs Tuesday's non-league victory.
Magaña, who finished with nine points, received the pass from Diego Rameriz with 2.1 seconds left on the clock and scored as time expired.
Mateo Rigor set the perfect screen that allowed Magaña to get free and get the inbounds pass from Ramirez.
Gilroy led 42-41 and was shooting a one-and-one free throw attempt, but the first shot was missed. St. Francis' Miles Guardino grabbed the rebound and immediately called time out.
The inbounds pass was caught by Guardino at mid-court and he called time out again to set up the game-winning shot.
Guardino led St. Francis with 12 points, followed by Joseph Rose with seven points.
Girls basketball
Aptos 46, Notre Dame (Salinas) 26: Jaylen Dang scored a team-high 21 points for the Mariners in Thursday's win over the Spirits in the opening game of the North Salinas Sportsmanship Classic.
Miricole Baity added 10 points and seven steals, and Jasmine Ackerman had five points and seven rebounds for Aptos (7-1), which plays Salinas High (2-4) today at 6:30pm in Day 2 of the tournament.
Aptos 59, Monterey 24: Jaylen Dang and Miricole Baity each made five 3-pointers to help the Mariners crush the Toreadors in Monday's non-league game.
Dang finished with 19 points, five assists and three rebounds, and Baity had 17 points and three rebounds.
Jasmine Ackerman had nine points, eight rebounds and five steals.
Pajaro Valley 69, Marina 68 (3OT): Junior Alexa Flores had 21 points for the Grizzlies in their thrilling triple-overtime win over the Mariners in non-league play on Wednesday.
Senior guard/forward Erika Martinez had 17 points and 13 steals, and junior shooting guard Annel Andrade added 16 points. Senior guard Roxana Contreras had nine points and six steals for Pajaro Valley (4-3), which will take a break before taking on Soquel High on Dec. 28 in the opening game at the Aptos Shootout.
Pajaro Valley 77, Anzar 7: Junior Alexa Flores had 27 points for the Grizzlies in their non-league win over the Hawks on Tuesday.
Junior shooting guard Annel Andrade had 15 points and eight steals, and senior guard/forward Erika Marintez added 10 points, five steals and three rebounds for Pajaro Valley.
Boys soccer
PCS 2, St. Francis 1: Emiliano Hernandez Torres notched a goal for the Sharks in Thursday's non-league loss to Pacific Collegiate School.
Garrett Lee was credited with the assist for the Sharks, who play at Monte Vista Christian on Dec. 21 at 5pm.
Watsonville 2, Aptos 0: The Wildcatz led 1-0 at the half and added a penalty kick in the second half Tuesday.
Seniors Angel Tarelo and Mateo Arias scored for Watsonville (4-0-2), which plays Lincoln High in the Homestead Christmas Cup's gold division championship on Saturday at 1:15 pm at Homestead High in Cupertino.
Ulises Hernández made 10 saves for the Mariners (4-2-1), who host Anzar today at 6pm.
Girls Soccer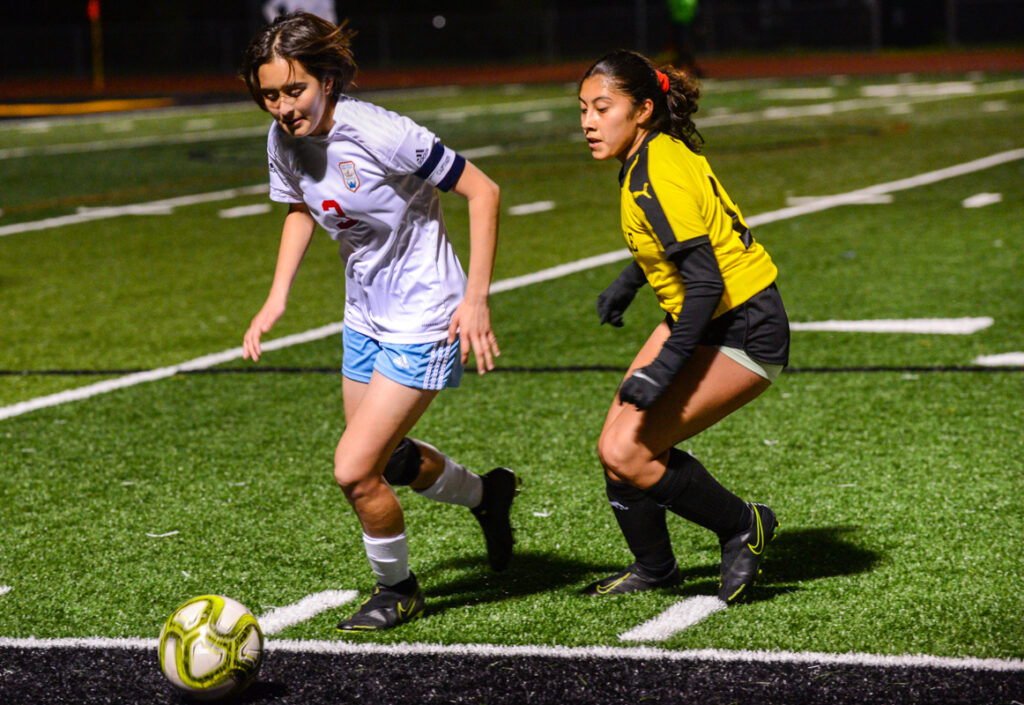 Aptos 2, Monterey 1: Gwen Chapman scored the go-ahead goal in the second half to help lift the Mariners to victory in Thursday's non-league game against the Toreadors.
Ava Hymes put Aptos on the scoreboard with a goal in the fifth minute on an assist from senior Jazmine Castañeda.
Monterey scored in the 28th minute to tie the score at 1-all just before halftime.
Midway through the second half, Chapman's shot on goal found the back of the net in the 56th minute. Castañeda was credited with her second assist of the evening for Aptos (7-0-1), which has won five-straight non-league matches. The Mariners play at Watsonville (5-3-1) on Saturday at 6:30pm.
Aptos 3, MVC 0: Jazmine Castaneda had two goals and one assist for the Mariners in Tuesday's non-league win against the Mustangs.
Castaneda scored in the 42nd and 63rd minutes, both on assists from Malia Kessler.
Kelsea Ford capped the scoring with a goal in the 75th minute for the Mariners.
Pajaro Valley 5, Scotts Valley 5: The Grizzlies (4-4-1) battled in a high-scoring affair that resulted in a draw against the Falcons in non-league play on Thursday afternoon.
Pajaro Valley 9, Anzar 0: Junior forward Alondra Chavez scored three goals for the Grizzlies in a crushing win over the Hawks in non-league action Monday night.
Junior forward Ashley Cardenas and freshman midfielder Valeria Acosta each scored twice. Junior midfielder Karla Leyva and sophomore midfielder Maricza Rodriguez each scored a goal, and junior goalie Mariela Cisneros made two saves for the Grizzlies.
St. Francis 3, San Lorenzo Valley 0: Makena Bedolla scored three goals for the Sharks in Wednesday's non-league shutout victory against the Cougars.
Natalia Ramirez and Arianna Fernandez were each credited with an assist. Goalie Samantha Martinez made seven saves for the Sharks (3-1-0), who play at MVC on Dec. 21 at 7pm.
Harbor 3, St. Francis 1: The Pirates scored twice in the second half to secure Monday's non-league win over the Sharks.
St. Francis tied the score in the 35th minute with a breakaway. Harbor retook the lead after sophomore Sonja Hulphers scored off a corner kick in the 58th minute.
Sophomore Olivia Chen secured the win with a goal in the 67th minute to extend the Pirates' lead.
Watsonville 1, North Salinas 1: Sophomore Aubrey Rodriguez scored a first-half goal for the Wildcatz in a draw against the Vikings in non-league play Thursday.
North Salinas freshman Joselyn Ayala scored in the 51st minute to tie the contest at 1-all. The Vikings had an opportunity to take the lead with a penalty kick attempt late in the game, but the shot went past the left goal post.
The Wildcatz (5-3-1) will host Aptos (6-0-1) on Saturday at 6:30pm.
Watsonville 5, Carmel 2: Aubrey Rodriguez scored twice for the Wildcatz in their non-league win over the Padres on Tuesday.
Anely Flores and Julissa Felix also scored goals for Watsonville, which also scored on an own goal by Carmel.
Kiana Varela, Star Espinoza-Rayes, Nayeli Jimenez-Fernandez and Flores recorded assists for Watsonville.
Jimenez-Fernandez made six saves for the Wildcatz.
Boys wrestling
Webber Lawson Tournament: Aptos junior Andrew Acevedo (126 pounds) took fourth place at the 42-team Webber Lawson Tournament at Fremont High in Sunnyvale on Dec. 11.
Gilroy (315.5 points) won the team title, Saint Francis (171.0) of Mountain View took second, and Fremont (136.0) was third. Aptos (24.0) took 29th.
Girls wrestling
Lady Royal: Watsonville sophomore Beatriz Lucas (101), Aptos sophomore Janie Houser (126) and Aptos' Mikayla Santaella (150) took fourth place at the 12th annual Lady Royal at Overfelt in San Jose on Dec. 11. Watsonville junior Danisha Nuñez (106) took sixth place.