APTOS—The divisions and seedings for the Central Coast Section soccer playoffs were all set in place on Thursday evening.
And when it was all said and done, Aptos High coach Gina Castañeda was hoping they'd end up in the Division I field. Especially because they had played against two premier teams from two separate "A" leagues.
The Mariners earned a 1-1 draw against Sobrato High in the season opener Nov. 30 and two days later they beat Los Altos High, 1-0. Los Altos (11-4-3) qualified as the No. 5 seed in the D-I bracket.
Castañeda knows that the committee didn't take those games into consideration and they just looked at the final 18 games they played, which didn't sit well with her.
"I believe that our team can compete at that level," she said. "With the record that we had, I thought that we would be placed there [Division I]."
Both of the Mariners' losses were to Santa Cruz (13-0-1, 10-0-0), the Santa Cruz Coast Athletic League champion, who earned the No. 2 seed in the D-I field.
Aptos (17-2-1, 8-2-0), runner-up in the SCCAL, earned the No. 5 seed in the D-II field. They will play at No. 4 Sacred Heart Prep (11-6-3), runner-up in the West Bay Athletic League's Foothill Division, in the quarterfinals today at 1pm.
If the Mariners win, they play the winner of Saturday's game between No. 1 Piedmont Hills (17-2-1) and No. 8 Palo Alto (6-9-5) in the semifinals on Wednesday.
Castañeda said if they go in mentally and emotionally prepared with the mindset of becoming a champion, they'll come away with a championship.
To get them in championship form, the coaching staff made some adjustments to the players' workout schedule. Castañeda pushed them to go hard on Monday, took the pedal off the gas Tuesday and then worked them about 75% on Wednesday.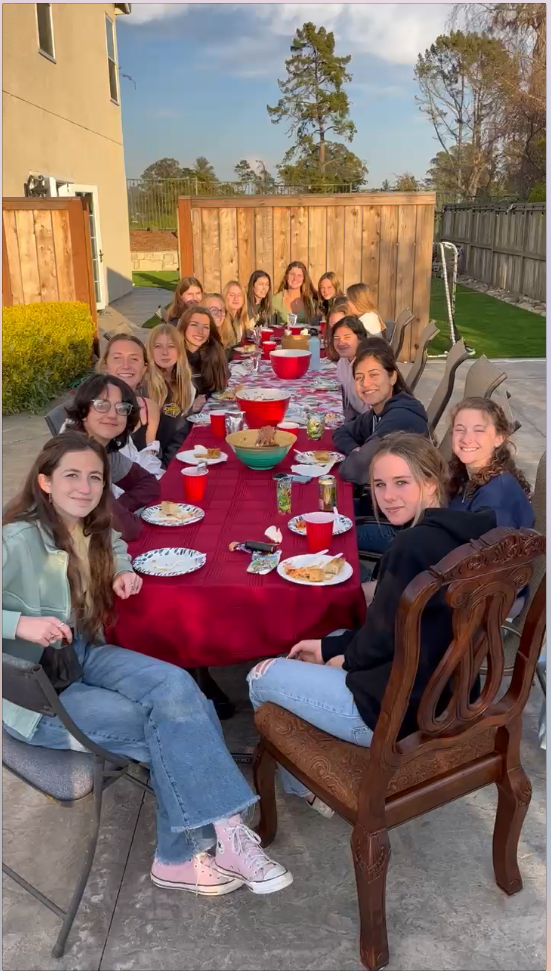 The team got some rest Thursday and went over some game strategy. They got together again Friday evening at Castañeda's house for a pasta feed loaded with Fettuccine Alfredo, spaghetti with red sauce, two different salads, garlic bread and some dessert to cap off dinner, and a sweet start to the postseason.
Castañeda said they'll go over some final game planning and they want to prepare them for playing in the early afternoon. She mentioned that part of that is waking up at 6am, eating a healthy breakfast and being at Aptos High at 9:45am.
"Their whole menu schedule is going to be off," she said. "We gotta get their bodies to wake up and get ready because we're used to playing 5, 7 o'clock games."
Aptos will go into Saturday's match against Sacred Heart not knowing what to expect. For starters, Castañeda hasn't been able to find game footage on the Gators and it makes it extra challenging.
But that's what makes the postseason season experience that much more exciting. Plus, she believes they're more than prepared to make a run at a CCS title.
"We're ready and I'm really excited for the girls," she said. "Like I told them yesterday, we've done everything that we can to get us to this point. We've taken one practice and one game at a time to get us where we need to be. I think that they can win Division II."
In other D-II action, No. 3 Christopher (9-5-1) will host No. 6 Menlo-Atherton (6-6-6) and No. 2 Live Oak (14-5-1) will host No. 7 Menlo (10-5-4).
Division IV
Monte Vista Christian School coach Chris Dibble described this year's season as being on a ride that has been tumultuous, plagued with injuries and impacts due to Covid-19 protocols.
"We're kind of limping in, but I just found out I'm getting a player back today, which is good," he said. "They've had to overcome a lot of obstacles to get to where they're at."
The Mustangs (10-7-3, 6-3-1) earned the No. 8 spot in the D-IV field and they will play at No. 1 Soledad (13-3-1) in the quarterfinals today at 1pm.
Dibble mentioned that the roster is just 16 players deep and it's rare to have them all active at the same time. So, missing players has been an obstacle they have learned to overcome.
MVC will have the services of senior defender Madison Pullen, giving them 15 players to suit up for their quarterfinal game against the Aztecs. Dibble said they'll have a competitive team come Saturday.
The team ran into another obstacle when the school went into remote learning for a week, followed by hybrid distance learning. That impacted training because most students live 30 to 45 minutes from campus, which minimized their practice times.
Dibble said one memorable moment was a Dec. 14 meeting against Aptos because MVC had no seniors and they needed three JV players to suit up.
Yet, they've shown exemplary character and continue to persevere with the limited players they have.
"Even the Aptos coach [Gina Castañeda] was very complimentary," Dibble said. "They had been beating up teams on our league level…those are the types of games that showed [MVC's] true character and when they show up, mentally and physically, ready for their games, they show that they could be the best team in the league."
The Mustangs, runner-up in the Pacific Coast Athletic League's Mission Division, won five games in league play in February to keep pace with league champion North Salinas.
The Vikings (9-7-2, 7-3-0) automatically qualified for the CCS postseason and earned the No. 7 seed in the D-IV field. They will play at No. 2 Nueva (9-3-0) at Crystal Spring Uplands School on Saturday at 1pm.
MVC had to play its way into the playoffs after a 3-2 victory over York School in Wednesday's play-in game.
Other battles within the division include No. 3 Alvarez (9-3-3) against No. 6 San Benito (10-7-3), and No. 4 Salinas (6-3-7) against No. 5 Luis Valdez (11-5-0).