Aptos High seniors Cameron Saldaña and Jack Spinelli were a powerful dynamic duo for the Mariners boys' basketball team this season.
They led Aptos (22-6, 9-1), co-champion of the Santa Cruz Coast Athletic League, to the Central Coast Section Division III finals against Burlingame.
The coaches within the league commended Saldaña and Spinelli for their tremendous work on the court, naming them to the all-league first team.
Saldaña, who set a CCS D-III title game record 30 points, averaged 18 points, 3.7 rebounds, 2.4 assists and 2.0 steals per game.
Spinelli was a double-double machine with 17 total this season. He averaged 12.0 points and 12.9 rebounds per game for the Mariners.
Senior guard Marcel Martin was named to the all-league second team. He averaged 2.3 points, 1.6 rebounds and 1.2 steals per game, which included a 12-point performance in the CCS D-III semifinals against league rival Santa Cruz High.
Aptos junior Trevor Brady was an honorable mention.
The Cardinals (20-7, 9-1), co-champion of the SCCAL, had a pair of all-league first team selections and the league's most valuable player.
Junior forward/guard Aden Cury took home the MVP trophy, and senior Kosi Warren-House and sophomore Ben Dotten earned All-SCCAL First Team honors.
San Lorenzo Valley sophomore Kai Groleau also earned all-league first team honors.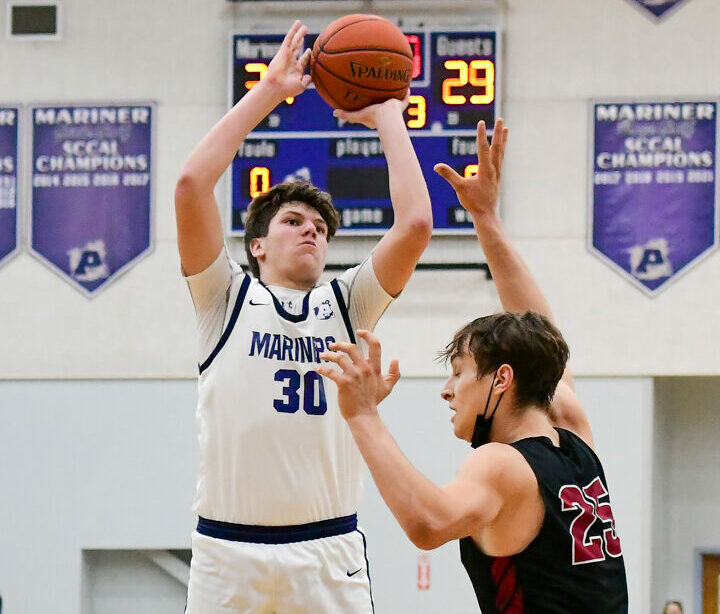 SCCAL All-League
Most Valuable Player: Aden Cury (Jr.), Santa Cruz
First team
Cameron Saldaña (Sr.), Aptos
Jack Spinelli (Sr.), Aptos
Kai Groleau (So.), San Lorenzo Valley
Kosi Warren-House (Sr.), Santa Cruz
Ben Dotten (So.), Santa Cruz
Second team
Marcel Martin (Sr.), Aptos
Asher Dolinger (Sr.), SLV
Matt Burns (Sr.), Santa Cruz
Tristen Roure (Jr.), Scotts Valley
Braylon Noble (So.), Soquel
Co-Coaches of The Year: Brian Bowyer (Aptos) and Lawan Milhouse (Santa Cruz)
SCCAL Honorable Mention:
Trevor Brady, Aptos
Nash Campbell, Harbor
Jaden Hunter, SLV
Michael Kelly, SLV
Demeke Smith, Santa Cruz
Andrew Whitmeyer, Santa Cruz
Langston Burkett, Santa Cruz
Boon Gregor, Santa Cruz
Zach Much, Scotts Valley
Dante Bruce, Scotts Valley
Cole Johnson, Soquel