Aptos High senior Rachel Hoops got a late start to the 2023 cross country season after she returned from a school trip, causing her to miss some big races.
The biggest concern for her was getting left behind the rest of the competitive field which was already a step ahead.
"I have a lot of people around me that are constantly helping me and motivating me, and it gives me the confidence to be 'OK, I can get this done' and I don't stress about it so much," Hoops said. "But sometimes I just get stuck in my head."
It seems like Hoops is getting back up to speed following a pair of strong performances, including a first place finish against San Lorenzo Valley High in the teams' Santa Cruz Coast Athletic League dual meet Oct. 5.
The Mariners' top runner won the race in 20 minutes, 09 seconds just slightly ahead of fellow teammate sophomore Maya Schiro (20:20), helping Aptos beat the Cougars with a team score of 18 points.
Hoops also had a top-10 finish at the Terry Ward Invitational as she took ninth in 19:39.
One of her goals this season is working on her racing mindset. That means being able to run on her own, pushing herself and improving her finish times even if there's no one around to chase or lean on for support.
"I've been kind of really trying to focus on that for the season, just to be more of an independent runner," she said.
Part of having a strong mindset is being able to run in any conditions. Aptos hosted their SCCAL dual meet against SLV in the blistering heat at Pinto Lake County Park.
For most, just standing under the scorching sun can cause them to run for shelter. Hoops finished the race with temperatures reaching up to 90 degrees.
"I just try to see where the limit is, just getting through that race," she said. "I think it's fun, use your pure physical ability to get through the course."
Hoops said the team dynamic is a lot different because last year's leaders such as Brooke Willoughby were strong, very outgoing and great runners.
"It kind of felt like big shoes to fill, in a way," she said. "But I've been trying to do my best, coming to practice every day, connecting with the team and just being here supporting people. Kind of leading by example, and showing that everybody can do it even though it's hard."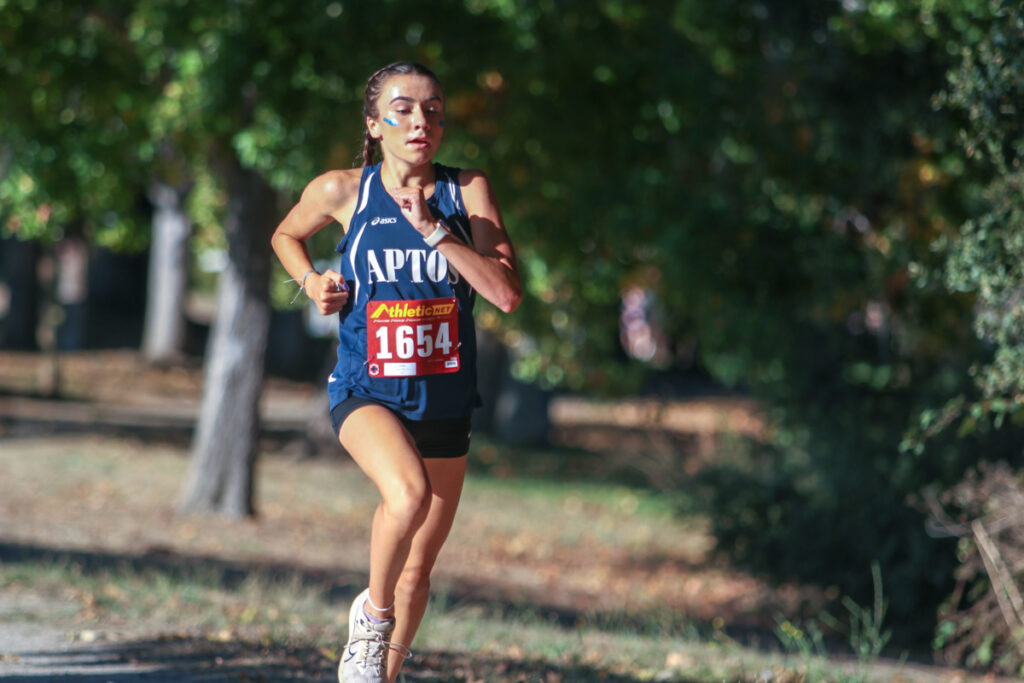 The Mariners have a bigger sophomore crowd mixed with a couple of upperclassmen on this year's girls roster.
In practice, they split up into different groups and don't talk as much because they're laser focused on improving.
"But then we get to meet and when we have time to just hang out, we all get along really well and it's a good team. I really like it this year," Hoops said.
Aptos coach Dan Gruber said the big surprise is how much the younger runners, especially Schiro, have made a big jump in terms of progress.
"Every so often [Schiro will] nip at Rachel [Hoops]," Gruber said.
The Mariners also have freshman Naomi Brunelli as their No. 3 runner but she was out for two weeks with shin splints.
"[Brunelli's] been a godsend, too," Gruber said. "If we can get her over the shin splints and get her back…those first three, I really like them."
Other runners getting better include senior Kathleen Allari, who had her best race of the season in their league meet against SLV.
Gruber said the Mariners are considered the second best team in the league behind Scotts Valley, which won back-to-back SCCAL and Central Coast Section Division IV championships in 2021 and '22.
"Scotts Valley is hard to catch, they've got the big 1-2 punch," Gruber said. "We gotta break them up. If Naomi [Brunelli] comes back out, and gets fit, she's got a shot. We need to push that fourth and fifth [runner]."
That dual threat Gruber mentioned is none other than the defending SCCAL and CCS D-IV individual champion Ashlyn Boothby and teammate sophomore Ava Decleve.
Hoops said there's always going to be someone faster and stronger out there. For her, it's all about putting in an all-out effort even knowing what the outcome might be.
"I feel like I have to just put the focus more on doing the best I can do, but if there's someone to catch then it is more motivation for me. It's kind of like a game," she said.
Hoops won her second dual meet race in 16:01 to help the Mariners beat Soquel High, 21-40, in the teams' league and regular season finale on Thursday. Schiro (16:30) took second, followed by Allari (17:38) in fifth and Brunelli (17:38) in sixth.
The Mariners boys' team is led by senior Evan Niles, who had some hamstring issues over the last two years. This is his first real season since joining the team his freshman year.
"Being the number one guy for us, it's good," Gruber said. "[Niles is] right where he should be and so it's nice to see him up there."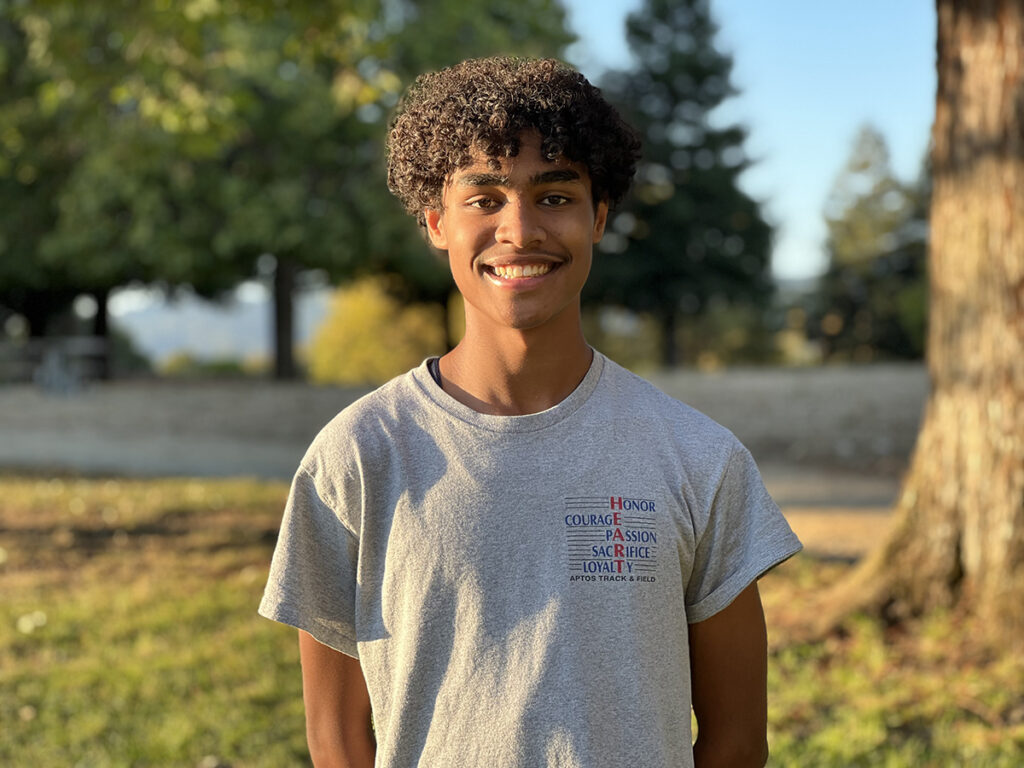 Niles said it was rough not being able to compete at full strength. He did some weight training and put in some extra mileage in the offseason.
This year, Niles eased his way back on the course and became more strategic with his workouts.
Niles won his first race of the season in 16:18 during their dual meet against SLV on Oct. 5. He also had to battle through the hot weather conditions.
"It's definitely a confidence booster," Niles said. "League [championships] are a month out, so it's just trying to prep. Get some more training in."
Gruber said he was surprised the boys team turned out to be better than he initially thought given they race and push each other hard each day.
Plus, they lost standout runner Trent Nosky who won both the SCCAL and CCS D-III races in 2022.
Gruber likes to see the leadership from Niles. But the Mariners also have a nice pack of young runners in freshman Sam Hansen and sophomore Brady Bilesner, who has slowly become the No. 2 runner behind Niles.
"There's a lot of movement amongst them except for the first two, which is good because you always want to have a little competitiveness in that group," Gruber said.
Colin Dagnall, a junior, posted his first victory of the season in Aptos' league and regular season finale against Soquel High on Thursday.
Dagnall won the 2.5-mile race in 13:22, slightly ahead of Bilesner (13:50) and Niles (13:50) in second and third, respectively. Fellow teammate junior Vincent Sandford-Carroll (14:44) took fourth for the Mariners, who won the dual meet 16-47.
The SCCAL Championships are set for Nov. 2 at Pinto Lake County Park in Watsonville.
"We got a lot of young guys, so this would be a good season to get some experience for them," Niles said.
Gruber admitted it's going be tough to beat Scotts Valley—league champion for the past five years and back-to-back CCS D-IV champion. Still, there's plenty of hope moving forward into the future.
"We're kind of an unassuming team," Gruber said. "I'm just pushing, hopefully we can make a little improvement. Slowly but surely we are. Each couple of weeks, we just kind of show a little better, so I'm pretty happy."