APTOS—The Aptos High girls' tennis team is currently going through a test of endurance and resilience that it hopes will result in positive results.
So far, it's been smooth sailing for the Mariners after playing two of their three Santa Cruz Coast Athletic League matches in what will be a span of six days ending Monday.
Mariners coach Tammi Brown said it's unusual to have three games crunched in such a short period. However, on some level it's good because it keeps the players in rhythm.
"It'll be a bit of a challenge for everyone but on the other hand, these guys are gamers," she said. "They like a challenge."
Aptos started the week with a 6-1 win over Santa Cruz on Wednesday, followed by Thursday's 7-0 win against Soquel.
The Mariners will have this weekend to rest before a league match against Harbor on Oct. 3.
Then it'll be two days of practice before heading into the midway point against a much anticipated match against Scotts Valley on Oct. 6.
"It'll be quick, it'll be fun and I think the kids are ready for it," Brown said. "I think they're fired up, so it's going to be a good season and we're really looking forward to it."
The first-year head coach said this year's Mariners group is the whole package starting with junior Holly Hegna, who took over the No. 1 spot.
"[Hegna's] the real deal," Brown said. "She's been practicing hard, she takes lessons, she's good. She's going to be a tough No. 1."
Hegna won her No. 1 singles match in straight sets (6-3, 7-5) against Alina Weber of Santa Cruz.
Hegna said she was nervous going into Wednesday's match because the Cardinals have been one of their biggest competitors over the years.
"At the start I was just trying to focus on getting the ball rallied and going, which was pretty good because I felt confident," she said.
The three-year varsity player struggled with unforced errors during the second set but managed to make some adjustments such as getting the ball back in play for the point.
"That's when I started coming back for my points and I started winning that way," she said.
Hegna also won her singles match against Soquel's Isla Garcia McDougal, the runner-up from last year's SCCAL singles championship.
With the win, the Mariners are 5-1 overall and 3-0 in league play.
Aptos beat both St. Francis and Stevenson in non-league action, followed by wins against San Lorenzo Valley, Santa Cruz and most recently Soquel.
"We're always learning, we're always growing," Brown said.
The Mariners were supposed to have returner Rebecca Fuller, who was primed to be one of Aptos' best players on the court. However, she suffered a knee injury that will sideline her.
Hegna stepped into the No. 1 role and it's been a big jump for her, especially because the competition is at the highest level possible.
"I felt like the team really depends on the No. 1 just to set the standards and set the team," she said. "Kind of just set the stage for the game play."
Hegna has been trying to keep the practices fun and is also forming a team bond instead of having players be on their own.
"Having a solid team with a community of a family," she said.
Hegna will join 12 other girls including senior co-captain Autumn Zaretsky who is competing at the No. 2 spot in singles action.
Tiana Smith, a junior, is at the No. 3 spot and right behind her in the No. 4 spot is freshman Coral Collins.
"[Collins has] got a beautiful serve and just really gorgeous ground strokes," Brown said.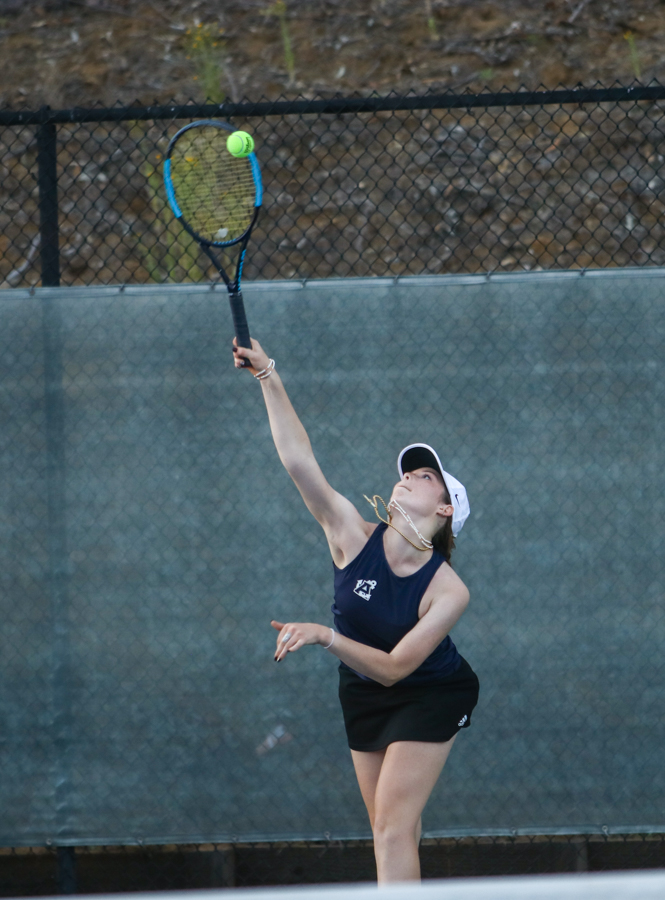 Collins won her match in straight sets (6-0, 6-3) against Santa Cruz's Lou Ellis on Wednesday afternoon.
Collins, who trained with her mom during the offseason, was excited when she found out she'd be competing on the varsity team.
Collins said she felt a little pressure having to play at such a high level already. Yet, she's been able to settle in with the support of all her teammates, especially the upperclassmen.
"Everyone has been so welcoming and I couldn't imagine anything more perfect, honestly," she said.
Just like her freshman sensation, Brown is also a newbie on the team.
Brown stepped in for longtime coach Linda Hitchcock, who spent a little more than a decade at Aptos.
She won seven SCCAL titles during her 11-year tenure, producing numerous singles and doubles champions including last year's tandem of senior Madison Phillips and Annika Lee, who graduated.
Aptos has won 29 SCCAL team titles including the past three (2019, '20, '21) championships.
Brown does have help from her husband, Sam, who happens to be the interim coach for the Mariners' boys' tennis team. She said the girls' team is appreciating a lot of his inside knowledge on the sport.
"I'm really happy with the way things are going and the way the girls are progressing," she said.
Aptos Athletic Director Travis Fox said Brown and her amazing staff hit the ground running.
The Mariners currently have 45 girls in the program between JV and varsity and Fox mentioned that it's all credit to their commitment to tennis in Santa Cruz County.
"They have already hit the fundraising trail hard and have raised enough for new wind screens and to outfit all players in Aptos tennis gear," he said. "We are extremely happy with the state of tennis at Aptos and are extremely lucky to have the community support we do."
Brown said the team has really bonded, adding that the newcomers are stepping in nicely and the veterans have been encouraging.
Co-captain Madison Phillips and fellow teammate Jill Beltran, both seniors, are locked in at the No. 1 doubles spot. They won their match against Santa Cruz's Sofia Storlazzi and Ali Pierson in straight sets (6-1, 6-4) on Wednesday.
"Just a great doubles pair," Brown said. "They have a great chemistry on the court and they're buddies."
Avi Andrews and Anna Nacht won their No. 2 doubles match in straight sets (6-1, 6-2), and No. 3 doubles pair Olivia Pate and Finn Gansauer-Pilcher also won in straight sets (6-4, 6-1) in Wednesday's win over Santa Cruz.
The No. 2 and No. 3 spots will probably rotate around, which means the bottom two pairs aren't set in stone.
"I always tell them I reserve the right to change the lineup at any time," Brown said. "We never set it too far in advance either because things happen. The last couple of years have been a challenge for everybody."
Brown said Pate and Gansauer-Pilcher have played together in the past, so pairing up the court is an easy transition.
Nacht—who is one of four seniors on the team—has been an anchor for the team, while Andrews, a sophomore, is still getting used to varsity level but is a go-getter, Brown said.
Other key contributors include junior Ashley Jacob, sophomore Gamble Kellermyer and junior Natalie Victory.
The Mariners are nearly halfway done with the season but the road to a league title is still a long way ahead.
They have to get past Santa Cruz, Soquel and SLV one more time, followed by meetings with Harbor and Scotts Valley, which is one of the favorites to win it all this year.
Hegna said competing in the SCCAL is pretty intimidating because the schools have a history of being great solid teams with solid players.
She mentioned the key to overcoming that obstacle is simple: work hard, keep playing as a team, get new team strategies and keep helping each other out.
"I think we could do anything with that," she said.
Brown added that just about each school in the league has good players, so there will be some tough matches all around.
"But those are going to be the most fun, right?" Brown said. "It's more fun if it's a challenge. So, that's why we're trying to gear everybody up for, it's for the challenge."
Brown said she feels like they have as much of a shot as anybody else but at the end of the day it's about the kids enjoying themselves.
"We just want them to play hard but also have a good time and have fun, enjoy the process," she said.