SANTA CRUZ COUNTY—The annual Mi Casa es Tu Casa exhibit opened Wednesday at Pajaro Valley Arts on Sudden Street.
The show is inspired by Dia de Los Muertos (Day of the Dead), a traditional holiday in Mexico that celebrates ancestors and others who have died. Typically, altars (ofrendas) are built in homes and public spaces to honor and remember the dead.
The theme this year is "Pasajes y Puentes/Passages & Bridges."
Passage is the act of moving through, over or under something on the way from one place to another, said co-curator Judy Stabile. Boats are symbolic of passages as well as the journeys and transitions that people make in life and in death, and bridges can symbolize progress, connections, transitions and stability, as well as a way to reach a destination, Stabile said.
The altars, installations and 2-D artwork are a blend of humorous and serious, naive and sophisticated reflecting our vibrant and color community.
One altar, "Safe Harbor," recognizes the life of Berenice Felipe Alvarez, 16, who died with 33 others when a Santa Barbara dive boat caught fire early Labor Day morning in the Channel Islands.
Hand-painted stones and a banner of marigolds grace the altar that also features her written words:
"As someone who grew up in a county with substantial gang activity, it makes me very glad to know that a program can grow and affect a community. As someone who is part of a minority that is heavily involved in gang activity, it helps ease the worry of the young people of my community losing their lives so young. I can only hope that gang intervention programs in my county can grow and that I can in some way contribute to the evolution of a safer community."
Stabile said board members feel the show has numerous powerful elements and serves as a valuable tool in not only remembering passed loved ones, but also in building a platform for moving on from those losses.
"People are really responding to the show this year," Stabile said. "Maybe because there were so many deaths so close to home."
Stabile referenced not only the Santa Barbara boat fire, but also the mass shooting at the nearby Gilroy Garlic Festival.
"You never know what will come through these doors when you put out a call for this exhibit," she said.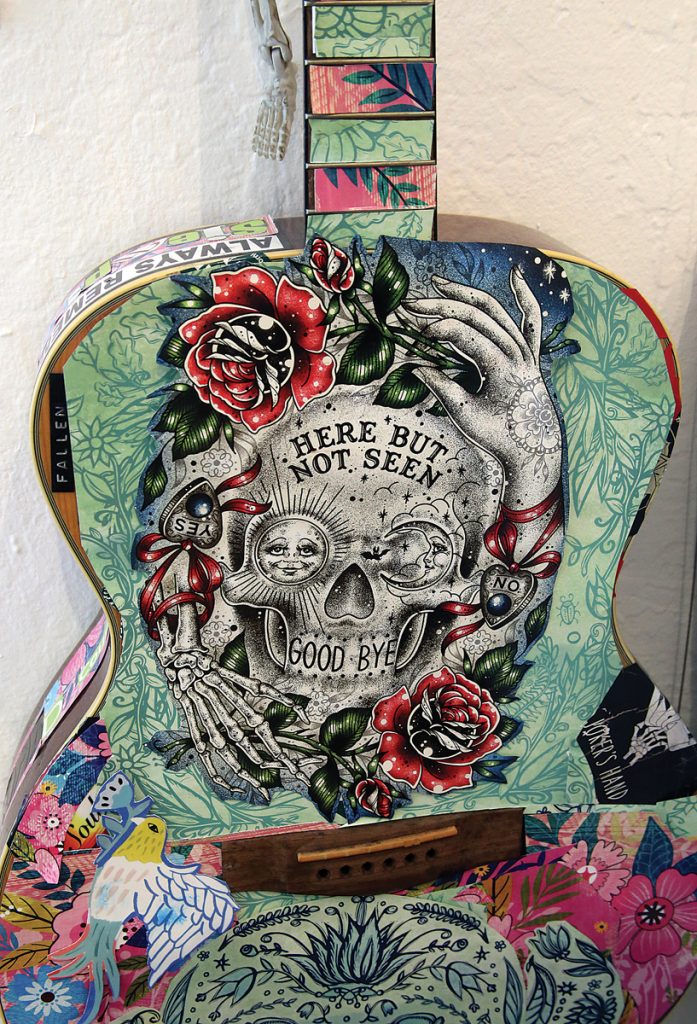 Local mural artist Paul De Worken worked with a group of H.A Hyde Elementary School kids in their after-school program in creating a large acrylic painting for the show.
"The painting was the result of students' ideas," De Worken said. "We worked with the ideas of passages and bridges and the kids wanted a bridge decorated with flowers over a body of water."
De Worken said he has participated in the "Mi Casa" show for years.
"We feel that there is just so much going on in the world right now — the border crossing issues, mass shootings, wars — that this exhibit is very timely," Stabile said.
Another altar was assembled by Watsonville artist Heidi Alonzo and a body of her students at St. Francis High School. Alonzo, who has been responsible for scores of public art installations around the county, and her group created a large bridge with tiny vehicles moving across it. The stenciled words on the triptych panels, in English and Spanish, read: "There are so many borders that divide people, but for every border there is also a bridge."
Another altar that also took on the border crossing issue offered this message: "For the people who instead of crossing the border crossed to the other side."
The opening reception for the show, which runs until Dec. 15, is Sunday from 2-4 p.m.
El Sistema and Ballet Folklórico Olin will perform at the reception.