WATSONVILLE—A dragon is coming to life in Watsonville.
Thanks to the efforts of Watsonville artist Kathleen Crocetti and a team of historians, designers, a benefactor and others, a 22-foot mosaic-covered water dragon is in the works and will soon rest atop a non-traditional Chinese style gate to decorate the Chinatown Bridge in downtown Santa Cruz.
"It's a huge project that was started about two years ago," Crocetti said. "I feel very fortunate to be a part of this."
The bridge, renamed by the Santa Cruz City Council in 2019, and the new installation aim to draw attention to a forgotten chapter of Santa Cruz history. The new public art piece showcases the dragon that will stand atop a 23-foot high structure at the west end of the bridge that spans the San Lorenzo River and ties into San Lorenzo Park where the last Chinatown stood.
"The art piece will beautify the Santa Cruz Riverwalk, draw attention to the bridge and educate and inspire passers-by with the story of Santa Cruz's diverse history," organizers said. "Chinese immigrants contributed significantly to Santa Cruz, this region and the state, even in the face of severe discrimination, including the Chinese Exclusion Act of 1882 and local anti-Chinese movements. In spite of those challenges, early Chinese Americans played important roles in shaping Santa Cruz's early history."
The project is spearheaded by the Coastal Watershed Council (CWC), said Executive Director Greg Pepping. The CWC views the overall project as a key step in realizing Santa Cruz's "vision of a healthy, welcoming and fun San Lorenzo River that connects our diverse community to nature and that is recognized as an attractive and desirable location for outdoor recreation."
Crocetti and concrete artist Tom Ralston were commissioned to create the dragon and arch that it rests on. The project also stems from a vision of Santa Cruz philanthropist and businessman George Ow, Jr. who grew up in several area Chinatowns between 1943-48.
Several of Crocetti's mosaics already adorn the Riverwalk on area bridges. She also has a large-scale mosaic installation depicting the river at the nearby Tannery Arts Center and other works sprinkled around the county. Additionally, Ralston created a 17-foot Chinese memorial gate that now stands at Evergreen Cemetery to honor Santa Cruz's early Chinese immigrants—fishermen, railroad workers, servants and farm laborers.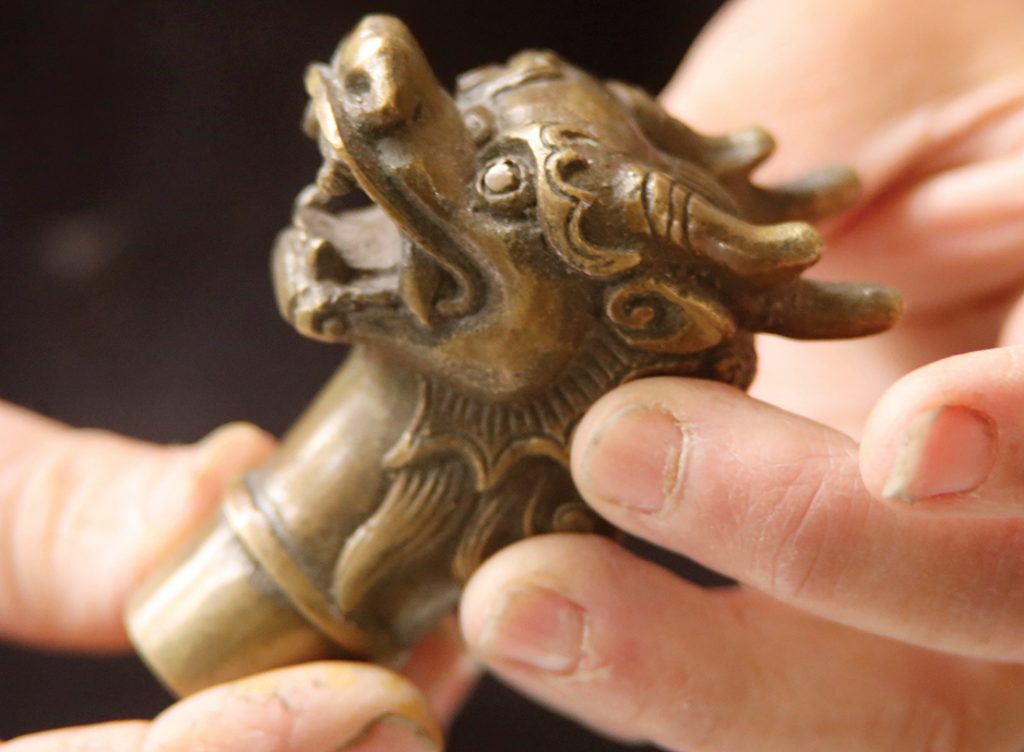 The last of multiple Chinatowns in Santa Cruz, destroyed during the December 1955 flood, was located near the river where the Galleria currently stands, organizers said.
Several specifics helped shape the dragon, such as the number of scales on its back, and the tilt of its head, which is based on a brass cane handle that was made in China, Crocetti said.
"We are a really cohesive team," she said. "It's very exciting to be working on it now; there was so much front-work that had to be done. But now that we are in the hands on and  physical part of the project, it is really exciting to see it all coming together."
Plans call for installation of the dragon archway in October.