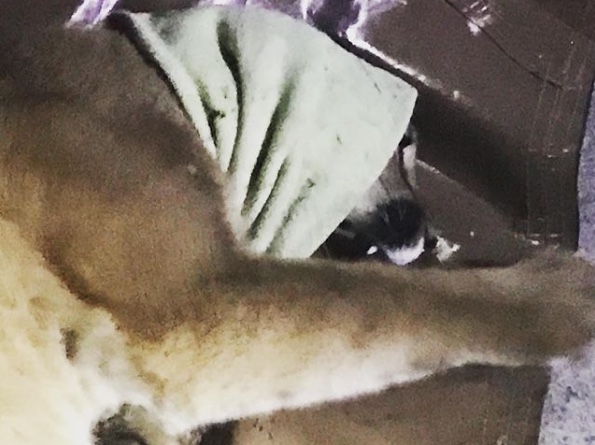 A 90-pound wild mountain lion wandered into a neighborhood in Capitola Monday afternoon. Officials eventually tranquilized it and safely carried it off to the mountains. Around 2 p.m. a resident on Washburn Ave. in Capitola called 911 to report the lion that showed up  in their front yard. Steve Schindler of Calif. Dept. of Fish & Wildlife eventually shot the 1-2 year-old lion with a tranquilizer gun and it was safeley caged and taken to the wild in the Santa Cruz Mountains.
•
Here comes some more badly needed rain. It started sprinkling in Watsonville around 3pm, and I mean something between a mist and sprinkle. WIndy conditions have been a part of it. The weather folks are saying the rain is likely to come and go over the next couple of days.
•
Our county has wandered back into the horrible purple tier as far as the pandemic goes. Not good news. Indoor restaurant seating, gyms, cafes and bars — forget it, unless they have outdoor facilities.
Experts have said that Covid-19 is not Democatic or Republican. Some claim it's a hoax. Large numbers of people are protesting tighter restrictions, claiming their freedom is being infringed. Governor Gavin Newsom is pondering a statewide curfew as an effort to combat the spreading virus.
Santa Cruz County reports 3,530 cases and 26 deaths today. Monterey County has 13,110 cases with 76 deaths. San Benito County has 1,620 cases with 18 deaths.
Meanwhile, California has more than 1.04 million cases with 18,306 deaths. In the US there are 11.2 million cases and 247,356 deaths.
Worldwide there are more than 55.1 million cases and 1.33 million deaths. And the spread, in most places, is barging on like a wildfire.
•
I drove over to Pajaro Valley High School today and viewed their new football field. The turf and clean lettering of "Pajaro Valley," "Grizzlies" and "PV" in the center of the field sure looked sharp. Work continues on the field as well as on two baseball diamonds that flank it.
•
Downtown Watsonville seemed particularly quiet today as I cruised along Main Street and Freedom Boulevard. It might be the cooler wet weather combined with the new purple tier restrictions.
•
I did notice that the new Starbucks drive-thru on Lee Road, in front of the new towering Hampton Inn & Suites, is now open for drive-thru. It looked clean and sparkling. If you go, follow the trail of colorful balloons to the entrance to the drive-thru. Cheers.