WATSONVILLE—Absolute domination was how Monte Vista Christian performed in its season opener against Del Mar with a 27-0 victory.
Since then, they haven't skipped a beat.
Mustangs second-year manager Johnny Ramirez said it set the stage for them this season.
"I wanted that game to see where we're at," he said. "It set us up in a good way."
After finishing with a 28-8-1 record last season, they captured the triple crown with Pacific Coast Athletic League Mission Division, Central Coast Section Division IV and CIF NorCal Division V titles.
The Mustangs have already eclipsed their success with an 8-1 start this season.
Simply marking their victories as wins don't justify the exclamation mark Monte Vista has put on most of their games; in addition to Del Mar they have beaten Watsonville 14-2 and Rancho San Juan 19-2.
Offensive firepower has been the recipe for success for the Mustangs this season, as they have already hit more home runs than all of last season.
"I think our offense is different this year," said Ramirez. "We have a lot of power in our lineup. Last year we were a lot of high averages and stealing bases."
Of the 18 players on Monte Vista's roster, 12 of them are seniors who have the experience to lead the team. Even last year, the majority of the players were seniors who had already been through the program and knew what it took to win.
With a team full of seniors once again, many would expect the Mustangs to drop off next season. However, it is clear Monte Vista is becoming perennial league title contenders because of its development of talent transitioning into varsity.
"The cupboard is not empty," said Ramirez. "Some of these freshmen and sophomores we have down on JV could come up and play right now, but we don't have the room or reps. It's all about reps."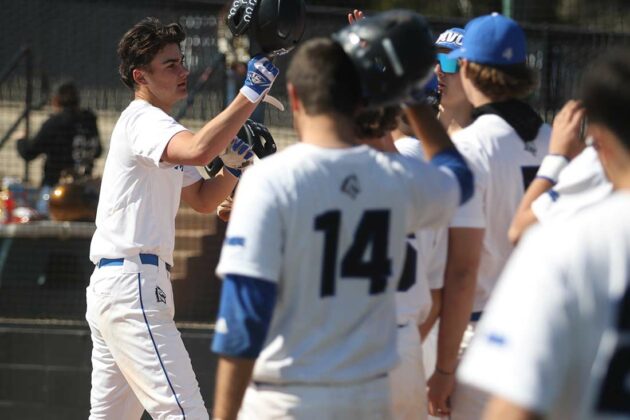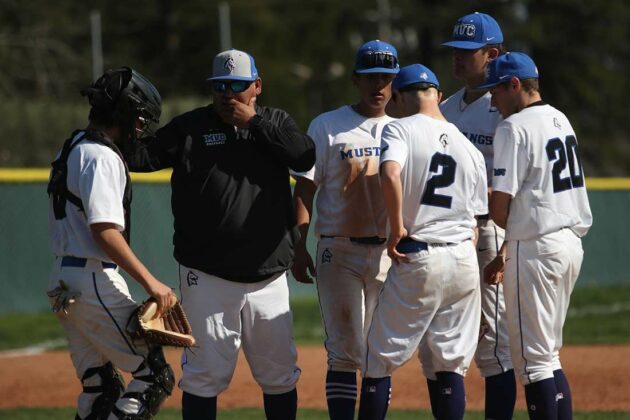 Last year's juniors have taken the role as team leaders, and have their eyes set on repeating as league champions.
One such player is pitcher/shortstop Joseph Keldsten Jr., who has provided power at the plate while serving as the Mustangs' bedrock on the mound.
In Monte Vista's first of two wins against Watsonville, he silenced the opposition by throwing a rare no-hitter.
"We're hoping to repeat, but our mindset is that we just go in each game, get the win, and move onto the next game," said Keldsten Jr. "Hopefully we win league and win CCS again."
Going into their second game of the season against Palma on March 3, the Mustangs had won their last 15 games stretching back into the previous season.
However the Chieftains, ranked No. 12 in the CCS, would deliver them their first and only loss of the season so far, 3-2. After scoring all of their three runs in the first inning off a home run, Monte Vista couldn't quite muster enough gas to initiate a comeback.
This loss turned out to be exactly what they needed to get to the next level.
"I think the Palma game really helped us come together as a team," Ramirez said. "We didn't want to lose, but it let me see where we need to focus on."
Since their narrow loss to Palma, the Mustangs have won seven consecutive games by a cumulative score of 63-7. MVC has an enrollment of just 854 students and several of the players have been close-knit for years.
"We hang out a lot off the field, we were already friends before baseball and a lot of us knew each other," said senior outfielder Brandon Swing. "Throughout the grades, we're all close with them, too."
After having not played much last year, Swing is one of the players that has taken a step up over the offseason to the point that Ramirez "expects great things from him" every time he steps up to bat.
The recent storms have hindered the team's ability to get on the field and get as many reps as they have wanted to—consequently slowing their process of player development.
Now with clear skies ahead, the Mustangs look to work on technical facets of their game like base running and hitting with two strikes.
The Mustangs will compete once again in the PCAL Mission Division alongside Alisal, King City, North Monterey County, North Salinas, Rancho San Juan, Stevenson and Watsonville.
MVC is in the midst of a seven-game winning streak with no signs of slowing down, yet it is by no means content.
"I don't think we actually maximized our potential yet," Ramirez said. "We just haven't had the reps to get going with the rain. We're doing good things, but I know our potential is to get even better."
MVC (10-1, 5-1) will host Alisal (7-2, 3-1) on April 11 at 4:30pm.