SOQUEL—The Monte Vista Christian 4×400-meter relay team at Saturday's Central Coast Section Track and Field Finals showed why it belonged with some of the big-name schools from over the hill.
The Mustangs—led by Jake Morris, Sage Oliver, Andrew Bachman and Justin Lomeli—finished third in 3 minutes, 27.12 seconds, just behind the winner Serra High, which won in 3:25.42.
Los Altos and MVC both finished in the same time, but the Eagles were awarded second place after video analysis showed that they won by just .003 of a second.
The Mustangs galloped ahead of Valley Christian, Homestead and Lynbrook.
Lomeli jumped up and down with his teammates as the group celebrated with a giant group hug following the race.
"I didn't want to lose to any of the valley teams," he said. "I wanted to represent Santa Cruz County, local schools."
Morris and Oliver kept the Mustangs within reach of the leaders in the first and second legs, respectively. Then, Bachman blasted the team into medal contention in the third leg.
Lomeli patiently waited for the handoff from Bachman and the rest was history.
"It was all on me, this was my last race and this is the longest season I've ever been in," Lomeli said. "I have to go out with a bang and we had to make this memorable."
Lomeli said before he knew it he was stretching out at the finish line, nearly beating out Charlie Atkins of Los Altos.
About a thousand fans were on hand to watch the finals, which was the final official meet of the season. There will not be a CIF state track meet this year, mostly due to many sections not having finals.
Lomeli, who also placed seventh in the 400 in 51.43 seconds, said he's hanging up the spikes after Saturday's race.
He didn't have any expectations going into his final year on the track team. But then he finished the 400 in just over 52 seconds in his first meet of the season and continued to improve on a weekly basis.
"I kept getting better every week and I kept thinking, 'Can this get better?'" Lomeli said. "And it got better every single time, thankfully."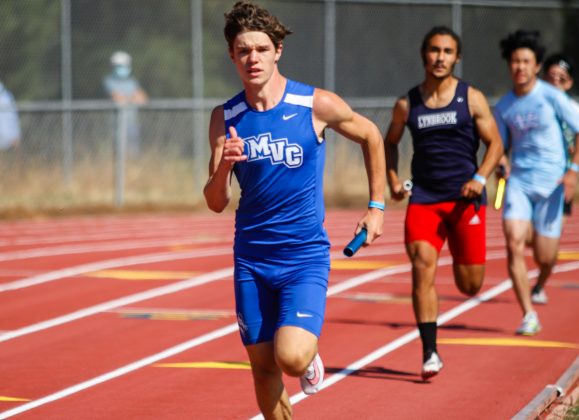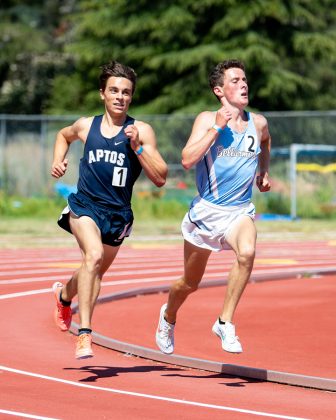 Bachman placed second (1:55.45) in the 800, just behind Yutaka Roberts of El Camino High, who won the race in 1:53.32.
Bachman, who will attend Baylor University in the fall, said the strategy going in was to keep pace with Roberts. In order to do that, he had to push himself harder than ever and he made a move on the second lap that put him in the lead.
"But then he caught me right about there, towards the end," Bachman said, as he pointed to the final 200 meters. "I just wanted it so bad that I gave it everything I had left at the end."
Bachman said this year was strange to say the least and he felt at times like they were living the same day similar to the movie "Groundhog Day."
"Just the opportunity to be out here among all these great guys running a good race, that's all I can wish for. I'm just really thankful this happened," he said.
Aptos High senior Ben Laughlin finished second (9:13.13) in the 3,200.Bellarmine College Prep senior Nolan Topper won in 9:12.78.
"[Topper] was throwing some good surges at me," Laughlin said. "It was a hard race, it got my heart pumping … I wish I could take it from him but it happens."
Laughlin had been running alongside a pack of Bellarmine runners that included Daniel Vaca and Galen Topper, who stayed behind Nolan Topper for a good portion of the race.
Laughlin, who will attend Cal-Poly San Luis Obispo in the fall, and Nolan Topper began pulling away from the pack with about 800 meters to go.
Both runners battled over the final 300 meters but Topperedged Laughlin at the finish line.
Laughlin said there was no good moment to pass Topper as he kept hitting him with big surges until the end.
"I felt confident and strong hanging on but every time I went for a pass or had some movement I can tell I was just pulling a little too much energy," he said.
Aptos' Aidan Tomasini placed seventh in 9:36.95.
"If you're looking for a person who is an all-around good guy and teammate, it's Aidan," Laughlin said. "He pushes all of us to be better."
Mount Madonna senior Octavio Moreno placed fourth in the shot put with a throw of 49 feet, 3 and 1/2 inches.
Watsonville High senior Jonathan Arroyo placed seventh in the pole vault with a jump of 12 feet, while Ceiba College Prep junior Giovanny Melgoza tied for eighth with a jump of 12 feet.
CCS Championships
Local Finishers
100: 8. Jake Morris (Monte Vista Christian), Sr., 11.57
200: 7. Jake Morris (MVC), Sr., 23.07
400: 7. Justin Lomeli (MVC), Sr., 51.43
800: 2. Andrew Bachman (MVC), Sr., 1:55.45
3,200: 2. Ben Laughlin (Aptos), Sr., 9:13.13; 7. Aidan Tomasini (Aptos), Sr., 9:36.95
4×400 relay: 3. MVC (Jake Morris, Sr.; Sage Oliver, Jr.; Andrew Bachman, Sr.; Justin Lomeli, Sr.), 3:27.12
Shot put: 4. Octavio Moreno (Mount Madonna), Sr., 49-3.5
Pole vault: 7. Jonathan Arroyo (Watsonville), Sr., 12-0; 8. Giovanny Melgoza (Ceiba), Jr., 12-0