Monte Vista Christian was eager to get back into the postseason this year with high hopes of defending both its Central Coast Section and NorCal baseball championships.
However, the No. 4 seed Mustangs were corralled back into the stable following a 2-1 loss to No. 8 Hillsdale in the CCS Division V semifinals on May 23.
"We always show up late, it showed. I thought we just had a little more magic still," said MVC coach Johnny Ramirez. "I was proud of the kids. Two years with them and they competed, we just couldn't get back to it. Like I said, nothing to hang their heads on."
Hillsdale junior pitcher Josh Mayol held the Mustangs scoreless until the seventh inning when senior AJ Ferrante hit an RBI single that cut the deficit by half.
Fellow teammate senior Dylan Hawkins attempted to keep the game alive but he hit a blooper to right fielder Jake Belloni, who made the diving catch for the final out.
The magic was all but over for MVC (22-6), which won the Pacific Coast Athletic League Mission Division with a 15-1 record in league play.
Mayol gave up just the one run on six hits and recorded three strikeouts in the complete game win for the Fighting Knights, who knocked out top seeded Harbor (21-7) and won the D-V championship in a 3-0 win over No. 2 Capuchino (19-10) on May 25.
The Mustangs got through the opening round against Gilroy High senior pitcher Quinn Larson—who is committed to play at UCLA—in a 1-0 victory that was won in the seventh and final inning.
MVC senior Jojo Keldsen recorded 13 strikeouts and gave up two hits in six innings on the mound, while fellow senior teammate Dylan Hawkins closed it out.
Hawkins got the nod to start in last week's semifinals against Hillsdale—runner up in the Peninsula Athletic League Ocean Division.
It was the blown opportunities on offense such as leaving runners on base or hitting into a double play by the Mustangs allowed Hillsdale to run away with the game.
"Offensively, we were pretty shaky for six innings," Hawkins said.
Despite being down on the scoreboard, Ramirez still believed MVC would show up late to the party as usual.
"That's been our [modus operandi] all year and we almost had it," he said.
Ramirez recalls when there were some doubters who didn't expect to see the Mustangs succeed in the Mission Division after they placed tied for third in 2022.
The goal all along was to win the PCAL title—which they did—and qualify for the top seed in the CCS playoffs, which they didn't earn despite winning their own division.
"Expectations were for us to win league this year, and we accomplished that, and to get back to CCS when nobody was giving us a shot," Ramirez said. "I kind of saw we had to make up for this team."
Division II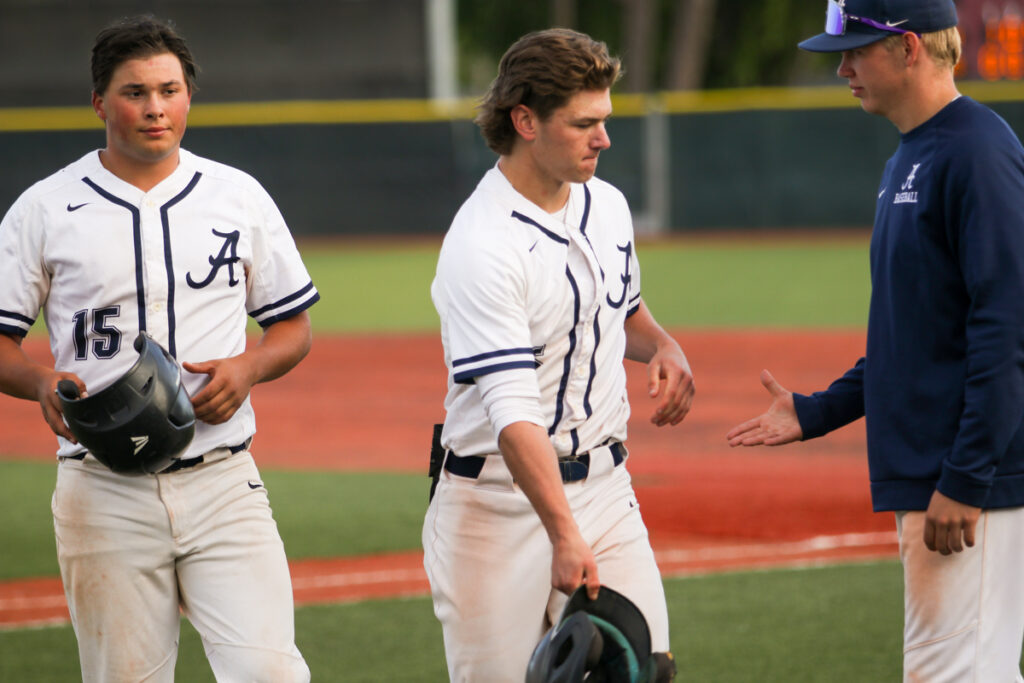 Aptos High senior Gabe Gaeckle also suffered an early exit in the postseason after the Mariners came up short in a 9-1 loss to Leigh High in the Division II semifinals May 24.
"It was a little rough in the beginning, our energy was a little down the whole time," he said. "Defensively, some bad mistakes and offensively we didn't play our best today and the results showed that."
Longhorns senior pitcher Colten Hanson gave up just one run on four hits and finished with three strikeouts against the Mariners, who struggled to get anything going on offense.
"I think [Hanson] just attacked the zone and we weren't being aggressive," Gaeckle said. "I think we were a little early, we didn't have an approach. So he pitched a great game and props to him."
Gaeckle got one of those four hits that drove in junior Edward Peters to score the lone run for the Mariners.
Aptos junior starting pitcher Jorden Espinoza gave up five runs on four hits in 2 2/3 innings of work before he was subbed in by junior Matt Hood.
Despite the loss, Gaeckle said it was a great season overall and he's going to miss playing for manager Jason Biancardi and his coaching staff.
"We were a close knit group and I'm going to miss some of the guys that played with and coach [Jason] Biancardi and all the coaches made every practice pretty fun," he said. "It was a family and being in this program for four years…it was special."
Gaeckle—a Major League Baseball Draft prospect who is committed to University of Arkansas—has pitched for Aptos, they have gone undefeated by going 7-0.
This season, he boasts an ERA of 0.40 and 105 strikeouts with a 7-0 record, according to the Max Preps website.
Gaeckle will find out in July whether he'll get his name called during the MLB Draft.
"I'm excited to see what's next," he said. "I'm ready to take on whatever challenge I face whether it's pro ball or college."
Division III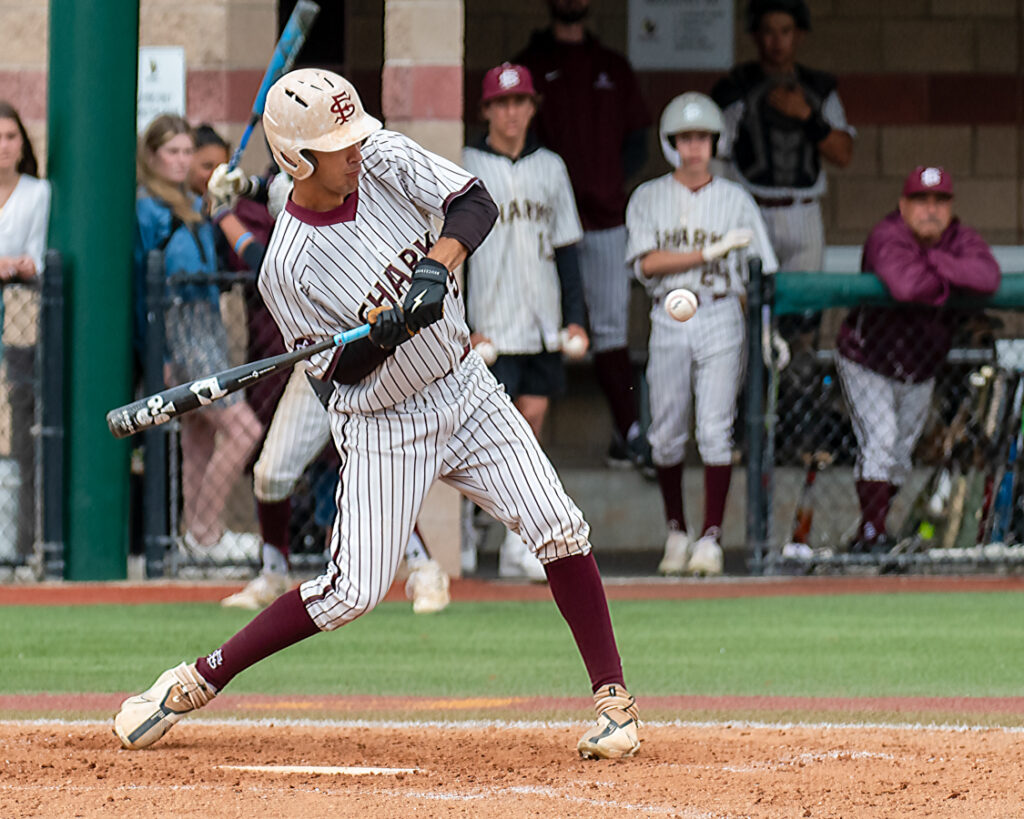 Carmel High got some redemption by beating St. Francis High, 3-1, in the D-III semifinals after losing to the Sharks in last year's D-III championship.
"The pitchers did a good job of keeping us off balance. they threw breaking balls and their secondary pitches, plus-counts…they did a good job," St. Francis manager Kenny Nakagawa said.
Carmel took advantage of four hits by hitting three triples, while the Sharks left base runners stranded in every inning except for the opening frame.
"When you leave guys on base it's kind of tough to win, right?"
It was the fourth meeting between both ball clubs, which meant they knew each other pretty well by this point.
"It's tough to beat somebody three out four times. They're a good ball club, take nothing away from them. Their pitchers did a good job and when their hitters needed to make things happen they did."
Especially when Nakagawa hadn't seen Carmel freshman pitcher Matt Maxon—who verbally committed to play at Stanford—throw in a game this season.
What the Sharks found out was Maxon had a pretty good breaking ball and he would throw it at any count, which he did most of the afternoon.
"You gotta tip your hat to those guys," Nakagawa said. "It was a great high school baseball game and we have nothing to hang our heads about. We had a great year and a great run."
The Sharks went into this season as the reigning CCS champion and they lost two of their starting seniors. Still, they managed to return to the semifinals with an opportunity to win.
Earlier in the season, they lost sophomore Nash Horton who suffered a devastating injury to his pitching arm that required surgery and rendered the season all but over.
"It'd be an understatement for me to not say we won't be back here again next year," Nakagawa said. "I'd be disappointed if we're not."