WATSONVILLE—Monte Vista Chritian senior Isabella Madrigal was a powerful weapon on the hard court for the Mustangs' girls volleyball this season.
Her production didn't go unnoticed by coaches within the Pacific Coast Athletic League, which named her the Mission Division's Best Offensive Player of the Year.
Madrigal finished with 127 kills, 35 aces on an 83.7 serving percentage (144-of-172 attempts), 168 digs and 224 receptions on serve-receiving, according to stats accumulated on MaxPreps.com.
"To be part of this team as a senior with just a really well rounded group of people as well as a great coach and great staff supporting us, it feels really, really great," said Madrigal after the Mustangs' season finale against King City on Oct. 25.
MVC first-year coach Natalie Picone said that Madrigal is a fantastic player and is super team oriented.
"She's not so focused on her own success, she is focused on the team's success overall," Picone said. "She's constantly talking, she's putting other people in front of herself. If she gets the kill she'll immediately look at her setter."
King City senior Sage Flores was named the league's Most Valuable Player, while Pacific Grove junior Brianna Morgan earned the Best All-Around Player award.
Madrigal and fellow sophomore teammate Elizabeth McCuistion were named to the All-PCAL Mission Division First Team.
McCuistion finished with 115 kills, 34 aces on an 89.7 serving percentage (165-of-184), five blocks, 131 digs and 206 receptions on serve-receiving.
Madrigal and McCuistion led the Mustangs to a 16-9 overall record. They went 10-2 in league play to capture the PCAL Mission Division crown for the program's first league title since 2013.
Madrigal said they made all of these really big goals at the beginning of the season and to persevere through diversity and come out with what they wanted, and expected, was just a great feeling overall.
"League champs, that's a big thing so I'm really thankful to everybody that continues to support us," Madrigal said.
MVC junior Avery Coleman was named to the All-PCAL Mission Division Second Team after a great year as the team's setter.
She finished with a team-high 273 assists to go along with 124 digs, 14 kills and 29 aces on a 93.7 serving percentage (86-of-200).
Watsonville senior Nora Cole and sophomore Daisy Cornejo were also named to the all-league second team.
Coleman and Watsonville senior Jessica Alvarez were named to the Richard Chamberlin All-Sportsmanship Team.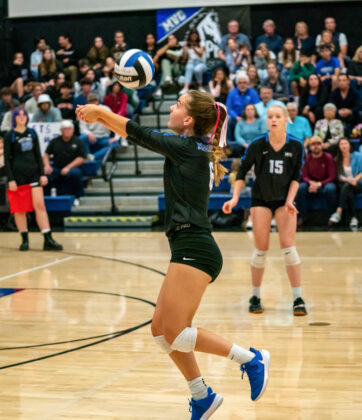 Mission Division
Most Valuable Player: Sage Flores (Sr.), King City
Best Offensive Player: Isabella Madrigal (Sr.), Monte Vista Christian
Best All-Around Player: Brianna Morgan (Jr.), Pacific Grove
First Team
Sage Flores (Sr.), King City
Julia Mendez (Sr.), King City
Isabella Madrigal (Sr.), MVC
Elizabeth McCuistion (So.), MVC
Ava Marshall (Sr.), Pacific Grove
Brianna Morgan (Jr.), Pacific Grove
Pascone Jordyn (Sr.), North Salinas
Sia Halai (Sr.), Monterey
Gina Da Silva (So.), Stevenson
Second Team
Amity Hearne (So.), King City
Janesa Lopez (So.), King City
Avery Coleman (Jr.), Monte Vista Christian
Raina McCarthy (So.), Monterey
Juliette Souza (So.), Pacific Grove
Isabella Chaney (Sr.), North Salinas
Sydney Clymo (Sr.), Stevenson
Nora Cole (Sr.), Watsonville
Daisy Cornejo (So.), Watsonville
Elgie Bellizio Team Sportsmanship Award
Pacific Grove
Richard Chamberlin All-Sportsmanship Team
Lisa Villanueva (Jr.), King City
Avery Coleman (Jr.), MVC
Chloe Smith (Sr.), Monterey
Remi Misawa-Salzmann (Sr.), Pacific Grove
Jizelle Maturino (Sr.), North Salinas
Abby Yamashita (Sr.), Stevenson
Jessica Alvarez (Sr.), Watsonville
Cypress Division
Most Valuable Players: Angelina Navarrao (So.), Gonzales and Dora Roberts (Jr.), Seaside
Defensive Player of the Year: Ruby Lopez (Sr.), Rancho San Juan
First Team
Celeste Camarena (Sr.), Gonzales
Josselyn Hernandez (Sr.), Gonzales
Angelina Navarrao (So.), Gonzales
Brianna Oliva (Jr.), Gonzalez
Amelia Visesio (Sr.), North Monterey County
Ruby Lopez (Sr.), Rancho San Juan
Lizbeth Madrid (Sr.), Soledad
Kasandra Lopez (Jr.), Soledad
Dora Roberts (Jr.), Soledad
Second Team
Alexa Mendez (Sr.), Gonzales
Iris Hurtado (Sr.), Gonzales
Priscilla Fierro, Gonzales
Janely Escobar, North Monterey County
Lauren Burke (Sr.), Pajaro Valley
Alondra Martinez (Sr.), St. Francis
Valeria Segura (So.), Soledad
Haley Mathews (Jr.), Soledad
Lynnette Arguelles (Sr.), Soledad
Elgie Bellizio Team Sportsmanship Award
Seaside High
Richard Chamberlin All-Sportsmanship Team
Karisma Cabada (So.), Gonzales
Mabel Martinez (Sr.), North Monterey County
Kalia Maravilla (Jr.), Pajaro Valley
Jaqueline Moreno (Sr.) Rancho San Juan
Dora Roberts (Jr.), Seaside
Marea Ito (Sr.), St. Francis
Melanie Chavez (Sr.), Soledad