WATSONVILLE—A new bilingual center, aiming to provide services and resources to families across Santa Cruz, Monterey and San Benito counties, will open its doors Monday in Watsonville.
Located at 1205 Freedom Blvd., Raíces y Cariño: A Community Collective for Families (RC Fam) will offer a variety of workshops, classes, social activities, support groups, health and wellness resources, and more through partnerships with local community organizations.
"Watsonville has so many great groups doing amazing work," said Nora Yerena, who founded the center with Juliana Reyes. "But one piece that is missing is a family center, where there is easy access to everything in one place."
Yerena called the center "a labor of love" for her and Reyes. Both have worked for years in family education. Yerena is a certified doula, Family Life Educator, lactation professional and counselor, and helped found two local mental health task forces. Reyes, who immigrated from Mexico to Watsonville as a teenager, has worked for various social service agencies and educational institutions throughout the county.
They also both know the challenges that come with motherhood and the importance of community support in raising children.
"Being pregnant was hard," Reyes said. "No matter how strong you are, or how independent. As an immigrant and a daughter of immigrants… We know how to work hard. But when you become a mom, no matter what, you're vulnerable. You need a village to help you."
Yerena, a mother of six, said she struggled finding enough support in South Santa Cruz County, which is why it was so important to open the new center in Watsonville.
"I started having babies here 11 years ago, and then, there was really only one support offering in South County, at Watsonville Hospital," she said. "Everything else was in Santa Cruz. The only day every week I was thriving was that one day at the hospital. It saved me. I struggled a lot raising my children in isolation, alone. And it was frustrating because I'm a family educator—I knew what I needed, but did not have access to it."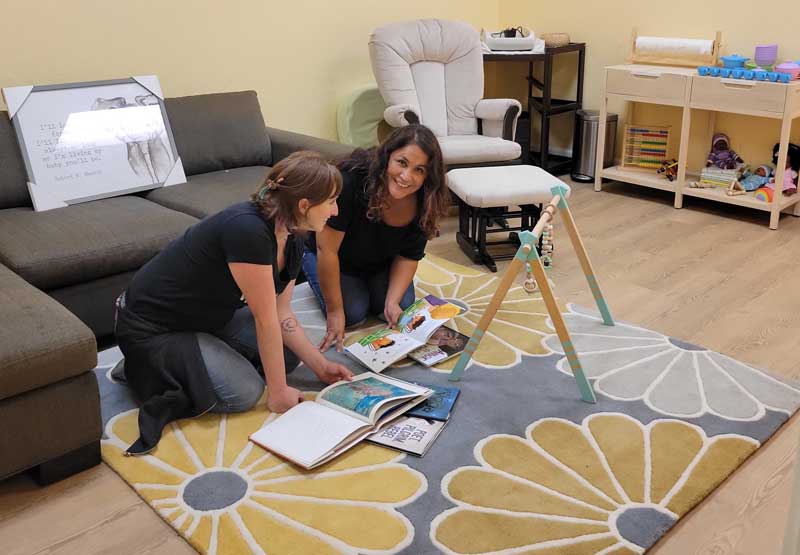 Reyes, who eventually moved to Santa Cruz to raise her family, noticed the disparity right away.
"Because I was living in Santa Cruz, it made a big difference," she said. "I was getting services. There was so much access in North County. It was day and night. I always felt, well, Watsonville has parents too, and they need access to these services."
Yerena began planning for RC Fam almost 10 years ago. She eventually met Reyes, and knew immediately she wanted to bring her on board.
"I often joke that I had recruited Juliana before she even knew about the center," Yerena said. "I was building my team as I was receiving care and meeting people in the community, keeping notes of who I needed at the center."
It was the Covid-19 pandemic that really pushed the idea for the center forward, she said.
"The need in the community couldn't have been more clear," she said. "I thought, I'm ready, let's go do this."
Yerena said that RC Fam is based on three core principles: equity, inclusivity and diversity. The center is multicultural, open to people of all demographics, cultures and identities. There are bilingual classes and support groups for mothers, fathers, LGBTQ+ families, parents of children with special needs, and more.
"We really want to ensure that this is a safe place for everyone," Yerena said. "We also want it to be a fun place, where families can come and enjoy themselves, watch a movie or have dinner together. We are not a clinic or a school—we exist for that time in-between."
RC Fam celebrated its grand opening earlier this month with an open house, which included a provider resource fair, activities and a raffle. Staff is currently finalizing the center's online calendar in preparation of officially opening Monday. They say they welcome input from the community.
"Our calendar is evolving," Reyes said. "We want to do this right—that's the reason we're taking a while. We want to hear from the community, especially the underrepresented. We want everyone to have a say, because this center is for them."
For information about Raíces y Cariño: A Community Collective for Families, visit rcfam.com or follow on Facebook and Instagram.