A series of First Friday art shows will kick off in Seascape Village this summer thanks to Stable Life Services (SLS), a nonprofit aiming to support individuals with special needs and their caregivers.
First Friday is a monthly art tour featuring local artists in venues across Santa Cruz County. SLS joined the tour by hosting its own event at its new Community Activities Hub and Gift Shop on June 3.
"A lot of other places here in the village complex are interested in getting involved," says program director Katie Gentile. "We're hoping that we'll get other businesses doing it as well so we can have a little walking tour, with art and music."
SLS was founded in 2018, and provides respite services to families served by the San Andreas Regional Center. They officially opened the Hub in Seascape in November of last year.
Founder and executive director Gail Wright says it was her son, Brett, who inspired her to start the organization.
"My driving force has always been my son," Wright says. "A lot of kids grow up together in programs, but when they get older they leave and don't have a place to see each other again. We're hoping to create a safe space where people can come from all different programs … while giving families and caregivers support, as well."
Gentile said they hope the Hub will become a resource for residents in the more southern parts of the county.
"There are a lot of great programs in Santa Cruz," Gentile says, "but for a lot of our clients who are in this area or Watsonville, it's too far for them to go. It's hard to get there."
The Hub will be hosting classes, activities, music, art, exercise, dancing and more. It will also act as a facilitator for parents and families, giving them a place to meet up.
"Once you get together, you find you have so much in common," Wright said. "There are lots of other families and caregivers out there who are in the same sort of boat."
The inaugural First Friday on June 3 featured work by artists from the Claraty Arts Project, a Santa Cruz-based program, studio and gallery that works with neurodiverse adults. The organization partners its members with professional artists, who help them develop their own style and how to show their work professionally.
"Our partnership with Claraty is really special," Wright said. "They have such a similar mission, in giving these adults a space to be creative and have a community. Some of these artists are just so incredibly talented."
Added Gentile: "[Claraty] haven't been showing that much, or having drop-ins at their gallery. All their artwork is all over their studio, but not being viewed by anyone. So it's super exciting to finally be giving these artists a place to be seen."
Claraty's AJ Redmond is one of the featured artists whose work is currently on display.
"AJ is quite known in Santa Cruz," Wright said. "He's incredible, so talented. Plus, my son happened to have met and worked with AJ in the past, so it's been really cool to have them meet up again."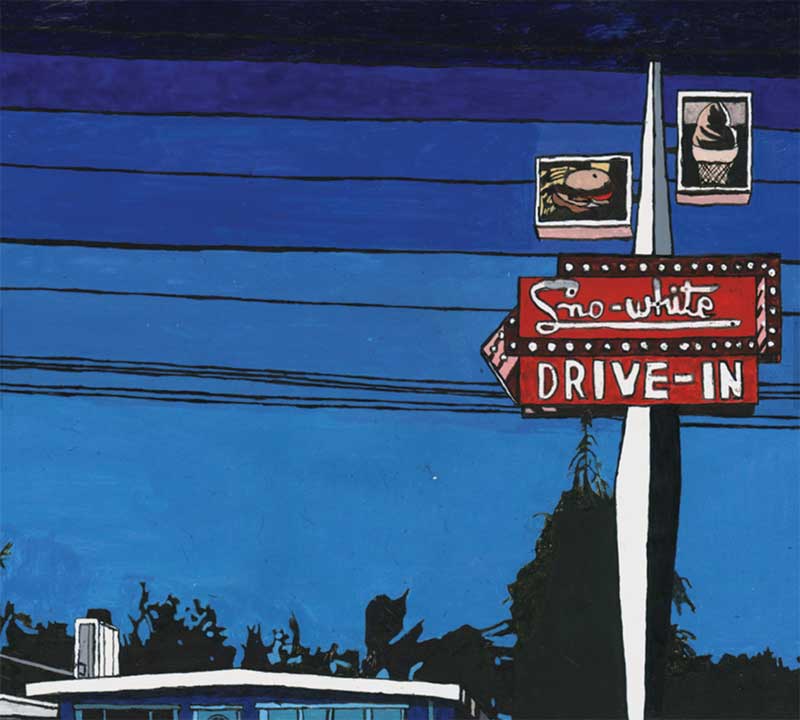 First Fridays will continue on July 1 with a show featuring artwork by longtime Aptos resident Erika Ismerio. Ismerio described the show, entitled "Scrapbook," as a series of vignettes described as "a capsule of feminene moments set in lush nature settings." The event will include live music from Steve Robertson and Jack Gates.
"Erika is such an incredible artist," Gentile said, "so we're really excited to show her work."
In August and September, Claraty will return to the space to feature more artwork by its members. Wright said they are working on creating a line of merchandise to sell during First Fridays. They will also be selling greeting cards that will benefit ongoing humanitarian efforts in Ukraine.
Gentile says they hope to branch out and do even more outreach at the Hub in the future.
"When I started working here, Gail made it apparent that after they finish school, a lot of special needs adults don't have anywhere to go," she said. "They're stuck with day-to-day things with their caretakers. We want to create a space where they can come interact with people and get involved in things. To have a community to be part of."
The Community Activities Hub and Gift Shop is located at 18 Seascape Village. Click here for information about the upcoming First Fridays event.