WATSONVILLE—Monte Vista Christian senior Jacob Woods texted baseball head coach Johnny Ramirez on Friday night prior to their big game in the CIF NorCal Regional finals.
Woods, who recently pitched a seven-inning gem in Tuesday's Division V first round win, told his skipper he was good to go for three more innings if they needed him in Saturday's championship game.
The ace starting pitcher also made the message loud and clear he was almost certain that anybody he was going to face was not making contact with any of his throws. 
"[Woods] is just a special player and like I've told a lot of people, if there's no colleges looking at him there's a problem with our recruiting in this area," Ramirez said.
Woods let his arm do the talking for the No. 1 Mustangs in a crushing 12-2 win over No. 6 Berean High of Walnut Creek to cap off the most historic run in the program's history. The game ended in the fifth inning due to the 10-run mercy rule.
Woods gave up a pair of hits and notched four strikeouts in three innings. He also drove in four runs and scored once for MVC.
"It's crazy to be a part of something so big for this community, my school," he said. "I know this is the inaugural year for the NorCal championships, so just to be the first, no one can ever take that away from us and we'll always be remembered as that first team."
The Mustangs (24-8-1) were coming off the program's first-ever Central Coast Section title run after a win over Gunn High in the D-VI final May 26. They can now add a CIF NorCal D-V first place plaque to the trophy case.
MVC became the second team in the section—and only school in Santa Cruz County—to win a state title after No. 2 Mitty High defeated No. 4 Granite Bay, 4-2, in the NorCal D-II final.
"It's special for me, this is for Watsonville. It's not just for Monte Vista, it's for everybody around," Ramirez said. "I saw people come out and I can hear people cheering, it's great…this is not just for us, it's for all our schools around here."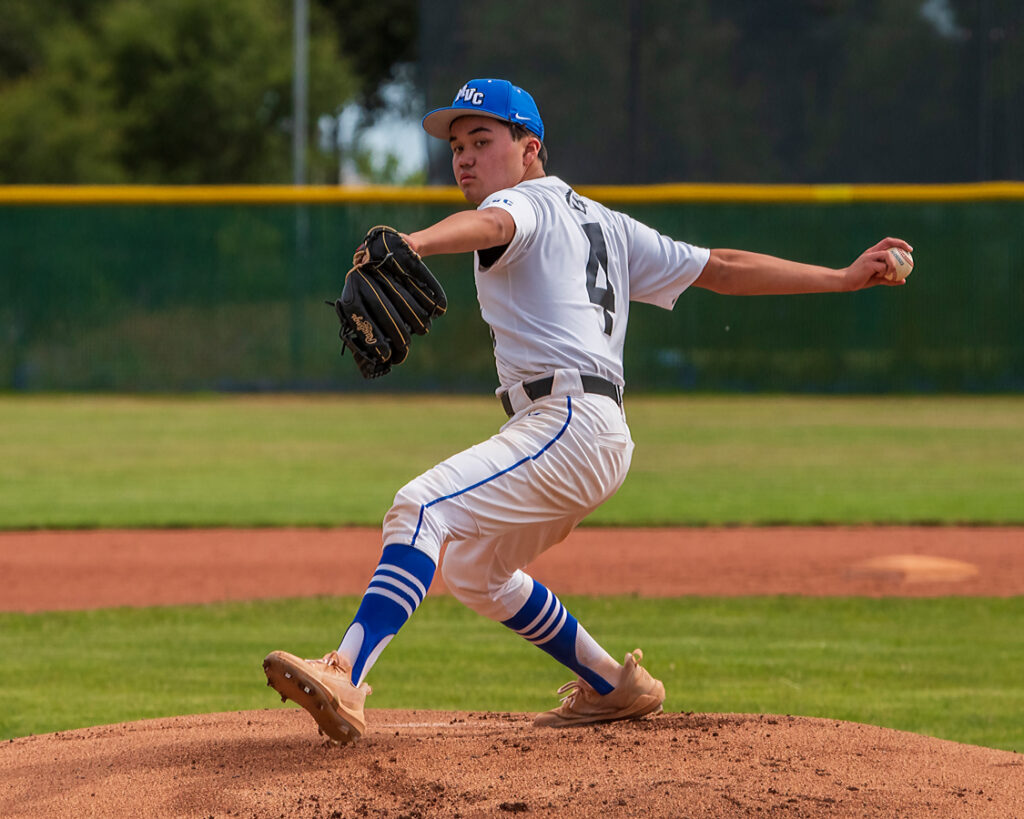 Woods looked sharp from start to finish, while junior Dylan Hawkins followed up with a spectacular closing performance for the win.
Ramirez mentioned they also had senior Andre Moretti ready to go in the bullpen. The Mustangs had already put the hammer down before his number was called.
"I know I just had to come in and give my team the best shot to win," Woods said. "I knew that Dylan [Hawkins] was coming in after me and I just wanted to give him the least amount of pressure as possible."
The Mustangs' offense gave Hawkins a 10-run lead going into the fourth.
Senior first baseman Luke Hollingsworth said having the home field advantage gave them confidence. They knew every hop the balls take and how the field plays, giving them the upper hand.
"I felt at the start of the game we were confident and then we just started hitting, we were just like 'We're going to come home with this win, this is great.' Everyone's happy," he said.
The Mustangs came storming out of the gate by taking a 2-0 lead in the bottom of the first inning.
In the second frame, Cannon Silva executed a bunt attempt to perfection with one out to load the bases. Senior right-fielder Mark Spohn cleaned it up with a two-run double that drove in Jojo Keldsen and Hollingsworth.
Moments later, Woods drove in Silva on a ground out RBI sacrifice and Spohn scored after an error by Eagles second baseman Dominic Roca.
"It gave us the momentum and I just think we rode with it," Spohn said.
The Mustangs continued to run wild after Jack Brothers hit a bomb that went off the centerfield wall.
Diego Mitchell was hustling his way from first base to home plate, but a relay throw to catcher Griffen DeRusso—who had to leap for the ball and broke his helmet on the swipe—tagged Mitchell for the out.
The impact of the fall forced DeRusso to come out of the game with an ankle injury, which left a big hole in the Eagles' offense.
De Russo went into Saturday's game with a team-best .372 batting average (35-of-92), 36 RBIs, 28 runs scored and four home runs.
Berean needed some type of spark after the derailing injury and watching starting ace pitcher Tom Reed give up six runs in the first two innings.
"We knew we were going to be in for a good one and we just jumped all over [Reed]," Woods said. "After that, I was totally confident for the rest of the way."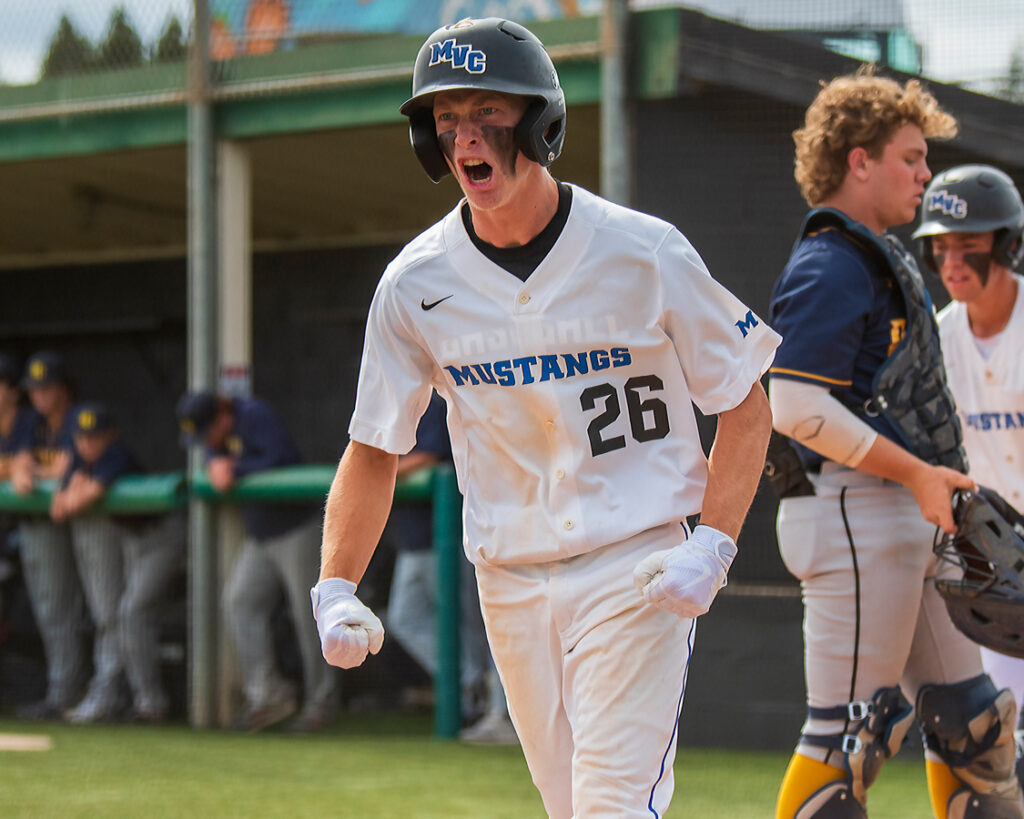 The Eagles nearly got something going in the top of the third frame by putting runners on first and third base.
MVC's "no-holds-barred" defense, however, stepped in once again when Spohn sprinted deep into foul territory, nearly crashing into the chain link fence to make the catch for the final out in the top of the third.
Spohn was part of another big defensive play in the fourth when he connected with Woods on a cut-off throw, who then tossed it to third baseman Erik Caballero for the tag out.
"I knew [Spohn] was going to track it down and I had to get in position," Woods said. "I didn't know if [the base runner] was going to go and I guess he just rounded the bag too hard. [Caballero] called for it, I gave it to him and he put a nice tag down."
Showing no signs of letting off the gas pedal, these finely-tuned Mustangs continued to pour in runs starting with back-to-back base hits that drove in outfielder Gavin Allen for a 7-0 lead.
MVC was also aggressive with its base running early and often. After a base hit single, junior infielder Cannon Silva made his way to second for the team's fifth stolen base of the game, at the time.
Hollingsworth's RBI single extended the lead by eight.
Reed—who came in with an 8-2 overall record and a 0.92 earned run average—didn't make it past the third inning. He was replaced by third baseman Iveer Vertulfo.
Ramirez said the Mustangs' players were fired up once they saw Reed hit the rubber, thinking back on the type of talent they already faced during the regular season.
"No disrespect to their player, [Reed] battled. But our team was just that much better," Ramirez said. "Our team is just one step ahead of everybody right now, it's just the way it is."
Ramirez said the Pacific Coast Athletic League's Mission Division is rated a 'B' division by Central Coast Section standards.
However, the division featured some of the best pitching in the section this season, including Oregon State-commit Erik Segura of Soledad, Dominic Hernandez of Watsonville and both Kai Price and Nash Horton of St. Francis, which won this year's CCS D-IV crown.
"We have pitchers that we face that are as good as anyone else's," Ramirez said.
Woods gave the Mustangs a bigger cushion at 10-0 with a two-run triple, inching them closer to the county's first-ever NorCal baseball state title.
In the fourth, Hawkins stepped on the mound for the first time in nearly a month. It showed after he allowed two hits that put Berean runners on first and third base.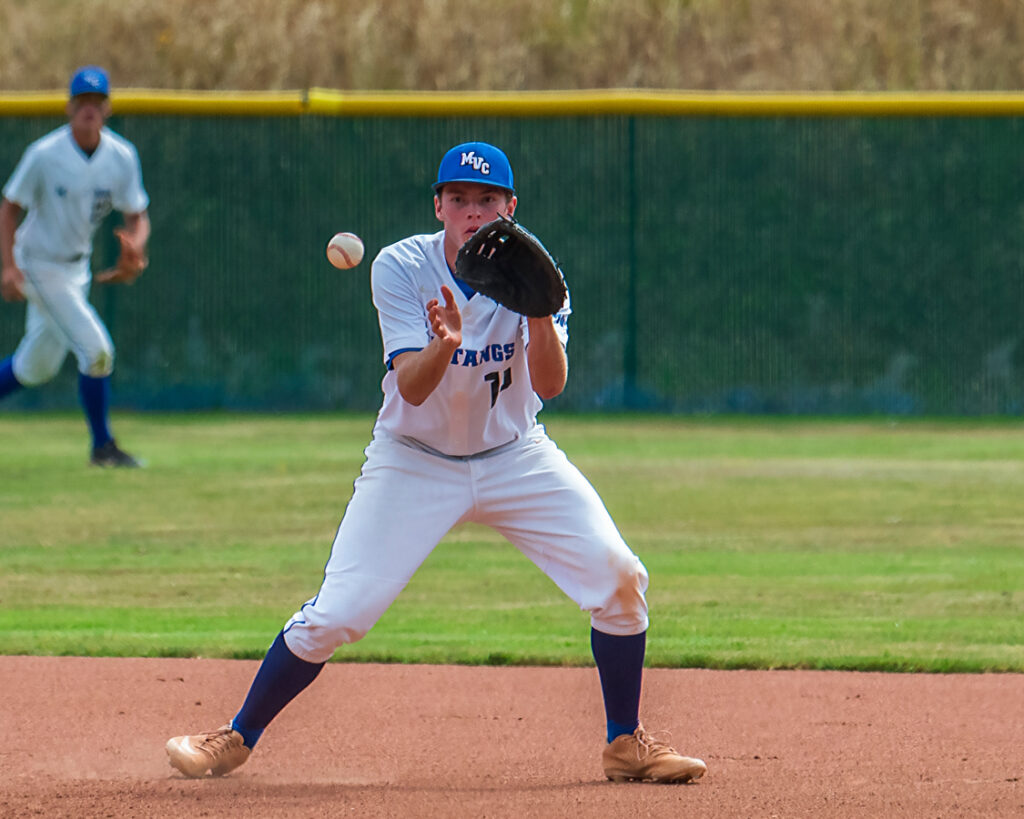 The Eagles followed up with a pair of back-to-back RBI singles that made a small dent to its 10-2 deficit. They were hoping that was the spark they'd been looking for the entire afternoon.
Hawkins managed to put out any kind of fiery comeback.
In the fifth, the junior right-hander began to pick up speed on his fastball pitch. Then he pumped the brakes on Berean junior Luke Meyer, who struck out on a curveball that froze him like an ice sculpture.
The bottom half of the frame began with some early fireworks and not in a good way.
Keldsen was hit by a pitch and he had some words for reliever pitcher Vertulfo, who stared down and jawed back at Keldsen as he took his base.
Both benches didn't clear, but Ramirez and Berean coach Jeremy Brys talked to the umpires to calm down the situation.
Ramirez mentioned the opposing dugout probably didn't like how "loose" they were playing.
But then it became apparent after a fourth different Mustangs' batter was hit by a pitch after crowding the plate with two strikes, Ramirez said.
"I know you're trying to back us off, I get it, but at that point it just became kind of chippy," he said. "But I like the dogs in us. I've always said I love my team, I love the fight."
After the dust settled, Hawkins came to the plate for his first at-bat of the afternoon. He executed a sacrifice bunt that moved Keldsen and Hollingsworth over to second and third base, respectively.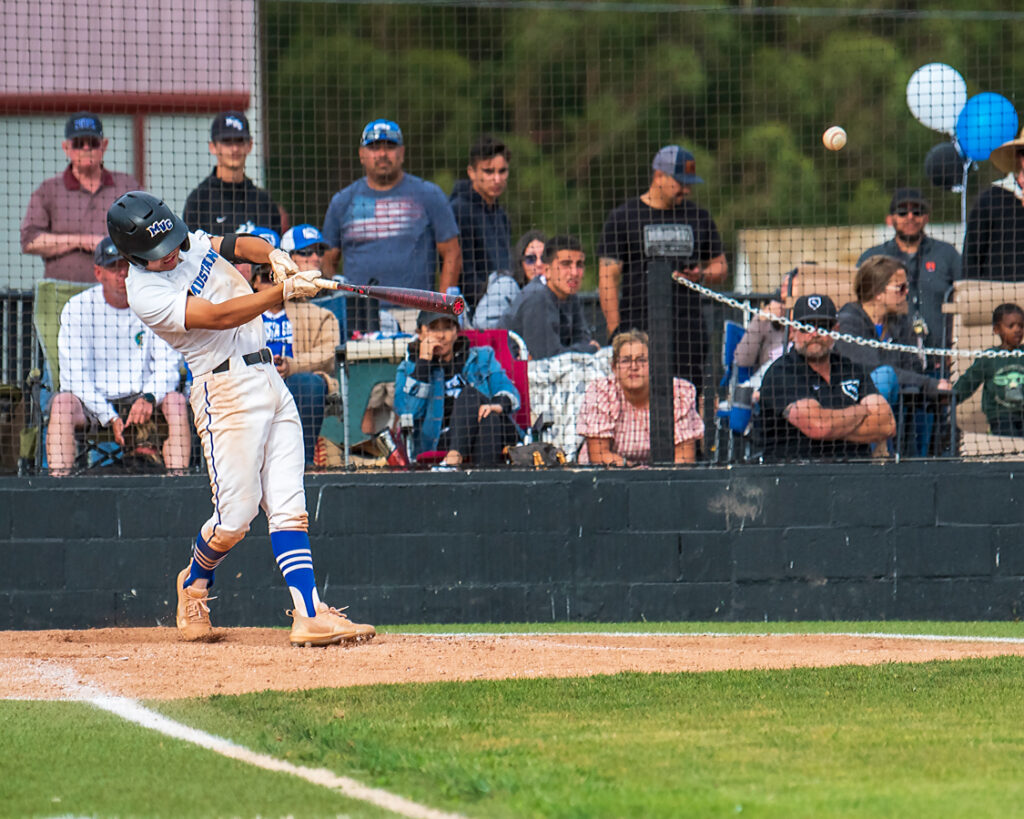 After a stellar performance on the mound, Woods capped off the Mustangs' season with a walk-off two-run single.
Woods said he thrives on moments with pressure on the line, especially if it gives him a shot to step up and bring home a NorCal Regional title for MVC.
"Nothing but pure joy, you couldn't ask for anything more to end your high school career than this," Woods said.
Of the 15 years in his coaching career, including a 10-year stint at Lynbrook High in San Jose, Ramirez said this group was the funnest to be around.
The "loosey goosey", have-fun attitude rubbed off from the coaching staff down to the players, who took it upon themselves to take on that identity.
"Look how they're walking out of here in Hawaiian shirts," Ramirez said. "That's just been their identity of playing all year."
Ramirez said it wasn't until their regular season finale win against The King's Academy that the switch flipped and they took on a new identity. Since then, they've been unstoppable.
The Mustangs' first-year skipper said the book is closed and the destiny is over, but that doesn't mean there's not going to be a sequel in what he hopes will be a series of more books.
MVC is expected to have 11 juniors including Keldsen, Hawkins and Silva return along with a new set of underclassmen.
"It's going to be a good run for us next year, I'm excited to see what we're going to do," Ramirez said. "I wish we could start the season next week but I need a vacation."