This year's high school football season came to an end a little more than a month ago. But the Pacific Coast Athletic League Board of Managers recently announced its final decision regarding placements for next year's divisions.
There was some shifting going around and I'm not sure if I totally agree with some of the moves made within the league.
Before I begin to give my two cents, here's a breakdown of what's in store for next year's four divisions.
The PCAL-Gabilan will feature a whopping nine teams competing in the top tier of the league. Alvarez, Aptos, Christopher, Palma, division champ Salinas and San Benito, along with Mission division cochamps Alisal, Monte Vista Christian and Seaside, will compete for a league title.
The PCAL-Mission, also known as the "B+" tier of the four divisions, is made up of eight teams. Carmel will drop down from the Gabilan to join Gilroy, newcomer Gonzales, of the Cypress division, Monterey, North Salinas, Cypress division champ Santa Cruz, Soledad and Soquel, which also got bumped up.
The PCAL-Cypress will feature King City, North Monterey County, Santa Lucia division champ Pacific Grove, San Lorenzo Valley, Scotts Valley and Watsonville. The division will also feature Rancho San Juan, which is fielding it's first varsity program.
Finally, the PCAL-Santa Lucia is made up of just six teams that includes Greenfield, Harbor, Marina, Pajaro Valley, division runner up St. Francis and Stevenson.
This is where I'll start my "beef " with the PCAL Board of Managers.
So, let me get this straight. The PCAL "super league" was built for equity so that teams can evenly compete for a division title or a spot in the Central Coast Section playoffs.
Do you feel like these four divisions are truly equal in terms of competition? Does each team have a chance of winning at least a share of a league title?
The Santa Lucia will have five league games scheduled, which is one less than the previous season. There's only one guaranteed CCS playoff spot from this division but something still bugs me about the move.
The PCAL Board of Managers decided the best thing to do was to schedule the Harker School of San Jose as an extra non-league game for each Santa Lucia division school, which is a head scratcher.
According to the PCAL, "Harker school plays an independent schedule and is not affiliated with any league. This arrangement is for ease of scheduling for the PCAL schools as well as for Harker."
Why not stick the Trailblazers in the lowest tier of the league? It's the first time the school will compete at the highest level in prep sports and perhaps it's too soon to stick them in the third-hardest tier.
I talked to several coaches in the league and one said the real rub about all of this is that nine teams in the Gabilan division will be almost guaranteed six playoff spots for the CCS playoffs.
The top-4 teams are guaranteed a spot with fifth place possibly going 4-4 in league. The coach also added the fifth place team can beat two "B" teams in non-league play and earn a minimum of 22 playoff points.
The sixth place team in the Gabilan division can end up 3-5 in league play, also beating two "B" league teams in non league and still earn a minimum of 20 CCS points.
Any team can accumulate a good amount of Cal-Prep points just by simply playing Salinas, Aptos, Palma and San Benito.
The coach said it's probably one of the main reasons why Palma pushed for a 10-team league.
"Why play Milpitas or Wilcox and risk losing, if you can accumulate three points beating Seaside or Alisal?" he said.
He believes the Gabilan will reach the CCS limit of six playoff qualifiers. The fifth and sixth place teams could wind up like Milpitas, which qualified as the top seed in last year's CCS Division IV bracket.
Milpitas finished with a 4-6 overall record and placed fifth in the Santa Clara Valley Athletic League DeAnza division, going 3-3 in league play.
This is why I don't see a solution anytime soon. This problem will continue unless the board comes to an agreement that this will not work out for the league.
If I had a magic wand, here's how I'd set up each division beginning with the Gabilan: Salinas, Palma, Aptos, San Benito, Alisal, Alvarez.
These six teams are truly the best of the best and can easily schedule legitimate non-league games for playoff points.
For the Mission, I'd go with North Salinas, M.V.C., Carmel, Monterey, Seaside, Santa Cruz, Christopher and Soledad. This group of teams are solid all the way around but not quite built for the highest tier in the league.
The schools are small but they can produce enough talent year after year that allows them to be competitive with some of the bigger schools.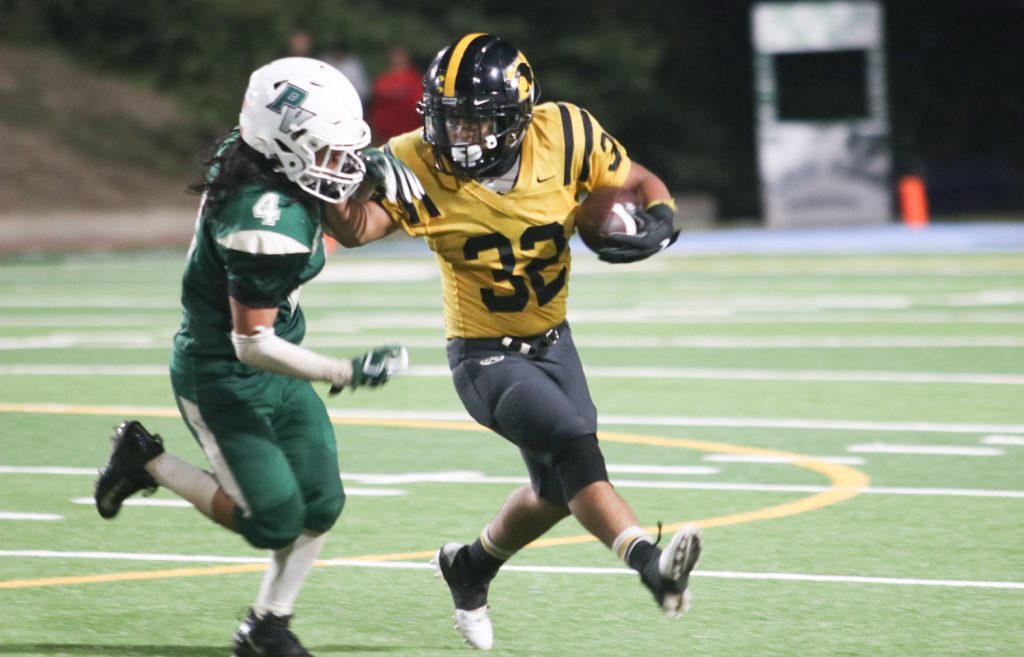 Next up, the Cypress division should include N.M.C., Soquel, Gilroy, S.L.V., Scotts Valley, Watsonville, King City and Gonzales.
This is a mixed group of big and small schools, in terms of enrollment, but have trouble retaining talent on the roster due to high numbers in graduation.
The turnaround is huge for these teams but the schools are big enough to fill rosters, making this an interesting division towatch if it were to happen.
Then we come down to the Santa Lucia division, which should feature Harbor, Rancho San Juan, Stevenson, St Francis, PV, Marina, Greenfield and Pacific Grove.
Not only is this an even division but it's fair for the smaller schools that have trouble filling the roster.
The Sharks had a little more than a dozen players going into last year's opener. Head coach John Ausman had to call up several sophomores to step in.
The Santa Cruz Coast Athletic League merged with PCAL for football only. It hasn't been much help of leveling the playing field but here's an idea.
Perhaps it's best of joining another league that is also dealing with the same issue, especially with numbers in programs slowly shrinking each year.
There's been talks of maybe joining the PCAL with the SCVAL, which has also struggled to find equity in its league.
It sounds like another crazy idea but maybe this one might work if the right minds can come up with a solution to this mess.
•••
Editor's Note:This article will be published in the Dec. 27 edition of The Pajaronian.