Editor's note: This is the first entry of a two-part series on San Francisco.
I was in San Francisco twice recently and though I've been there numerous times I still ran into plenty of new places to make it worth the short trek north.
In December I used public transportation from downtown Santa Cruz to reach downtown San Francisco. It was easy. I took the METRO Highway 17 Express over Highway 17 to the San Jose Diridon station. The station opened in 1935 as Cahill Depot and was built in Italian Renaissance Revival style. It serves as the central passenger rail depot for San Jose and is a historic gem.
The one-hour bus trip is $3.50. Twenty minutes after I got there, I climbed into a comfortable seat on the second floor of a Caltrain for a one-hour rail trip to San Francisco. It's $10.50 one way.
At first, I had the entire second floor of the train to myself. That ended abruptly at the Santa Clara stop where the train filled up with about 200 Santa Clauses, elves, Santa's helpers and scores of people in Christmas pajamas. Mostly young folks, this friendly group lit up the train with its holiday exuberance, especially once the booze came out and the heavy drinking went into high gear. They were taking part in the annual SantaCon, which was founded in San Francisco in 1994. It has now evolved into a day-long pub crawl/bacchanalia for Santa-clad people. Cases of alcoholic seltzer augmented large bottles of vodka and gin on the train. Paper shot glasses were passed around and the Santa gang got to work getting really loaded.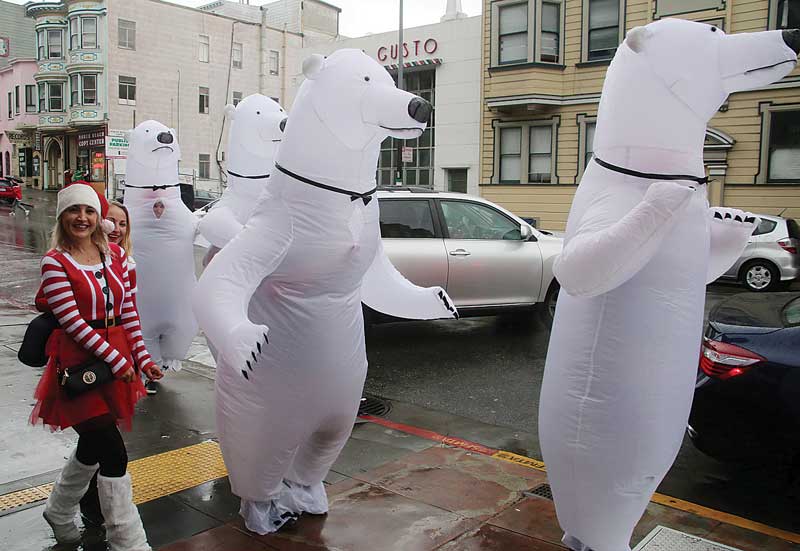 "Let's take a shot every time we hit a bump," someone hollered. And they did. I had to deflect about 10 of their friendly attempts to "top off" my coffee thermos with vodka. Then they started taking mouthfuls of Hershey's chocolate, followed by a blast from a can of whipped cream, washed down with a shot of vodka.
By the time we rolled into the Caltrain San Francisco station most of these folks were pretty hammered. That's when someone yelled, "Now let's hit the bars!" The Santas and elves, some sporting frilly red skirts and fishnet stockings, hit the streets for an afternoon of bar hopping.
By plan, I linked up with my long time friend Tom from Boston. After checking into a hotel in North Beach we hit the streets as well for a late Italian lunch on Columbus Street. As a pile-driving rain soaked the streets, we had enjoyed our pasta lunch and filled in some of the blanks of our lives.
We met at the University of Oregon at Eugene around 1975 and have kept contact since. Our friendship has proven to be extremely rewarding.
We went across the street to Biordi Imports Arts, 412 Columbus St., and relished the bounty and beauty of their incredible handmade ceramic bowls, pitchers, plates, vases and more. If you've never wandered into the shop, it feels like a museum and the folks there are helpful and not pushy.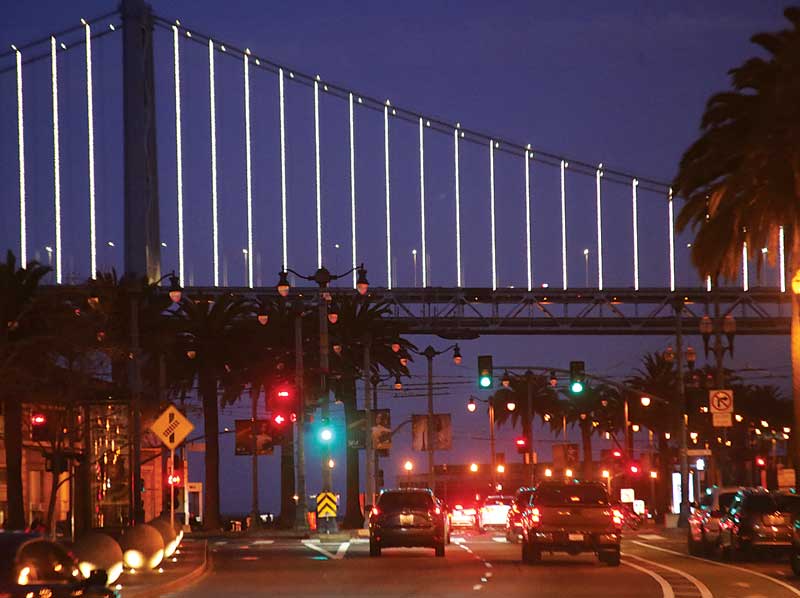 As a tradition with our getting together, Tom and I next stopped in at Vesuvio Cafe, a world-famous bar, opened in 1946, that has drawn a voluminous list of famous writers like Jack Kerouac, Allen Ginsberg and other notable cultural figures such as Bob Dylan, Francis Ford Coppola and Dylan Thomas. It's an unusual spot in that it features two floors that center around an indoor atrium with the bar in the center. We both enjoyed iced ginger ales and took in the rich mix of world travelers the place attracts.
Walking around North Beach has proven to be a rich mix of history, art, culture and fascinating businesses, some that have survived numerous decades. Clamped between Chinatown, Russian Hill, the Financial District and Fisherman's Wharf, the area is largely known as Little Italy. The area known today as North Beach was an actual beach, covered over with landfill in the late 1800s. Warehouses, fishing wharves, docks, eateries and hotels were then built on the newly formed shoreline.
The following day Tom had to head off to relatives in Berkeley and I caught the 30 Stockton bus back to the Caltrain station for a one-hour train ride to San Jose. I love trains and find them relaxing and a great spot to settle in, read and take in another view of the area that is commonly not seen from a car. Though brief, our meeting was superb and loaded with our stories and tunes of the past and present.