WATSONVILLE—The Pajaro Valley High football team has been conditioning for several weeks, gearing up for what will be the shortest season in the program's history. 
That season is in danger of becoming a week shorter after this Saturday's game for the illustrious Belgard Kup against cross-city rival Watsonville High was officially postponed.
Athletic director and football coach Joe Manfre told the Pajaronian that there wasn't enough time to get the entire team through all the Covid-19 testing procedures that are required for it to practice and compete.
The Grizzlies need to test at least once a week so that they can begin full-contact practice and play a game, but they never got the green light from the Pajaro Valley Unified School District to do either one.
Manfre said the district gave him a time frame on when they're supposed to go, but he has yet to hear what kind of test they'll be receiving, how it's going to be administered or how it's going to get back to the lab.
"I have a time frame and that's about it," he said.
Manfre told the group after last week's practice that the first Santa Cruz Coast Athletic League game scheduled against the Wildcatz was in danger of being postponed. It became much clearer this week that they wouldn't be breaking in their new field Saturday.
Still, there is hope that it will be rescheduled as the final game of the season just before the "dead date" on April 17—all games must be completed by then, according to the Central Coast Section.
The California Interscholastic Federation announced in January that the football season was extended to last an additional two weeks, until April 30-May 1. But that is still up for each section to decide if it wants to use that extra time.
PV High senior Martin Gonzalez said he isn't worried too much about the game getting pushed back, so long as they still get to go up against the rival Wildcatz.
"As long as we get to play I don't really have a problem when we play them," he said.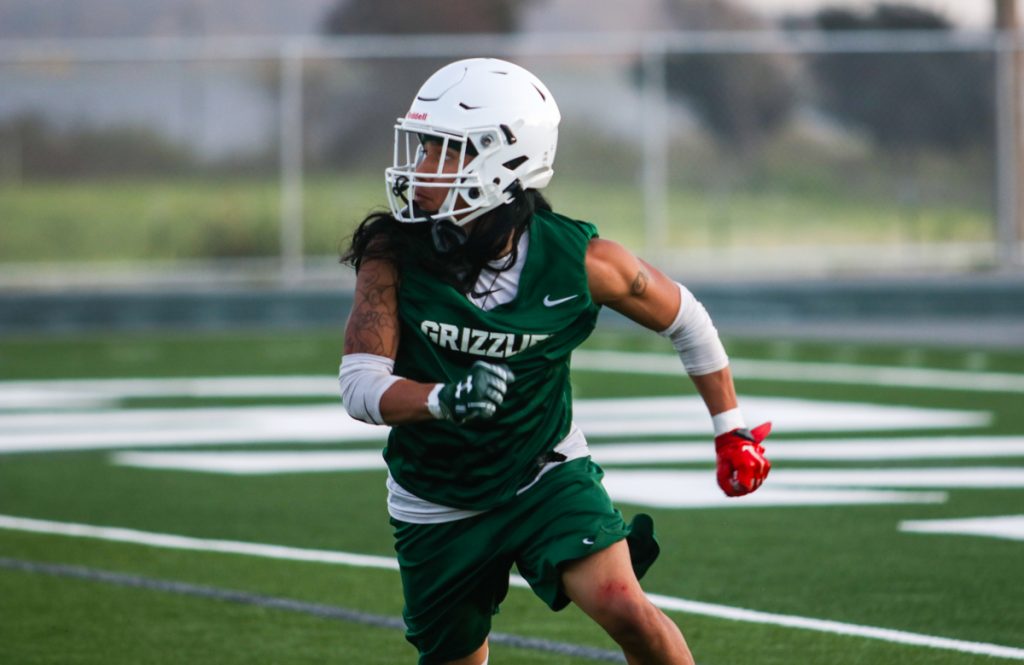 And if for whatever reason they can't play a single game, Gonzalez said he's already satisfied with being able to step foot inside the school's brand new stadium.
Gonzalez said that it has been an unbelievable experience to be able to practice on the school's new all-weather field after spending the first three years at PV High playing "home" games in places such as Cabrillo College and Watsonville High.
The new stadium is already having a positive impact on players, Gonzalez said.
"We just got tired of pretending that another field is our home when it's really not because we're not at our own school," he said.
Prior to the grand opening, the football team was conditioning at Rolling Hills and Cesar Chavez middle schools, which both have natural grass fields. Manfre mentioned that playing on turf is a lot different and it's already shown with some players requiring recovery time due to some minor injuries.
Manfre also said that their current conditioning-only practices are not the same as full-contact practice, and definitely not like a game.
"Getting back into it, shaking the rust off is a big thing," Manfre said.
Gonzalez has stayed home for most of the pandemic, staying on top of his academics and trying to find as many different movies to watch. But, he also encouraged the rest of the team to keep working out, preparing for the moment when he'd be able to get back on the field.
He had his doubts that sports would return, so Gonzalez got together with most of the other seniors on the team, preparing for what he thought was going to be their final "throw-around" as a group.
"Thank God that wasn't the case," he said.
Manfre mentioned that some schools in the area have already figured out their testing procedures and that PVUSD is doing the best it can with the situation it was dealt with.
"Like with everything that's going on with Covid, you just have to be flexible and you gotta be patient because sometimes there's things that need to be worked or figured out before you can actually go," he said.
Gonzalez doesn't believe that anybody on the team has a problem with the testing procedures required by the state and county's public health departments, along with those set by the school districts. At this point the players just want to see some type of action, whether it's a five-game season or just a scrimmage.
"I don't think anyone minds a little cotton swab up the nose," Gonzalez said.