WATSONVILLE—Prior to the season, Pajaro Valley High senior Isaac Rojas changed the shoelaces on his red cleats and it turned out they weren't exactly the right length.
No matter how many times he tied them they just came apart, continuously stepping on them yet never tripping over.
"I just got used to playing with untied shoes," Rojas said.
But with his shoelaces untied and all, it seemed like nothing stood in the way of the standout midfielder who was all over the pitch for the Pacific Coast Athletic League Cypress Division champion Grizzlies this season.
Rojas was generous with the ball as he recorded a team-best 24 assists, while also notching 11 goals to help Pajaro Valley reach the Central Coast Section Division I title game for the first time in the program's history.
"I put in the extra work myself throughout the season," he said. "I'd wake up at 6am to go train and the work ended up paying off."
The coaches within the league recognized all of his extra hard work by naming Rojas the Cypress Division's Player of the Year for the 2022-23 season.
"I gotta give a lot of credit to my teammates because my teammates are my coaches," he said. "Every single day in practice and in games they push me to be the best player that I could be on the field."
Pajaro Valley coach Cesar Rojas can say so many things about his son, starting with he's a humble kid that breathes and lives for the sport of soccer.
"Isaac, he's a hard working kid, pushing the teammates to do double sessions, motivating others to work as hard, keeping the team united," Cesar Rojas said. "Stepping up to his role as captain, talked to the guys who were slacking off to get them back on track."
Rojas saw Isaac take command of the Grizzlies during their match against Edison High during the Central Valley Powerade Showcase in Fresno Dec. 17.
Isaac Rojas was injured but he begged his coach to let him return and it changed the face of the team. He recorded a pair of goals including the go-ahead score.
"I can't believe how you were injured and you went in there and showed everyone at the level that we have to play," Cesar Rojas said.
Isaac Rojas has been playing soccer since he was 4 1/2 years old. At 11 years old, he had an opportunity to make it up the professional ranks playing for Monarcas Morelia–a Mexican club that currently plays in the Liga de Expansion MX.
Rojas lasted for a little more than a month until he wanted to return home. He tried again two years later but then he broke his tibia.
"I don't think the injury ever crossed his mind, after a month of recovery he came back like nothing happened to him," Cesar Rojas said. "At that point, I realized what Isaac was made of."
Isaac Rojas said his goal is to win every single game and attempt to stay undefeated. The Grizzlies finished with a 17-2-4 overall record and won the PCAL Cypress Division with a 10-1-1 record in league play this season.
The first loss came in league play against Gonzales, which at that point snapped Pajaro Valley's 12 game win streak. But no loss stung harder than falling to Bellarmine College Prep in the CCS D-I final.
"I feel like both of those losses were because of us," Rojas said. "I personally don't think the teams were better than us, I feel like we just made a lot of mistakes and they capitalized on that."
Rojas mentioned he wanted to take on more of a commanding role because he felt like they needed some leaders to step up. He teamed up with senior co-captain Ignacio Aguado, who earned All-PCAL Cypress Division First Team honors after finishing with a team-best 14 goals and was second with 14 assists.
Both team captains wanted to let their teammates know they were capable of winning a section title and give it all they could because a trip to the CCS postseason is never guaranteed.
"We want to go with an even hungrier mindset, wanting it more," Rojas said.
Cypress Division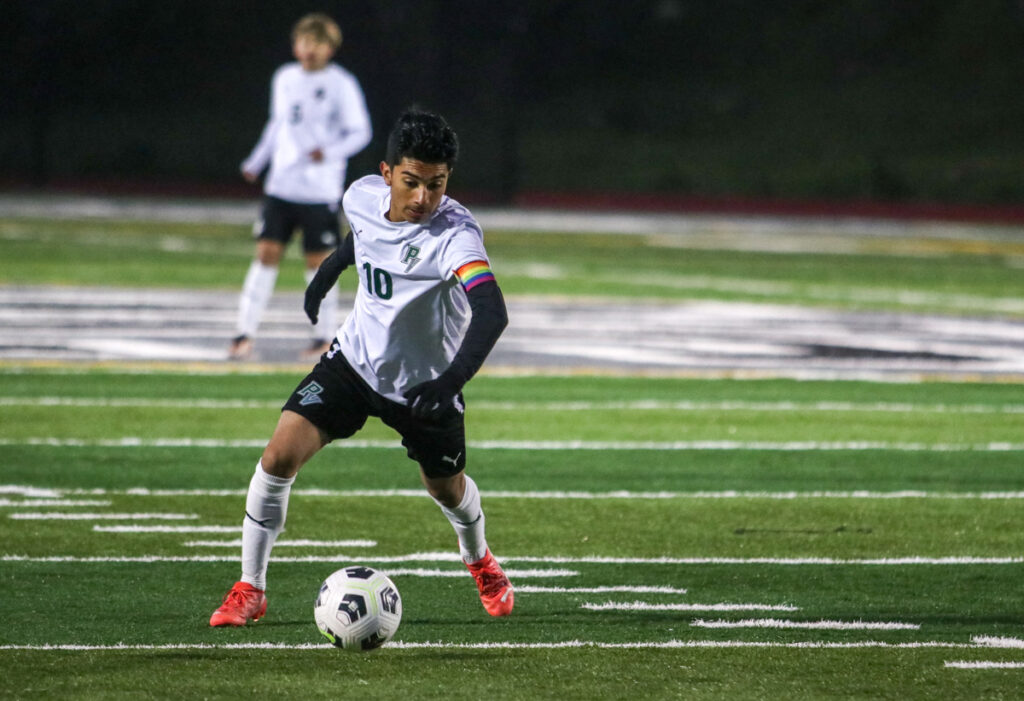 Individual Awards
Most Valuable Player: Isaac Rojas, Pajaro Valley
Offensive Player of the Year: Evan Mariscal, Monte Vista Christian
Defensive Player of the Year: Ryan Ruiz, North Monterey County
First team
Aaron Hernandez, Pajaro Valley
Ignacio Aguado, Pajaro Valley
Isaac Rojas, Pajaro Valley
Johan Vasquez, Pajaro Valley
Byron Duenas, Rancho San Juan
Edgar Zamora, Rancho San Juan
Eduardo Manriquez, Rancho San Juan
Jorge Uribe, Gonzales
Ulisses Mancillas, Gonzales
Ryan Ruiz, North Monterey County
Jesus Hidalgo, North Monterey County
Evan Mariscal, Monte Vista Christian
Dylan St. Laurent, Marina
Nawodit Alemagar, Pacific Grove
Second team
Giovanni Bedolla, Pajaro Valley
Jesus Alvarado, Pajaro Valley
Carlos Mata, Pajaro Valley
Juan Limon, Pajaro Valley
Rafael Vargas, Rancho San Juan
Julian Hernandez, Rancho San Juan
Brandon Cardenas Nieto, Rancho San Juan
Jose Camacho, Gonzales
Omar Gonzalez, Gonzales
Angel Rico, North Monterey County
Carlos Paredes, North Monterey County
Landon Giordano, Monte Vista Christian
Skeebo Henry, Marina
Paul Rodriguez, Pacific Grove
Richard Chamberlin Sportsmanship Team
Rafael Rocha, North Monterey County
Luke Hollingsworth, Monte Vista Christian
Rigo Garcia, Marina
Byron Duenas, Rancho San Juan
Alexis Rojas Mendoza, Pacific Grove
Nathaniel Flores, Gonzales
Johan Vasquez, Pajaro Valley
Elgie Bellizio Sportsmanship Team Award: Monte Vista Christian
Gabilan Division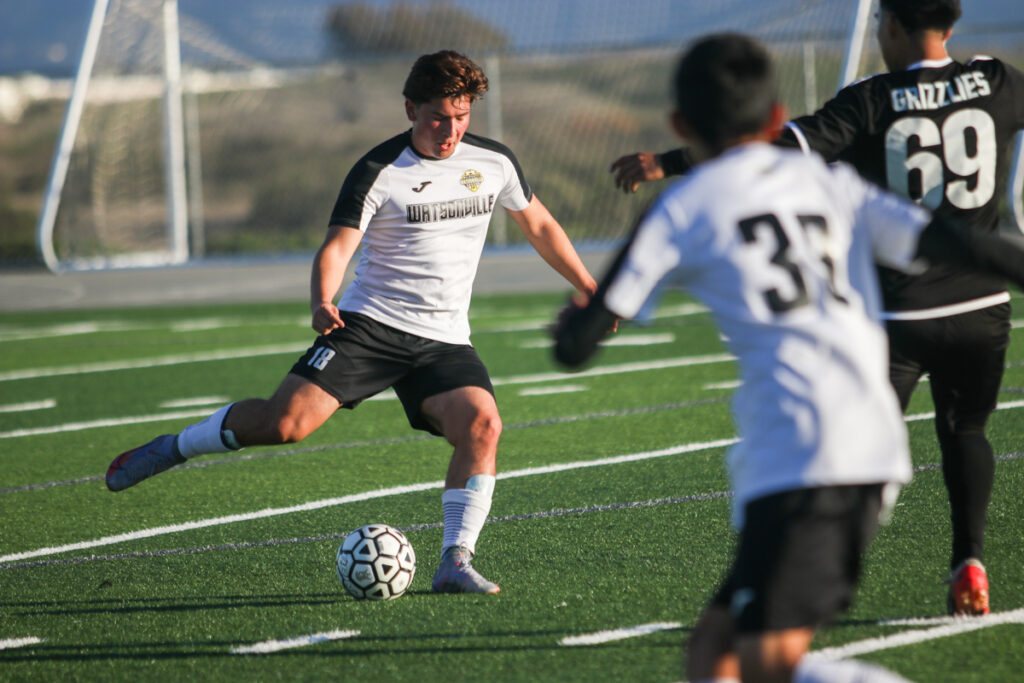 Individual Awards
Most Valuable Player: Yoni Avelar, Alisal
Offensive Player of the Year: Emiliano Castro, Hollister
Defensive Player of the Year: Hugo Castro, Hollister
First team
Yoni Avelar, Alisal
Nathan Saldana, Alisal
Henry Perez, Alisal
Ronaldo Corona, Alisal
Eusebio Rivera, Hollister
Emiliano Castro, Hollister
Hugo Catalan, Hollister
Carlos Barajas, Alvarez
Diego Moreno, Alvarez
Yahir Cruz, North Salinas
Luis Godinez, North Salinas
Elias Arreola, Soledad
Sergio Jimenez, Watsonville
Alan Copado, Salinas
Second team
Yozef Real, Alisal
Jonny Virgen, Alisal
Miguel Cruz, Alisal
Kevyn Trejo, Alisal
Ezekiel Hernandez, Hollister
Adan San Ramon, Hollister
Juan Carlos Garcia, Hollister
Edson Gonzalez, Alvarez
Edwin Moreno, Alvarez
Bryan Gutiérrez, North Salinas
Isaac Mendoza, North Salinas
Diego Guillen, Soledad
Manuel Cano, Watsonville
Bryan Heredia, Salinas
Richard Chamberlin Sportsmanship Team
Nico Hernandez, Alisal
Jaret Avila, Hollister
Carlos Barajas, Alvarez
Daniel Macias, North Salinas
Daniel Zamudio, Soledad
Ormar Delgado, Watsonville
Jose Pelagio, Salinas
Elgie Bellizio Sportsmanship Team Award: Salinas
Santa Lucia Division
Offensive Player of the Year: Ignacio Delgado Rueda, Pacific Collegiate School
Defensive Player of the Year: Aaron Rocha-Diaz, St. Francis
First Team
Kevin Estrada, Anzar
Giovanni Estrada, Anzar
Emanuel Ponce, Ceiba
Remigio Guijosa, Ceiba
Alan Ramirez, Ceiba
Andres Martell, Ceiba
Max Reid, Oakwood
Carlo Ramirez-Truse, Pacific Collegiate School
Ignacio Delgado, Pacific Collegiate School
Tom Rey-Cenevaz, Pacific Collegiate
Emiliano Hernandez-Torres, St. Francis
Brandon Maguire, Trinity
Tristan Pfleger, York
Sebastian Del Toro, York
Second team
Ricky Gutierrez, Anzar
Anthony Roman, Anzar
Ivan Zavala, Ceiba
Israel Carrisales, Ceiba
Miguel Rios, Ceiba
Christian Perez, Ceiba
Colby Mossman, Oakwood
Finn Pmmerenke, Pacific Collegiate School
Rueda Kazuki Maeda, Pacific Collegiate School
Elan Rizvi-Neuman, Pacific Collegiate School
Liam Rawson, St. Francis
Caleb Bouwen, Trinity
Joe Smock, York
Austin Cook, York
Richard Chamberlin Sportsmanship Team
Noe Mendoza, Anzar
Israel Carrisales, Ceiba
Ryan Bruning, Oakwood
Sam Manchester, Pacific Collegiate School
Roman Torres, St. Francis
Camerone Maguire, Trinity
Joe Smock, York
Elgie Bellizio Sportsmanship Team Award: Anzar, Oakwood