A weekly column that celebrates local businesses — especially eateries, watering holes, coffee shops and the like.
Tarmo Hannula
Food: Bantam 
My wife Sarah and I recently had a great dinner at Bantam on the west side of Santa Cruz. Opened in 2012 Bantam, 1010 Fair Ave., serves wood-fired pizzas and Mediterranean dishes.
Their Margherita pizza was served sizzling hot and exploded with flavor. Since we arrived in the early evening there was a welcoming flood of light pouring through their tall and abundant windows. We had plenty of room to spread out, relax and take in the atmosphere.
Over the years that part of Santa Cruz has taken off with development, from boutiques and food stores, to cafes, bakeries, breweries, tap rooms, a host of wine tasting rooms and trendy eateries.
Last week we ate at the West End Tap and Kitchen, 334 Ingalls St., which is right around the corner from Bantam. Kelly's Bakery is next door and Marini's Candies is there too, with late hours, so we often drift in there for dessert.
Sharing the same parking lot is the popular Santa Cruz Mountain Brewing, 402 Ingalls St. Both West End and SC Brewing offer indoor and outdoor seating, the latter offering live outdoor music during the warmer months. New Leaf Community Market is nearby if you care to tie in some late evening grocery shopping.
•
Johanna Miller
Drink: Unique cocktails at the 515
I've mentioned 515 Kitchen and Cocktails in Downtown Santa Cruz before, but last week I tried one particular creation there that warranted another mention. "Any Other Name" is a tonic water-based drink mixed with rose petal and pink peppercorn-infused gin. It was one of the most unique cocktails I've ever had, and is hard to describe. I also tasted a "Loose Cannon," a more classic cocktail made with pineapple rum, ginger and lime. Both drinks were $9.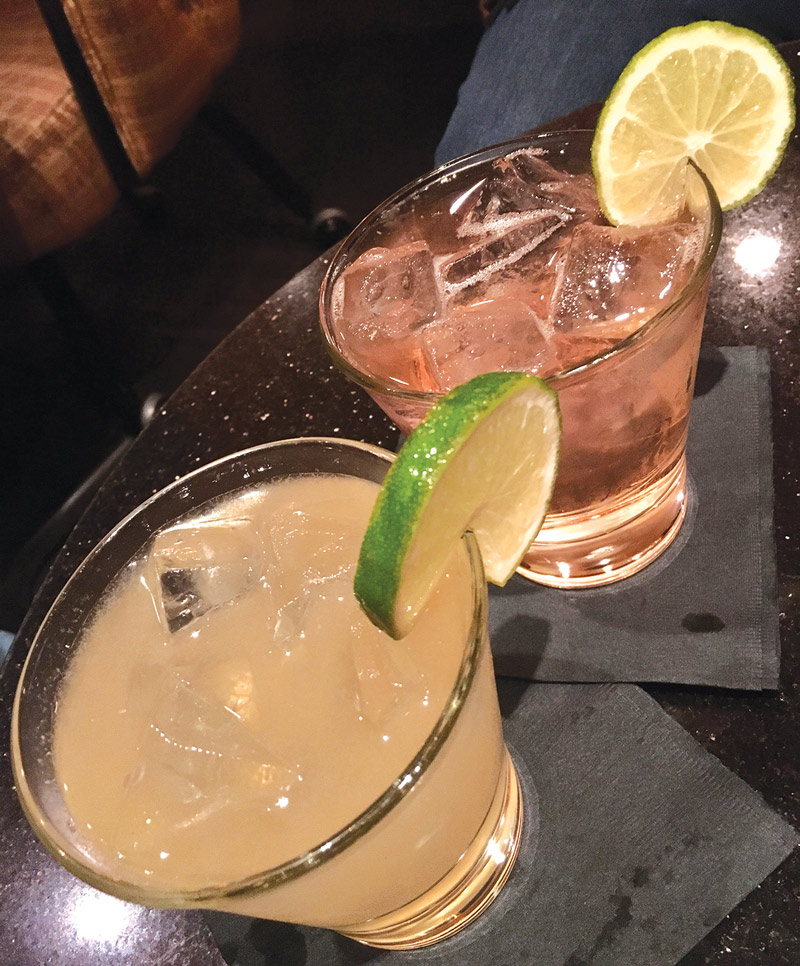 I've enjoyed a handful of visits to 515 Kitchen and Cocktails, 515 Cedar St., and not just for the drinks. The vibe is always lively and energetic—though they could turn down the music, as it's hard to hear people speak over it. Silent black-and-white movies are usually projected onto the back wall of the downstairs area, adding to the old-fashioned ambience.
The 515's food is a bit pricey for my pocket, so if I haven't already had dinner somewhere else I usually just grab a basket of their sweet potato fries, which are delicious. But I've heard their main menu is very good, so I might have to head there for the next special occasion to try something else out.
The 515 recommends that people reserve ahead of time if they are arriving with larger parties and on weekends by calling 425-5051. Visit 515santacruz.com for information.