WATSONVILLE—An 18-year-old was arrested at the Belgard Kup high school football game by officers with the Santa Cruz County Anti-Crime Team (SCCACT) who say he was carrying a loaded, stolen handgun.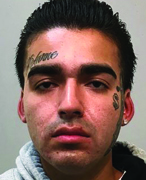 An SCCACT detective saw Adrian Ayala during halftime of the annual game between Watsonville and Pajaro Valley high schools on Aug. 27. Ayala, police say, is not a current student of either school, and was on searchable probation.
Officers found the stolen 9mm pistol hidden in his waistband, police say. He was arrested and booked into Santa Cruz County Jail. He was not in custody as of Tuesday morning, jail records show.
Police say Ayala was out on bail after a previous gun arrest in April.
Officers were at the game because school officials requested police presence for the heavily-attended meeting between the cross-city rivals, police say.