NOTE: Part of this story was written by reporter Tarmo Hannula.
While some Watsonville restaurants have remained open since the countywide shelter-in-place order went into effect over two months ago, many have taken their time adjusting to the industry's changing landscape.
This includes two Watsonville mainstays: Cowboys Corner Cafe on Main Street and Cassidy's Pizza on Freedom Boulevard.
Cowboys Corner is a breakfast-lunch eatery opened in 2006 which quickly became a popular spot. It often sees long lines and waiting lists on the weekends. For many, it has become an institution, a place recommended by any local who knows Watsonville's restaurant scene.
Owners Paula and Juan Diaz reopened their restaurant on May 14 after nearly two months of being closed.
While Cowboys Corner did have a weekday pick-up service previously, Paula Diaz says switching to pick-up only took some time, and they wanted to wait until they felt it was safe to open. Employees are now wearing masks, and strict sanitizing is now the norm.
"I'm confident, opening now," she says. "We are very happy to be able to feed our community while being as safe as we can."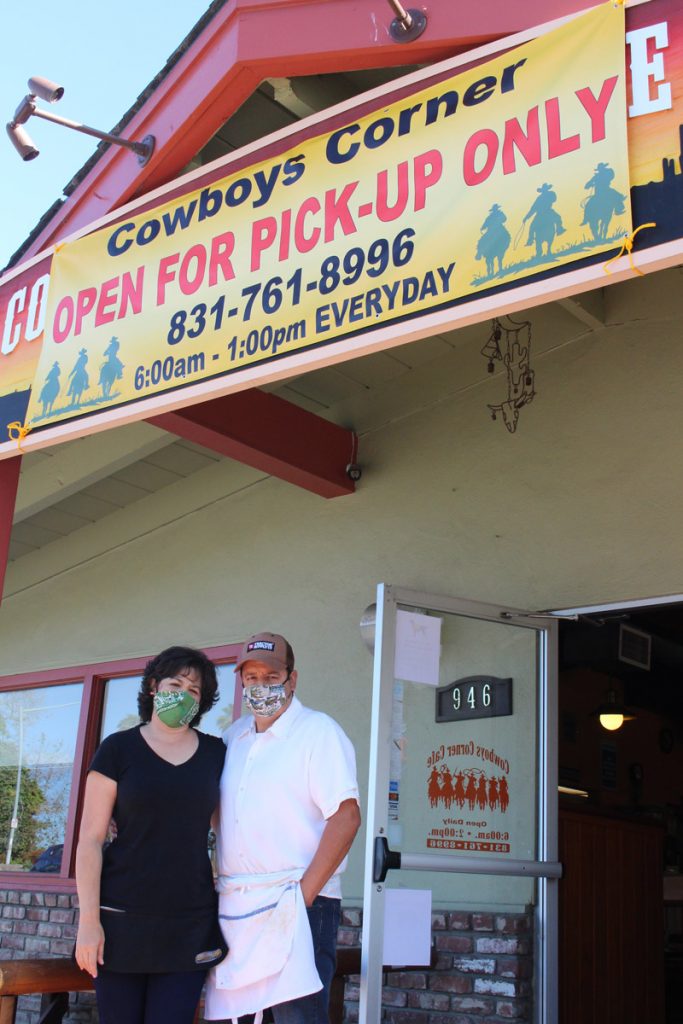 The most difficult thing about the closures, Diaz says, was not seeing their customers.
"We've missed seeing and talking with our customers," she says. "There were people who ate here every week—we'd know exactly when they would be coming in, what they liked to order… It's been sad that we can't see everyone."
Staff has gradually returned, supplies and ingredients stocked and new safety procedures have been implemented. Meanwhile, news of the reopening has been spreading through word-of-mouth and social media.
"By Sunday there was an hour and a half wait time for food pickup," Diaz says. "We were very busy. But it felt so good to be back."
Cowboys Corner, 946 Main St., is now taking to-go orders every day from 6am to 1pm. Phone orders are encouraged, as guests are only allowed inside the restaurant to pick-up and pay at the front door. Diaz says that they are serving the regular menu, unless certain items are unavailable to them.
"Sometimes we just can't find things, like certain kinds of meat," she says. "But we're trying our best to offer everything we did before."
Pizza place reopens
After shuttering their popular pizza business for weeks during the Covid-19 pandemic, Cassidy's Pizza, 1400 Freedom Blvd., welcomed its huge base of customers back to its Freedom Boulevard restaurant Monday for pickup orders.
"We're just so excited to reopen," says Lupe Hammill, who has owned Cassidy's with her husband, Tim, for the past 23 years. "We had to pull back and deal with the pandemic and figure out how to get back open while being as safe and healthy as possible. Our customers and their health is our number one concern here: It just took some time to get this done right."
Indeed, the Hammills took advantage of the closure to have new carpeting installed, deep clean the eatery, post fresh signage and floor stickers to not only inform the public about safety measures, but to also help them feel comfortable while navigating the store. Hammill says the building has also undergone a full remodeling over the past year.
"Everything's in place now," Hammill says. "It took a lot of work. We have hand sanitizers in place and floor stickers for social distancing."
Cassidy's, which first opened in 1976, now features its full menu, minus salads (for now).
Tim Hammill says their entire staff of about 30 has been brought back on board and their fleet of around seven vehicles is busy, crisscrossing the map with deliveries. Elena Pesce remains as the restaurant's general manager.
Maria Bahena stopped by to pick up her order on day one of the reopening.
"I'm a long-time customer," she says. "I fully recommend Cassidy's; their food is great and everyone here is so nice. I'm so glad they're open again."
Lupe Hammill says much of Cassidy's success stems from a devoted staff.
"We're a family here," she says. "Everyone that works here is part of this family and that's how we get things done."