WATSONVILLE—President Joe Biden touched down at Watsonville Municipal Airport on Thursday, a visit that followed his emergency declaration on Jan. 9, which allows businesses and residents that suffered damage and loss in the recent spate of storms to receive federal aid.
After touring Capitola Village and Seacliff State Beach—and a helicopter flight over parts of Watsonville to survey the damage—Biden predicted it will take years to rebuild, but said he is committed to helping California do so.
"I want to say what I said then, and I'll say again," Biden said. "The federal government is not leaving its responsibility until it's all fixed. Done."
A giant group of people and reporters watched the arrival from a roped-off stretch of Aviation Way across the street from Watsonville Municipal Airport, a miniature airborne armada that included three gargantuan MV-22 Osprey helicopters and two Marine Sikorsky VH-3D Sea King helicopters.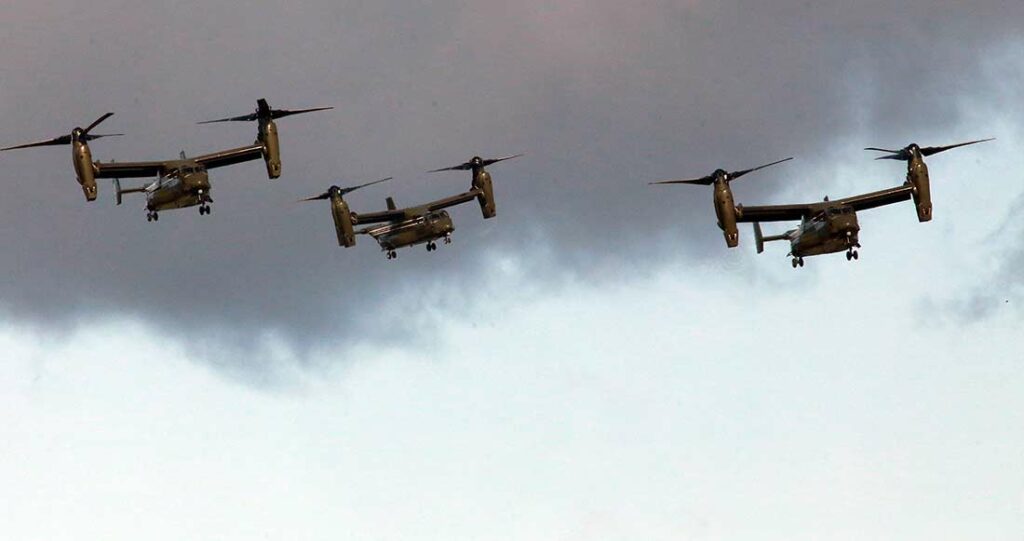 Providing security for the arrival was a mind-boggling agglomeration of local, state and federal officers, including 35 from the California Highway Patrol, who put on a somewhat puzzling synchronized show of arriving simultaneously on their motorcycles, backing up and parking in a double line, and then turning off the machines at the same time.
The show of force included dozens of Watsonville Police officers of every rank and stripe, military snipers on the Airport administration rooftop and several Secret Service agents in plain clothes, whose earpieces, dark sunglasses and matching pressed jeans made their attempts to blend into the crowd of onlookers almost comical.
After being whisked away in a dark SUV to a nearby hangar, Biden spent about a half-hour meeting several local and state elected officials. His motorcade then made its way to Capitola, where he got a tour of the damage wrought by the recent spate of storms and the tidal surge, which rendered the shoreline restaurants inoperable and cleaved the wharf in two.
In Capitola, as he viewed the damage, Biden was heard to say, "you're kidding me," says Daily Mail reporter Rob Crilly, one of the team of journalists authorized to accompany Biden and provide information to other media outlets.
In Paradise Beach Grille, Biden apologized to the contractors repairing the floor.
"Sorry man, we're slowing up your work," he said.
The tour ended at Seacliff State Beach.
Watsonville resident Paul Lego, a pilot who uses the airport, said he came out "to see the spectacle" of the President's visit. A set of temporary flight restrictions, and an additional proviso that no pilot was allowed inside the airport for the duration of the visit kept him outside the airport gates.
Lego said a Presidential visit is worth seeing no matter what one's politics are.
"It really gives you a feeling for the fact that it's the Commander in Chief," he said. "It's a big deal."
Julie Garcia took a break from work at Central Coast Energy Services to see the spectacle.
"Having the President visit our small town is something very big for us," she said. "We are a town that is made up of minority groups for the most part, and having him actually come shows us that he sees us and we matter and he is aware of the tragedies that occurred with the flood."
Maribi Corrales took her 6-year-old daughter—who took a day off from school—to see the arrival.
"I feel like it's a big thing that our President is coming here," she said. "It's a small town and it means a lot to us, because he has helped a lot of us immigrants, farmworkers like my parents. For me it's a big deal to see him."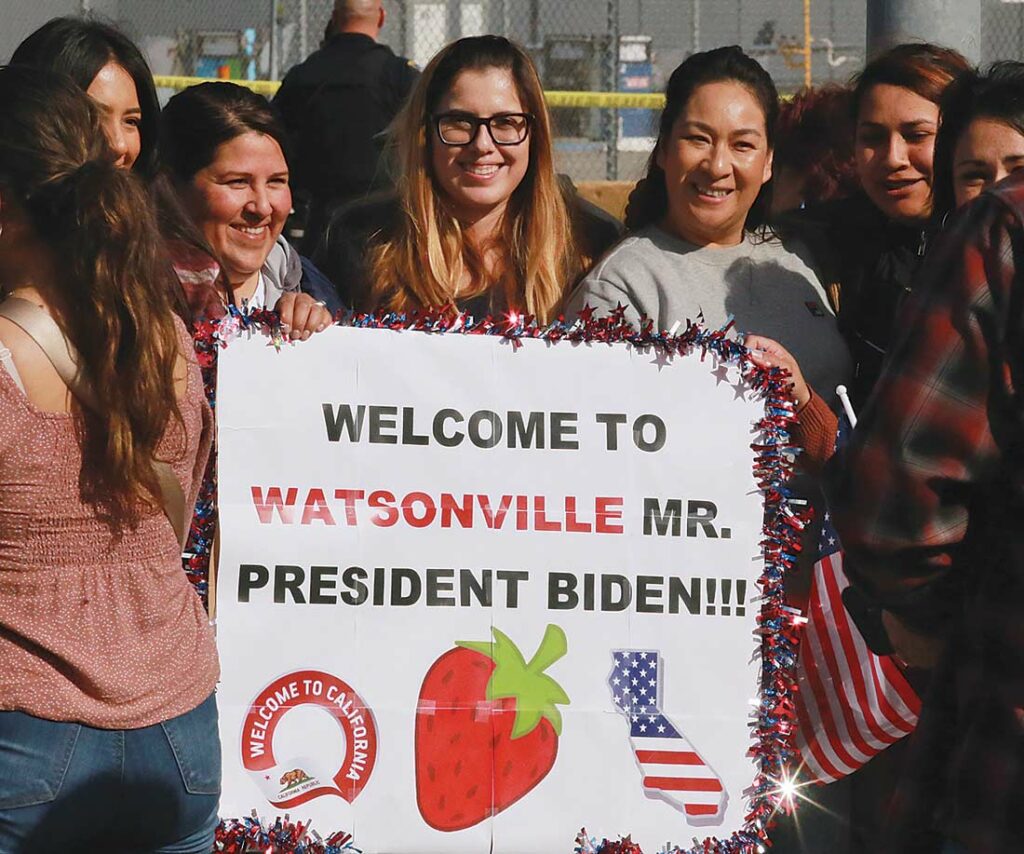 On its way out of Watsonville, Biden's motorcade was waved on its way by the mostly supportive crowd, with one person holding a "Welcome to Watsonville" sign.
Karla Portillo held a sign that said "Asylum please," which she said was intended as a message for Biden to continue helping migrants who are struggling to stay in the U.S.
People assembled on overpasses to wave down as the convoy passed underneath. As the motorcade passed along the shore, a person holding a "Trump won" sign signaled the only evident dissent, according to Crilly.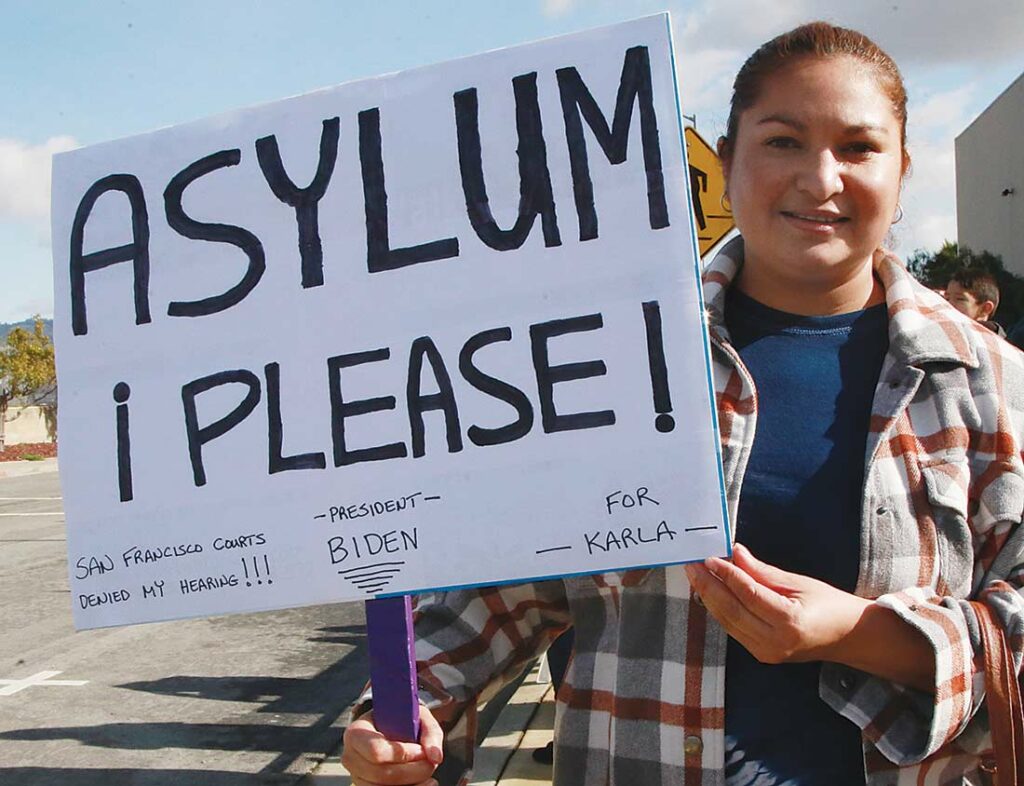 Biden says he is utilizing "every element of the federal government" in his drive to help the state.
The Army Corps of Engineers, he says, is monitoring seven reservoirs in the Central Valley and the San Francisco Bay Area, and the U.S. Department of Agriculture is helping farmers with disaster aid and grants.
"To the people of California, I say again: the country is here for you and with you," Biden said. "We are not leaving until things are built back, and built back better than they were before. We'll be with you every step of the way, and I mean that sincerely."