Every year, Pajaro Valley Arts (PVA) opens its annual exhibit inspired by Día de los Muertos, or Day of the Dead, a traditional Mexican holiday commemorating loved ones and community members who have died.
"Mi Casa es Tu Casa" returned to PVA Oct. 26. This year's exhibit, "Life Changes, Life Continues" considers the aftermath of the pandemic, while celebrating those who were lost.
"We've been so busy being in survival mode that we didn't have the time to mourn," said co-curator Graciela Vega C. Carbajal. "That's what we're doing: Taking the time to remember the people, and the special times we had with them."
This year's "Mi Casa" exhibit features 18 artists and nine family altars, or "ofrendas." Students from a number of elementary, middle and high schools, as well as organizations such as Hospice of Santa Cruz County, Tobera Project, and Imagine Supported Living Service are participating this year.
For the very first time, an Asian American Pacific Islanders (AAPI) group has created an ofrenda for the exhibit.
"It's so different every year," said PVA's Judy Stabile, "depending on the theme and who's participating."
Added Carbajal: "There is a much heavier ofrenda influence this year. Sometimes 'Mi Casa' can have a more light, silly take. But this one is very somber. It's about how life changes, yet continues. Even though we've gone through so much, we'll keep persevering."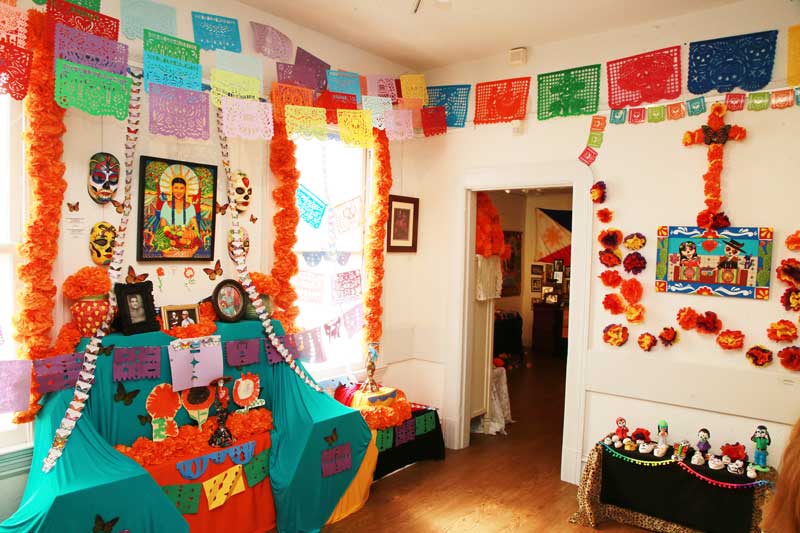 The main altar, situated in the front room of PVA, was created by co-curators José G. Ortiz, José G. Nolasco and Juan Carlos Padilla. The ofrenda features a large sculpture depicting Mother Earth, along with smaller skeleton figures, flowers, food and photos.
Ortiz has been working for three decades on the little skeleton figures on the display, which are inspired by the work of Jose Posada, a Mexican artist known for his creation of La Calavera Catrina.
In addition to the exhibit, PVA's on-site store will sell creations made by participating artists.
Stabile said the installation process for "Mi Casa" is unique, in that it is very personal for many of the participants.
"Some of them are experiencing loss right then and there," she said, "as opposed to, [for] people who have lost someone in the past. It's real—right now. For them it becomes a healing process."
Carbajal said that she's noticed a shift in who recognizes and celebrates Día de los Muertos.
"I think that now, with things like the 'Coco' movie, it's not just Mexicano," she said. "It's bigger than life. Different cultures have different ways to mourn, and if people want to adopt this practice for their own benefit, they can embrace it."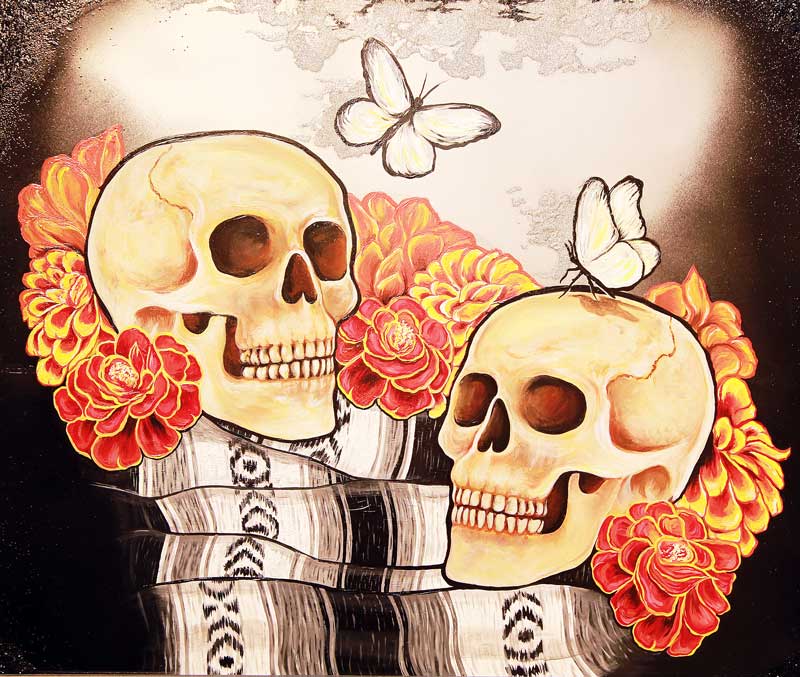 An opening reception for "Life Changes, Life Continues" will be held Sunday from 1-3pm, with performances by El Sistema, Ballet Folklorico Olin and Activities 4 All. PVA will also be on hand Friday at Watsonville Film Festival's annual Día de los Muertos celebration, which will kick off at the City Plaza at 4pm.
"In Mexico we say, 'We don't really lose people until we stop remembering them.'" Carbajal said. "You may physically lose the person, but you still have with you the parts of them that are in you—the lessons learned, and the gifts they have given you."
"Mi Casa es Tu Casa: Life Changes, Life Continues" will run through Dec. 4. PVA is located at 37 Sudden St., Watsonville and is open Wednesday-Sunday, 11am-4pm. For information, visit pvarts.org or call 722.3062.