The Pajaro Valley Historical Association (PVHA) is set to open a new exhibit showcasing the wedding dresses of local women from 1890 to 1990 at PVHA's Bockius-Orr house.
PVHA board member Virginia Avila and office administrator Jodi Frensley spent more than 100 hours together curating the exhibit of 17 dresses. All of the dresses, accessories and wedding photographs for the exhibit have a connection to the Pajaro Valley and were donated by community members. 
The collection starts with a dark brown dress worn by Mary Silliman Erdington in the 1890s.
"Queen Victoria was the one that made it more popular to wear white wedding dresses," Frensley said. "But in the 1900s or even the 1800s it was very common to wear even red, dark green, sometimes brown."
Brown dresses were often for brides older than 24 or "matrons," meaning women who got married a second time, according to Frensley.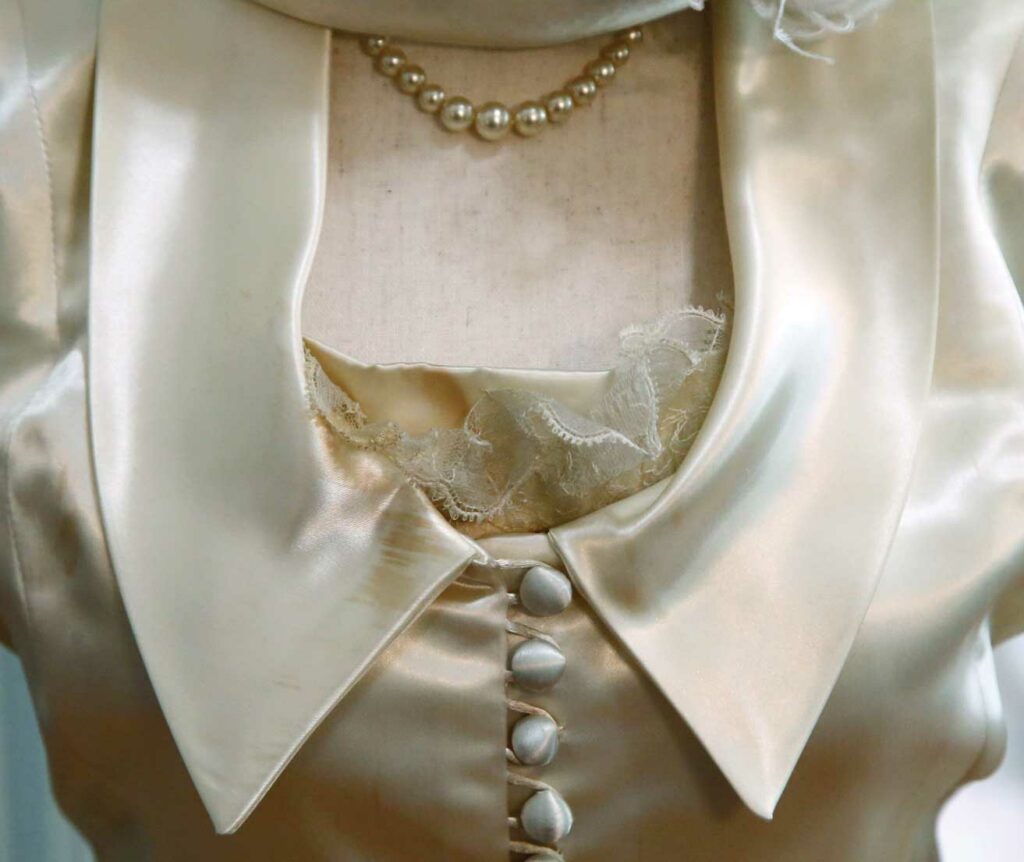 Frensley noted that back then there were no paved roads, so wearing lighter-colored dresses didn't make sense given how much dust there was. This changed after Queen Victoria's marriage to Prince Albert in 1840, and wearing white wedding dresses became commonplace, according to Avila.
Avila said they had difficulty finding mannequins that the dresses fit on due to the waists being so small from corsets at the time being worn by women as early as 12 and 13 years old. Instead, some of the dresses are displayed on sticks with pillows on top.
All of the items in the exhibit are well-preserved. Avila and Frensley noted that they took great care when handling the dresses so as to not distress the fragile fabric. Frensley said they took around 20 hours just trying to fit the dresses on different mannequins.
The different styles of wedding dresses changed and evolved over time from poofy sleeves and tight waistlines to the 1920s, being freeing to women because they no longer wore corsets, according to Avila and Frensley.
Included in the exhibit is a dress and veil worn by Senator Henry J. Mello's wife Helen A. Burns from their 1949 wedding. The satin garment has a long train accompanied by a pearl embroidered headdress.
Frensley said PVHA is the "best-kept secret" in Watsonville and the Pajaro Valley. Both Frensley and Avila noted their desire to bring more people to the house to teach them about the rich history of the area.
PVHA's museum and archive, located at 332 East Beach St., are open Tuesdays, Wednesdays and Thursdays from 11am to 3pm by appointment.
On Saturday, July 1, PVHA is asking for the community to join them at their annual vintage picnic from 11am to 3pm with guest speaker Driscoll's CEO Miles Reiter.
PVHA is open to the public 11am-3pm Tuesday-Thursday. It will be open Saturday, June 3 from 11am-3pm.