CENTRAL COAST—With the start of winter 15 days away, the final remnants of fall have set the stage with a blast of cold wet weather, accompanied by several sessions of strong winds.
David King, a meteorologist with the National Weather Service of Monterey, said Watsonville took in 6.6 inches of rain over the past seven days, Capitola had 7.6 and in higher elevations, rain totals nearly reached 8 inches.
There were numerous reports of trees and lines down around the county over the past week as well as flooding. On Wednesday morning around 3 a.m. a massive tree, heavy with foliage, came down on Huntington Drive in Aptos, crushing power and communication lines to the pavement. The tree also swallowed a parked van and smashed a wood picket fence in someone's front yard.
The California Highway Patrol and tree service workers were forced to close the 900 block of Huntington Drive for several hours to clear the mess and for crews to re-erect overhead power lines. A short while later a Mercedes Benz sports car got caught in the swirl of rushing rainwater on Spring Valley Road just off of San Andreas Road. The driver was forced to stay put behind the wheel for a couple of hours as emergency workers were joined by county public works crews in pulling the black two-door out of the overflowing surge.
King said there will be a chance of rain between 10 a.m. and 1 p.m. Friday, then a chance of showers after 1 p.m. Otherwise it will be mostly cloudy, with a high near 63 degrees. Chance of precipitation is 50 percent. New precipitation amounts between a tenth and quarter of an inch.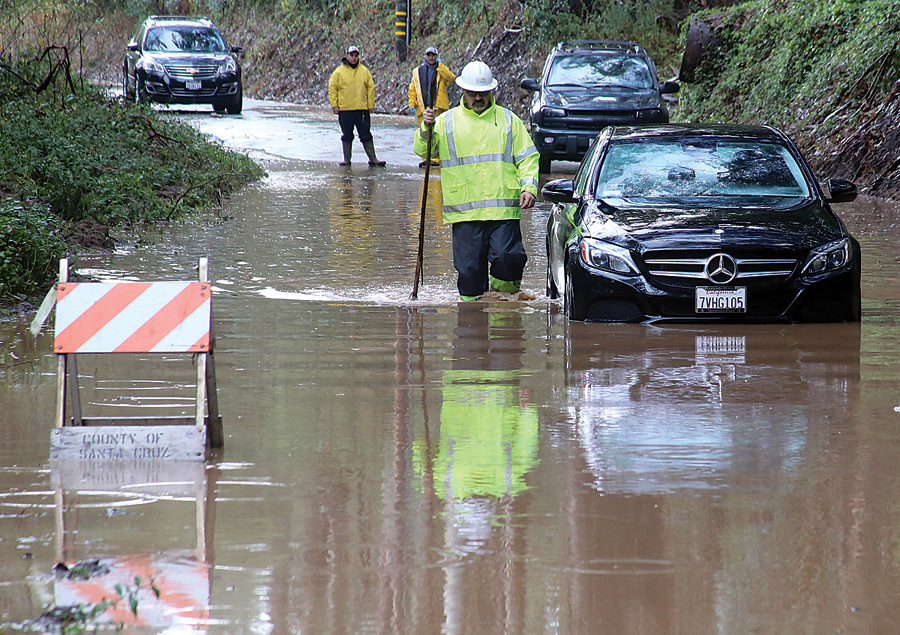 "The rain we get Friday and into the weekend will not be heavy like the atmospheric river of constant rain we got over the past few days," King said. "The Bay Area and Central Coast will get light rain, heavier at times, Friday afternoon. There will be more rain in the higher elevations—like 2 to 4 inches and around 1-3 inches in lower elevation."
The bulk of Friday's storm, out of the Gulf of Alaska, will pass through tonight followed by lingering showers over a good part of Saturday.  
"On Sunday I wouldn't be surprised if we had some spotty rain, but we will largely see drier marine air and it will be a little clearer," King said.
There will be a small craft advisory along the Big Sur coast as the new front moves through, with winds gradually picking up. King warned that there will be a gale watch Friday and Saturday. 
"Any time a cold front moves through you can expect winds to pick up," he said. "Out on the distant waters we're expecting winds of 35 knots (40.2 mph), with gusts from 45-50 knots (51.7- 57.5 mph)."
CHP officer Julieta Trenado said the CHP has been busy with stalled vehicles, spinouts and minor crashes over the week. She advised motorists to drive cautious, slow down and increase following distance.
"People really need to plan to alleviate stress," she said.
She added that because the posted speed limit may be 65 mph, heavy rains mean drivers have to back off as much as 10 mph.
"That 65 mph maximum speed is only for perfect conditions and not for inclement weather," she said.