APTOS—It almost feels like an eternity since the Cabrillo College football team last saw some action on the field.
But two years after they were placed on probation due to a violation for housing out-of-area players, the Seahawks are back and ready to take on De Anza College in the teams' season opener at Carl Conelly Stadium on Saturday at 7pm.
"It's overdue, it should have never happened," Cabrillo head coach Justin Hansen said. "Now we're back and we're gonna get this thing rolling in the right direction again."
The last time Cabrillo took the field was against Monterey Peninsula College on Nov. 30, 2019 in the Living Breath Foundation Bowl at Rabobank Stadium in Salinas.
In March of 2020, the board suspended the program, which was then placed on a two-year probation for a California Community College Athletic Association (CCCAA) rules infraction.
Cabrillo self-reported the violation to the CCCAA after a report revealed that an assistant coach, who was under former head coach Darren Arbet, signed multiple apartment leases to help secure housing for out-of-area players.
Cabrillo Associate Dean of Athletics Mark Ramsey helped form a Program Viability Review Committee, which then launched a research project to highlight what works and what doesn't for the football program.
Ramsey said in a text message that bringing football back to Cabrillo is indescribable.
"There is so much excitement among the campus and the community," he said.
The 1979 Seahawks team will get together for a round of golf Saturday morning to honor former iconic coach Joe Marvin before heading out to the game.
Ramsey said a lot of former players spoke up in community forums and played an integral part in the return of Cabrillo football.
"It will be awesome to be back under the Saturday night lights," he said. "The players and coaches are working extremely hard. It is fun to watch."
The Seahawks currently have 52 players on the roster and 45 of them are from Santa Cruz County. Hansen said it shows there's plenty of talented players in the area to fill a team roster.
The first-year head coach would like to have a range of 60 to 70 players. But given that it is the first season back for a program that was somewhat given the "death penalty", Hansen said he's satisfied with the current roster.
"We're excited to see what our local boys can do," he said.
Hansen said Cabrillo is a home for Santa Cruz County high school football players to continue competing at the collegiate level and their pursuit of going to a four-year school.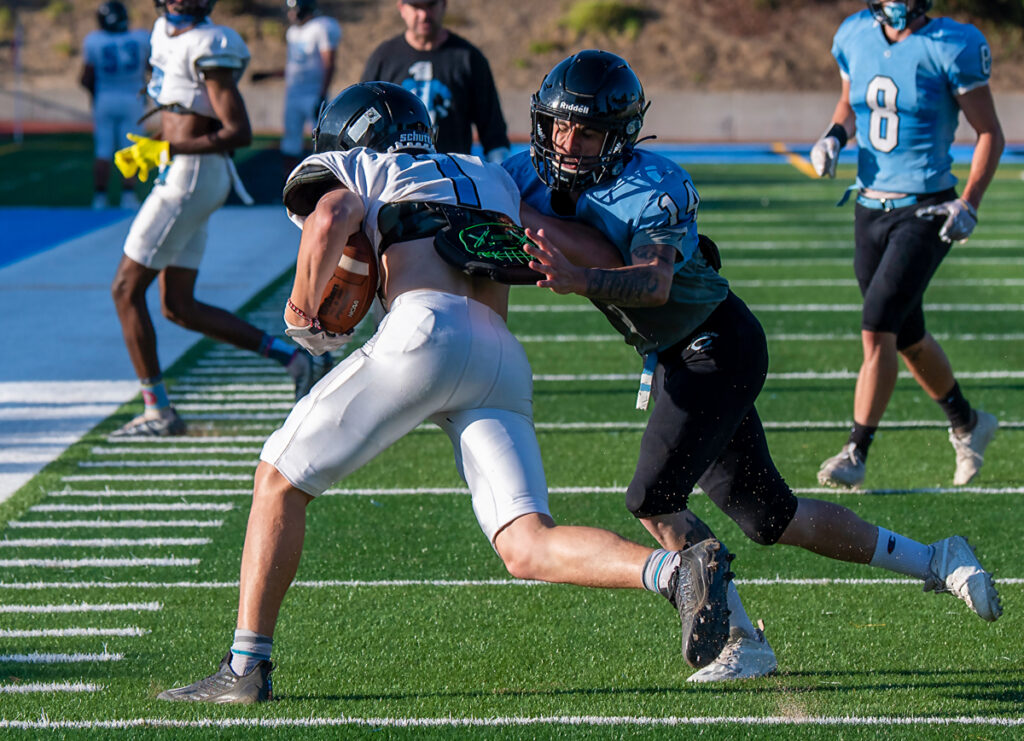 "They know they could come play good, quality football and get pushed in the right direction athletically and academically," he said.
The anchor on the offensive line will be sophomore Manny Murillo, a Pajaro Valley alumnus, who is one of two returners from the 2019 team.
Hansen said Murillo's biggest strength is his intensity in full live situations and he's a physically nasty old lineman.
Hansen added those types of qualities in a player is something a coach can't teach.
"That's an infectious type of personality when you play that way and I believe [Murillo's] playing the game the right way," Hansen said. 
The Seahawks have a trio of freshmen quarterbacks in Davin Avila (St. Francis), Raphael Bendo (Terra Nova) and Oscar Magaña (Watsonville) vying for the starting position.
Hansen gave his best Bill Belichick impression by saying he won't name a starter until game time on Saturday.
"If there's anything to say about the quarterbacks, all three kids have really battled in terms of a good competition," Hansen said. "All three have shown that they can play. I really respect the three of them for handling the competition in a mature way, they've done a good job."
The Seahawks will run a pro spread-style offense and are expected to run multiple formations, mixing and matching personnel.
Other local players looking to contribute on offense include freshmen Willie Valencia (St. Francis), Brandon George (Watsonville) and Kobe Hatten (North Monterey County).
The Seahawks' defense will primarily be in a 4-2-5 formation. Leading the way is sophomore defensive back Zeke Thomas, a Soquel High alumnus, who also returned alongside with Murillo.
Hansen mentioned both players have done a great job coming back and rejoining the team after a two-year hiatus, training and working really hard all through the offseason.
"They've done a great job as leaders," Hansen said. "Those two, I'm really excited to get them to see their careers back on track."
The defense also includes freshmen Nasser Sabla (Watsonville), Matt Flores-Ortiz (Watsonville), Jason Patrick (Aptos) and Brandin Decusin (North Monterey County).
Cabrillo will begin the season Saturday with a non-conference game against De Anza, followed by matchups with Feather River, Yuba and Foothill.
Hansen said De Anza has been a tough team to scout and predict what they're gonna do, which means the Seahawks are preparing for pretty much anything.
"We're really going to find out Saturday," he said. "That's when we're gonna know what they do and we'll figure it out from there."
Cabrillo will compete in the American Conference's Golden Coast Division against Gavilan, Hartnell, Merced, Monterey Peninsula, San Jose City and West Hills-Coalinga.
Hansen said he's thrilled for Seahawks football to return and to see players get their first college experience, especially the guys that didn't realize they can play at the college level.
"And they're playing it at a high level, they're making plays, they're helping their team," he said. "That's the biggest excitement for us as coaches, it's just to see those guys see that they could really do it."
If You Go
Cabrillo vs. De Anza
When: Saturday at 7pm
Where: Carl Conelly Stadium