APTOS—Ella Giguiere and Lauren Ambiel each recorded double-doubles to help the Cabrillo College women's basketball team beat Feather River College, 77-72, in overtime in non-conference action on Dec. 22.
Giguiere finished with 25 points, 16 rebounds and five assists, and Ambiel had 24 points, 15 rebounds and four assists for Cabrillo, which snapped an eight-game losing streak.
Freshman guard Renee Parker had eight points, six rebounds, four assists and two blocks for the Seahawks. Freshman guard Madison Stefanini added seven points and six assists, and freshman guard Emma Stefanini had six points, four rebounds and three assists.
The Seahawks (2-10) play at Mendocino (1-5) on Tuesday at 5pm.
Men's basketball
Cabrillo 91, Foothill 45: Sophomore guard Austin James scored 22 points for the Seahawks in a non-conference win against the Owls on Dec. 27.
Freshman guard Cameron Noel had 11 points and four assists, and freshman guard Joe Rush III scored 12 points for Cabrillo.
Starting freshman forward Cainan Wright had 10 points and 11 rebounds for the Seahawks (7-6), who play a non-conference game at Napa Valley (1-10) on Dec. 30 at 5pm.
Cabrillo will host De Anza (4-9) in its Coast Conference South Division opener Jan. 5 at 5pm.
Boys basketball
St. Francis 49, Pajaro Valley 25: Miles Guardino led the Sharks with 12 points in their non-league win against the Grizzlies on Dec. 22.
Nash Horton and Joseph Rose each scored 10 points for St. Francis (3-5).
Celestino Jardin had a team-high eight points for the Grizzlies, and Hosiah Silva and Eric Montero each scored five points.
St. Francis plays at Gonzales on Tuesday at 7pm. Pajaro Valley will host Soledad on Dec. 30 at 7pm.
Girls basketball
Saint Francis (Mountain View) 63, Aptos 21: Jasmine Ackerman had nine points and eight rebounds in the Mariners' non-league loss to the Lancers on Dec. 22. Jaylen Dang added four points for the Mariners (8-3), who host Palo Alto (7-1) on Tuesday at 6:30pm.
Scotts Valley 46, Monte Vista Christian 37: Paloma Ramirez had 14 points, seven rebounds and two steals for the Mustangs in their non-league loss to the Falcons on Dec. 22.
Marissa Cortes added nine points, six rebounds and two steals for MVC. Senior Kaitlin Imai had 16 points for the Falcons.
The Mustangs (3-6) hosts Leigh in non-league action Tuesday at 7pm.
Scotts Valley plays at the St. Francis Lady Shark Shootout in Watsonville starting Dec. 28.
Los Altos 50, MVC 43: Paloma Ramirez scored 19 points to lead the Mustangs in their non-league loss to the Eagles on Dec. 20. Marissa Cortes made three 3-pointers and finished with 13 points for MVC.
Youth boys basketball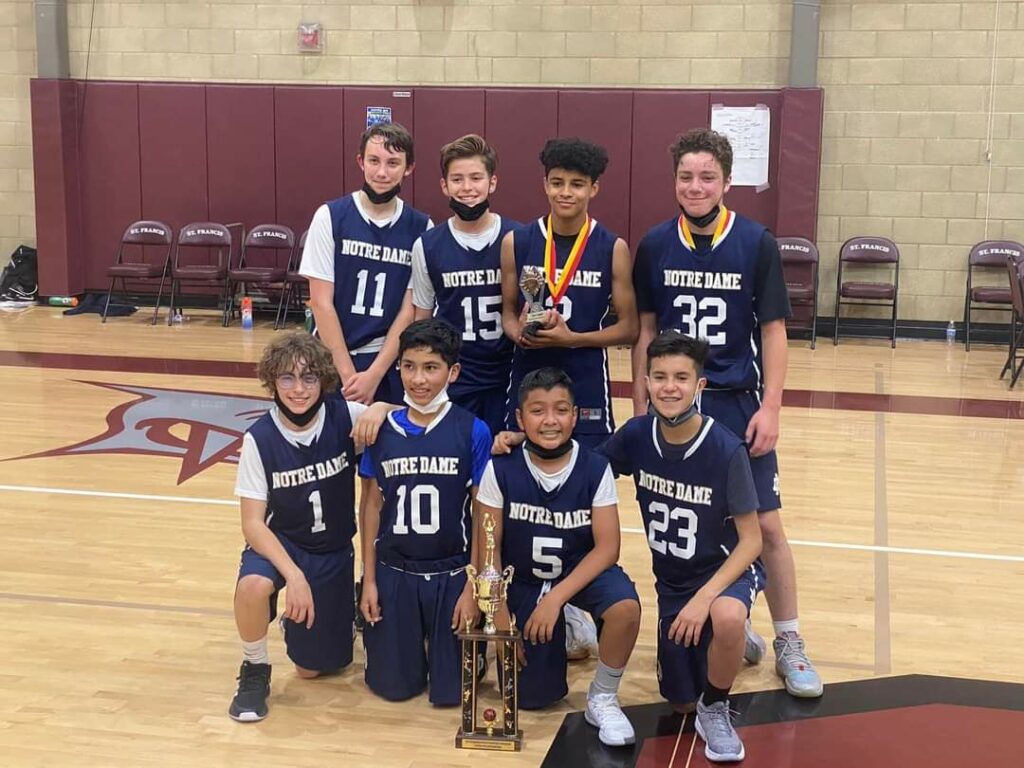 Notre Dame wins local tourney: Robert Gomez Jr. was a major factor in helping Notre Dame School of Watsonville capture the 14th Annual Bishop Ryan Junior High School Tournament on Dec. 18.
Gomez, who was named tournament MVP, scored 21 points in the championship game over runner up PCS.
Holy Cross of Santa Cruz took third Place and Lakeview Middle School finished fourth.
The host school, Salesian Elementary and Junior High School, won the consolation part of the bracket, topping Good Shepherd School of Santa Cruz.
All Tournament Team
Jayden Hernandez- Sacred Heart (Salinas)
Ethan Kaemmerling- Salesian
Levi Race- Salesian
Austin Howe- Good Shepherd
Johnny Martinez Jr.- Lakeview
Matteo Caltabiano- Holy Cross
Lucas Kamalani- PCS
Garrett Koontz- PCS
Diego Mejia- Notre Dame
Robert Gomez Jr. (MVP)- Notre Dame
Reporting Scores
Coaches are encouraged to report scores and highlights to [email protected] following games. Please include your name and contact number in the email.