UPDATE (Aug. 21, 6:33am)
Firefighters and law enforcement officers were pulled away for three separate rescue incidents to save residents who were trying to protect their homes from the CZU August Lightning Complex fires, which have now charred 50,000 acres, or roughly 78 square miles, as of Friday morning.
Cal Fire officials at a Friday morning press conference reiterated their calls for residents to follow evacuation orders.
"We ask, if you have been asked to evacuate, do not put yourself in that situation and do not put our first responders in that situation," Cal Fire Operations Section Chief Mark Brunton said.
At least 64,000 people have been evacuated, including the roughly 12,000 Scotts Valley residents who were ordered to leave Thursday evening. UC Santa Cruz was also ordered to evacuate Thursday.
Asked when residents can expect to return to their homes, Santa Cruz County Chief Deputy Chris Clark said not any time soon.
"It could be weeks, depending what this fire does," he said.
The fire is still 0% contained, but Cal Fire said cooler nighttime temperatures, the return of the coastal marine layer and the addition of hundreds of firefighters, bumping the total responding to the blaze to more than 1,000, have been positive signs.
"That number of resources will go up in the future," Cal Fire San Mateo-Santa Cruz Deputy Chief Jonathan Cox said.
In Monterey County, the River Fire has grown to 39,464 acres and the Carmel Fire jumped more than 1,000 acres to 4,732. The former is now 9% contained, while the latter is still 0% contained.
---
SANTA CRUZ MOUNTAINS—During a press conference early Thursday morning, Cal Fire Operations Section Chief Mark Brunton described the fires burning in the Santa Cruz mountains as sounding like a "jet engine."
"I have never seen anything like this in my 34 years of firefighting," he said. "The enormous amount of fuel combined with remote rugged terrain has fire crews strapped."
The CZU August Lightning Complex fires have now burned more than 48,000 acres, or 75 square miles. They have also destroyed at least 50 structures and were threatening 20,952 structures, fire officials told reporters Thursday night.
The fire on Wednesday night doubled in size, moving from the west side of Empire Ridge Road and was threatening structures on the eastern slope, and moving toward Boulder Creek and Ben Lomond and the San Lorenzo Valley. It is also threatening the communities of Pescadero, La Honda, Bonny Doon and Brookdale.
More than 49,000 people have been evacuated from the areas threatened by the fire, officials said.
It is 0% contained.
Santa Cruz County Chief Deputy Chris Clark, echoing sentiments from the fire officials, stressed the importance of heeding evacuation commands. Not doing so, he said, puts both the residents and firefighters in danger.
The officials said that all county residents should be ready to evacuate.
"I really can't stress more the importance of leaving when those orders come out," Clark said.
Cal Fire ordered all of Felton to evacuate Thursday morning. Boulder Creek, Ben Lomond, Zayante, Scotts Valley and any other neighborhoods west of Highway 17 have also been evacuated.
UC Santa Cruz was also ordered to evacuate Thursday evening.
Barbara Thompson of Brookdale, and Betsy Flickinger of Boulder Creek, were in a large parking lot in Scotts Valley late Thursday morning, surrounded by dozens of other evacuees who are now waiting in limbo to see where they will go now, and what they will find when they return home.
Both said they left their cats back in their homes.
Thompson said she got the word to evacuate from her landlord Wednesday and stayed at a friend's house overnight. She returned to her house on Thursday morning to check things out and take a shower. The respite did not last long.
"Then the police came and said, 'evacuate now,'" she said. "And so we did."
Flickinger said it was so smoky in her town that it was hard to breathe.
She said that she is worried for her home, which she said was built in the 1890s and is considered a historical structure.
"I feel really bad," she said. "I mean, this is my house. I saved for this house."
Both had a reservation at Las Gatos Lodge for Thursday night. They were uncertain where they would stay until the evacuation order lifted.
"We won't be coming back for a while, I don't think," Flickinger said.
Evacuation centers have been set up at Half Moon Bay High School, the Santa Cruz Civic Auditorium and the Santa Cruz County Fairgrounds in Watsonville.
The County of Santa Cruz is also establishing safe parking zones at Cabrillo College and Santa Cruz Bible Church.
Pajaro Valley Unified School District spokeswoman Alicia Jimenez on Thursday said Lakeview Middle School will also be ready to welcome evacuees today, and Watsonville High School is being prepared as an overflow center should the need arise.
City of Watsonville staff will manage those centers.
Cal Fire officials said evacuees should try to find family or friends that they are comfortable staying with before they turn to evacuation centers to limit the possible spread of Covid-19.
The Santa Cruz County Sheriff's Office used 160 officers—both their own and from neighboring jurisdictions—to help with evacuations Wednesday.
Heavy smoke conditions have made it challenging to get a read on where the fire event is and where it isn't, or even how big it is for that matter. The fact that it's now a "complex," though, means that the incident contains at least two fires. The smoke has been too thick for aircraft to fly near the blaze, Brunton said.
"It's been difficult to get a very clear picture," he said.
He added that crews could also be waiting another couple days before they're ready to begin aerial attacks on the burn.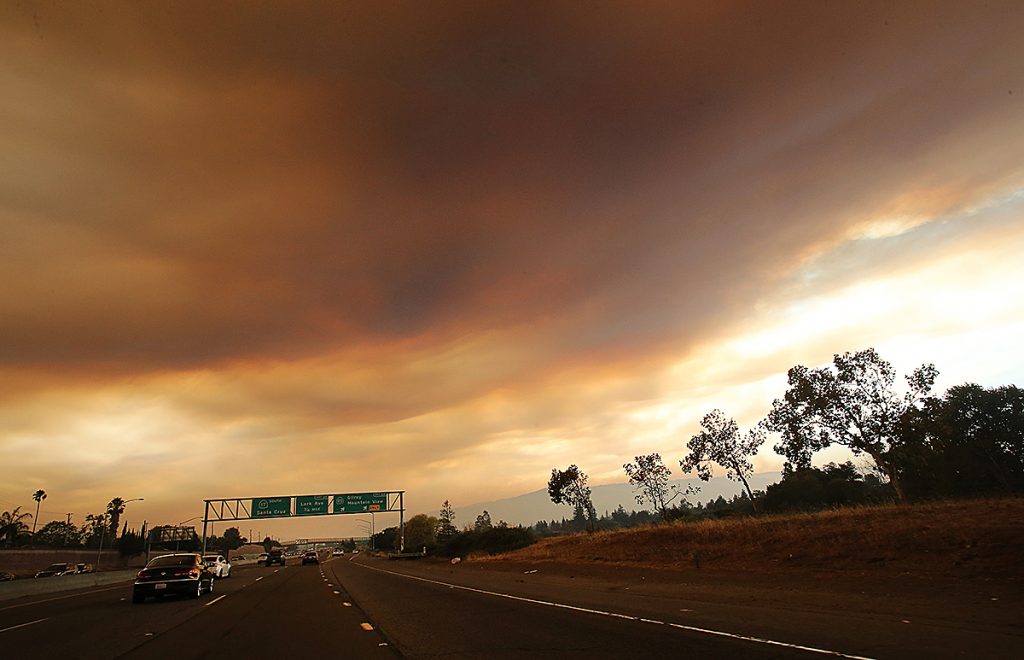 Cal Fire San Mateo-Santa Cruz Deputy Chief Jonathan Cox said the region has not burned in more than 50 years, and there are old-growth trees there. That gives the fuel of the fire and also makes them tougher to fight, he said.
"This is not an area you can drive into or walk into," he said.
The CZU August Lightning Complex fires, which were sparked by lightning strikes early Sunday, are not happening in a vacuum. Gov. Gavin Newsom announced Wednesday afternoon that the state experienced 10,849 lightning strikes within 72 hours. Crews, he said, were battling 367 known fires.
That includes the River and Carmel fires burning in neighboring Monterey County, which combined have charred at least 35,00 acres.
The River Fire, which started early Sunday morning, has more than tripled in size since Tuesday. The fire was 9% contained Thursday.
The same incident management team handling that fire is also coordinating the efforts in the Carmel Fire, which has burned the Carmel Valley Road and Cachagua Road area since it was first reported Tuesday afternoon. That fire was 0% contained on Thursday morning.
The two fires were about 1.8 miles apart on Wednesday night, but have inched closer over the last 24 hours.
At least 125 fire engines and 85 crews from neighboring western states will soon join the more than 6,900 California fire personnel battling various fires across the state, Cal Fire officials said Wednesday. Another 240 National Guard troops were set to begin fire training Thursday and will be deployed sometime next week.
Usual heat, with highs at 105 degrees for several days in a row, has only added to the danger. Air quality officials have also said that the Bay Area currently has the worst air quality in the world.
California State Parks, meanwhile, has closed Año Nuevo, Big Basin Redwoods, Butano, Castle Rock, Henry Cowell Redwoods and Portola Redwoods state parks.
The fire on Tuesday caused extensive damage at Big Basin State Park, including the headquarters and campgrounds.
Jacob Pierce, Tony Nuñez and Tarmo Hannula contributed to this story.