WATSONVILLE—The St. Francis High football team came into last week's Apple City Jamboree with a roster that looked surprisingly bigger and deeper than some of its most recent squads.
And it's the first time, in a long time, that Sharks coach John Ausman had to think about who would be the team's starting quarterback as they head into their season opener tonight at King City High. On one hand, he has the veteran Charlie Valencia, a senior who's played all over the field. On the other hand, he has Miguel Orozco, a sophomore who continues to learn the game but has a cannon for an arm.
Ausman said both of his quarterbacks can play the position but it was Valencia who got the nod to start against the Mustangs.
"I feel confident in both of those young men but Charlie's a senior who's been here and gone through it," Ausman said.
Valencia has been playing football since he was 6, playing everywhere from lineman to skill positions. He went from running back to wide receiver and now quarterback.
"I'm used to being put in these situations," he said.
The Sharks are coming off an abbreviated spring season due to the Covid-19 pandemic. They finished with a 2-4 overall record and they went 2-2 in the Santa Cruz Coast Athletic League "B" Division.
St. Francis will play all of its home games at Cabrillo College except for the homecoming game against Greenfield, which will be played Oct. 1 at Santa Cruz High. The school is breaking ground sometime in September on what will be a synthetic turf field and a new multi-use stadium.
"I'm happy for the younger guys but it breaks my heart a little," Valencia said.
The one thing that's not breaking his heart is the connection he's made with receivers Diego Ramirez, Garrett Lee, Dez Litel and Seth Vazquez.
Valencia commended them for their speed and being able to get open.
"They catch a lot of balls a lot of guys can't catch and they're just smooth guys," Valencia said.
Valencia was called up to the varsity team along with Litel and Lee when they were sophomores. They've played against bigger players in the past and now they know what to expect as they head into their final season at St. Francis.
The Sharks are also stacked in the trenches with players like senior offensive tackle Josh Alvarez. Ausman said he likes the aggressiveness and experience on the offensive line.
They also have a stable of running backs that can be rotated throughout the game.
"From the top the bottom, there's a lot of guys who worked really hard and can already contribute," Ausman said.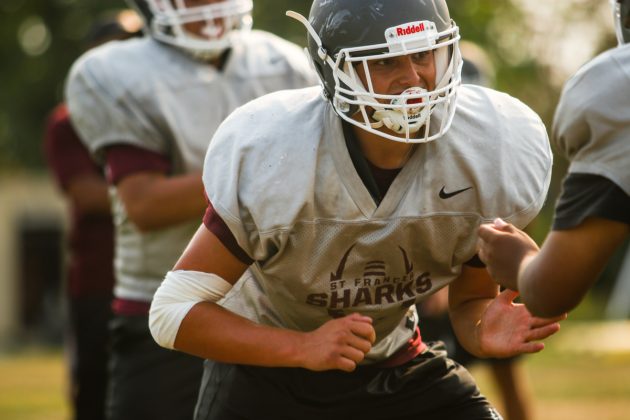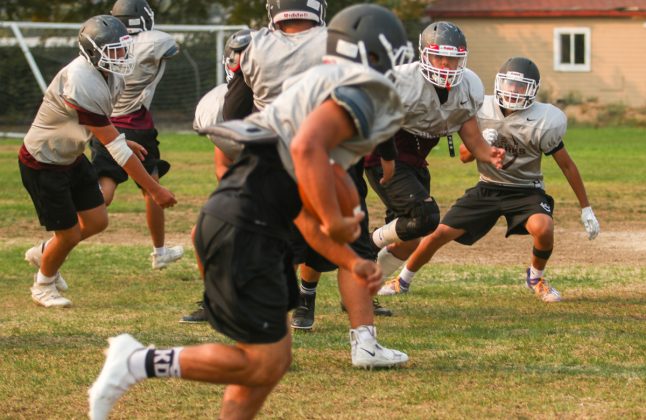 Ausman said having a bigger roster allows for competition and gives players a chance to rest during a game. It also allows the coaches to develop some players on the junior varsity level.
"It's an awesome problem that we've had for the first time," he said.
Ausman said he treats the program at the small private school like a professional baseball team: a player at any point in the season might move from the minor leagues (JV) to the majors (varsity).
"It's a little different but one week you can be up, one week you can be down and if you're ready, you're going to contribute," he said.
Alvarez, who is a third-year starter, said it's great to go back to a traditional schedule after doing workouts for nearly eight months without touching a football. He added that there was a strange mindset they got into last season and he believes players lost that grind they usually have because the delays carried on for so long.
"It really was a challenge going into the season and getting hit the first couple of times, and not being where we should be," he said.
Alvarez said his junior year served as a preseason. He believes they did a decent job in the SCCAL, playing against teams such as Scotts Valley High and Monte Vista Christian that pushed them to get ready for Pacific Coast Athletic League-Santa Lucia play.
But once the spring season was over he began working on his footwork. He also hit the gym every day during the offseason, getting his strength to where he thought it should be.
Alvarez mentioned that the spring season has kept him game-ready, especially after the finale on April 17 against Scotts Valley.
The Sharks and Falcons, who played each other twice, were the two lone teams in Santa Cruz County to play six games last season.
"I was just wanting more games, so I just kept that mentality going into the weight room every day and kind of never left football season," Alvarez said.
The Sharks will play a funky schedule that includes just four league games scheduled against Stevenson School, Greenfield High, Harbor High and Pajaro Valley High. Marina High and Harker School both opted out after they didn't have enough players to field a varsity team.
St. Francis will have to play Stevenson and Harbor twice this season, but the second time will be a non-league contest.
St. Francis football schedule
At King City High, 8/27 at 7:30pm
Watsonville High at Cabrillo College, 9/4 at 7:30pm
At Mission Prep, 9/10 at 7:30pm
Rancho San Juan High at Cabrillo College, 9/18 at 7:30pm
At Stevenson School*, 9/25 at 2pm
Greenfield High* at Santa Cruz High, 10/1 at 7:30pm
At Harbor High*, 10/8 at 7:30pm
Harbor High at Cabrillo College, 10/23 at 7:30pm
At Stevenson, 10/30 at 2pm
Pajaro Valley High* at Cabrillo College, 11/6 at 7:30pm
*PCAL-Santa Lucia division play