WATSONVILLE—The Santa Cruz County Sheriff's Office is reaching out to the community for help in solving a 1995 homicide in Watsonville.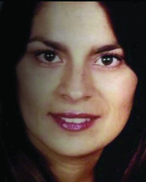 Investigators say that Gloria Hassemer's body was found along the Pajaro River Levee near the Highway 1 overcrossing on June 10, 1995. Hassemer, 41, was last seen around 4am earlier that day as she walked along Water Street near Ocean Street in Santa Cruz.
The Sheriff's Office said Hassemer may have "hitched a ride" from Santa Cruz to the Watsonville area. Her body was found later that day.
According to a story in The Pajaronian, Hassemer, who seven hours earlier had been released from county jail on a drunk-driving charge, was found bludgeoned to death by a transient on the levee around 11 a.m. Hassemer had been living at 38 White St. in Watsonville. She was a widow and a mother of two teenagers.
Deputies said then that she was arrested by Watsonville police at 9:45pm on June 9 and was released early the next morning. Deputies had not determined how she got to Watsonville as her car had been impounded.
Hassemer was 4-feet, 11-inches tall, and weighed 100 pounds. She had brown, shoulder-length wavy hair.
"We are reaching out again to the community to determine if anyone else may have seen or heard from her that day," the Sheriff's Office wrote in a social media post. "While homicides that have not been solved are often referred to as cold cases, this does not mean an investigation is over."
The Sheriff's Office emphasized that victims and families of such unsolved homicides are not forgotten and that there are ongoing efforts by the S.O. and their Investigations Unit to bring a resolution.
"In an effort to refresh the community's memory and investigate every possible lead we will begin posting the information pertaining to each open case in the event someone is ready to come forward or has information that could be helpful in our investigation," the post read.
Anyone with information related to this case is asked to call the Sheriff's Office Investigation Unit at 831-454-7635.