WATSONVILLE—On Nov. 28, Watsonville joined the annual nationwide shopping movement known as Small Business Saturday, which aims to encourage shoppers to support businesses in their community. The event had a number of small stores at the East Lake Village Shopping Center opening for special deals, as well as vendors setting up in the parking lot to sell everything from local honey to handmade ceramics.
"We had a great turnout," said Shaz Roth, CEO of the Pajaro Valley Chamber of Commerce and Agriculture. "Our restaurants were busy, there was a band playing… everyone was just enjoying a great time."
But supporting small, locally-owned businesses shouldn't end after Small Business Saturday. These shops support the economic growth of a community—especially one as small and tight-knit as the Pajaro Valley.
"If you spend money at a local business, it goes right back into our city's tax revenue… it stays here in the community," Roth said. "And these [businesses owners] are our neighbors. Our kids go to the same schools. We're all a big family… so we need to support each other."
The restrictions put in place to contain the spread of Covid-19, along with customers' hesitance to shop in-person during the pandemic, have presented even more challenges for small businesses. About 60 percent across the nation that have closed during the pandemic have not reopened, according to Yelp's Economic Impact Report. In addition, 1 in 5 small employers that received Paycheck Protection Program (PPP) loans still anticipate having to lay off workers soon, according to the National Federation of Independent Business.
California has about 4.1 million small businesses, employing 7.2 million workers—that's 48.5 percent of the state's workforce. A survey done by the Small Business Majority found that 44 percent of them have been at risk of shutting down, and that minority-owned businesses are disproportionately impacted.
But residents can take matters into their own hands. Or rather, their own wallets.
Salvador Orozco, owner of Foreverfly Skate & Apparel in Downtown Watsonville, is stocking up his store for the holiday season. On Dec. 1, he was busy organizing a large order of Santa Cruz Skateboards apparel that had just come in. He said he hopes residents will consider shopping at stores like his this year.
"It's about supporting your community," he said. "For me… I was born and raised here in Watsonville. So, supporting a small downtown business, which directly helps fund things for the city… it's important."
Orozco had to shut down for almost two months in the early days of the pandemic. He was able to receive a PPP loan, open his online store and then eventually reopen in the summer.
Orozco says he hopes people will check out Foreverfly before going out of town for their shopping.
"Before you head to Santa Cruz… [or the] Gilroy outlets, make sure to stop by here first," he said. "It's never super crowded, you could be in and out in less than 15 minutes, with no lines. With everything going on, you don't know what to expect going out of town these days."
And it's not just small businesses that are selling. Local nonprofits, which have also taken a big hit from Covid-19, are utilizing the holiday season to offer gifts which directly support them. This includes Watsonville's Farm Discovery at Live Earth, which is offering a limited release gift set, including Live Earth Farm apples and products from Terroir in a Jar, a local company that develops products for farmers using imperfect or excess produce.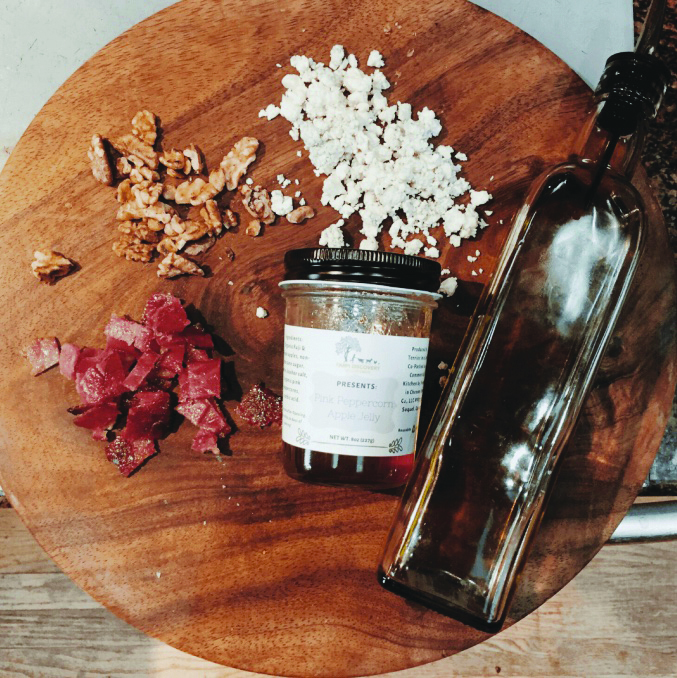 Executive Director Jessica Ridgeway said that shopping locally is not only good for the economy, but also for the environment. The gift sets are unique, she says, in that they are "truly local."
"They are made in a local kitchen by local hands and their sales support reinvesting all that work back in our own community," Ridgeway said. "It's a triple-bottom line benefit, good for the community, good for the earth and good for our economy."
For a gift guide featuring small businesses to support this holiday season, go here.