SANTA CRUZ COUNTY—Santa Cruz County on Tuesday moved into a less restrictive tier of the state's new Covid-19 reopening plan, allowing some businesses to reopen their indoor services with capacity limits and other modifications.
Personal care services such as waxing, nails and massage therapy, restaurants, places of worship, movie theaters, gyms and fitness centers, along with museums, zoos and aquariums can be open indoors with various modifications put in place to slow the spread of Covid-19.
Movie theaters, for example, must keep their max capacity to 25% or 100 people, whichever is fewer. They must also create a reservation system to avoid overbooking and reconfigure, close or remove seats to ensure physical distancing, among other things.
For industry-specific guidelines click here.
Santa Cruz and four other counties, including neighboring Santa Clara, moved from the purple "Widespread" tier to the red "Substantial" tier after meeting the criteria of the less restrictive level for 14 consecutive days. The county, according to state data, had a case rate of 5.3 daily new cases per 100,000 residents and a test positivity rate of 3.8% during the week of Aug. 28.
The limits for the "Substantial" tier are 4-7 daily new cases per 100,000 residents, and a positivity rate between 5-8%. If a county's case rate and positivity rate fall into different tiers—as Santa Cruz County's does—the county is placed in the stricter tier.
Counties will be reevaluated every Tuesday. If a county's metrics worsen for two consecutive weeks, it will be moved to a more restrictive tier.
There are two less restrictive tiers below "Substantial": the orange "Moderate" and yellow "minimal." For Santa Cruz County to move to "moderate," it must remain in the "Substantial" tier for at least 21 days.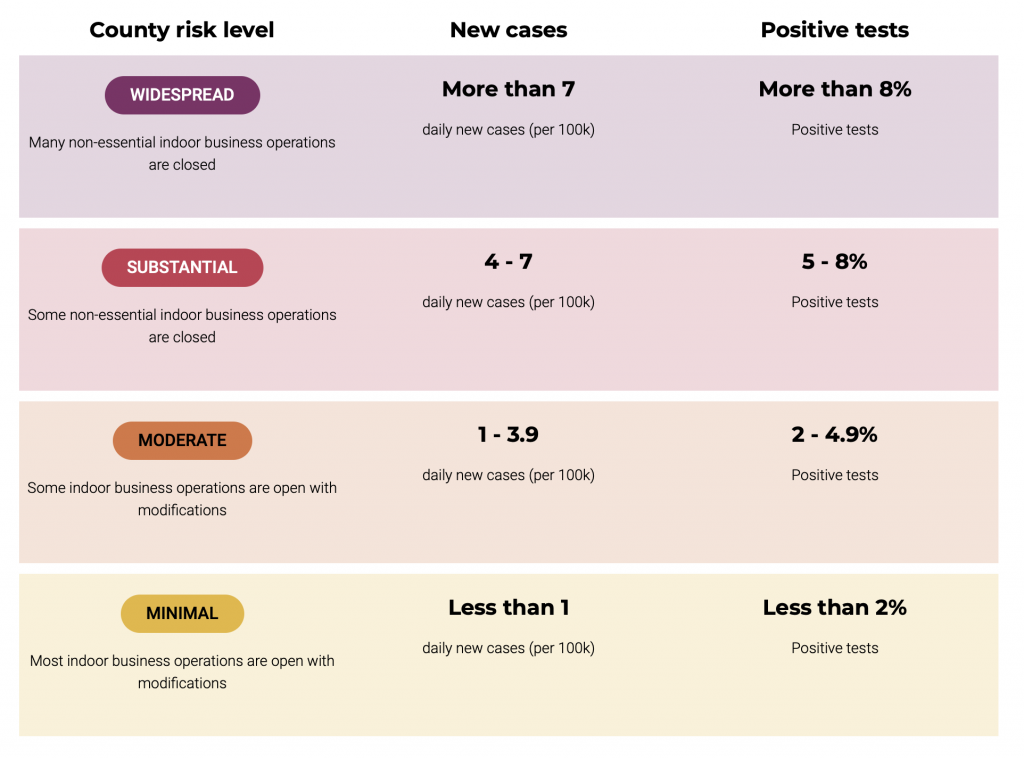 Schools cannot reopen for in-person instruction until the county has been in the "Substantial" tier for two weeks, meaning no county schools may open for in-person instruction at this time.
Local school and health officials can decide to open elementary schools, and school officials can decide to conduct in-person instruction for a limited set of students in small cohorts.
The Pajaro Valley Unified School District Board of Trustees in late August voted to keep its students home for the entire fall semester.
As of Tuesday morning, there were 198 active Covid-19 cases in the county. There have been 1,931 reported cases and at least 1,726 people have recovered. Seven people have died.
Tracking the spread
The County's online interactive dashboard recently received a major facelift that allows users to dive deeper into how the novel coronavirus is spreading.
According to the updated dashboard, workers on the front lines of the Covid-19 pandemic (those in agriculture, construction, maintenance and service industries, among others) make up 34.07% of the Covid-19 cases in Santa Cruz County. But that demographic is eclipsed by unemployed or retired residents who make up 38.33% of the county's known cases.
Those who are unemployed or retired are rarely contracting the virus in the community or while traveling. Most in that population are falling ill through person-to-person contact in the household. Unemployed or retired residents that have contracted Covid-19 in the household make up 26.34% of the county's cases—by far the largest percentage attributed to one combination of demographic and source of exposure.
Those numbers underscore the words of County health officials who have repeatedly said the majority of the spread is happening in the household. That has not been good news for densely-populated Watsonville, which has roughly 10,000 fewer residents than Santa Cruz but is about half the size of its fellow Santa Cruz County city.
More than half of the county's Covid-19 cases (1,078) have been reported in Watsonville, even though the city holds only 18.7% of the county's population. Santa Cruz, in comparison, holds 21.9% of the county's population but has accounted for just 17.04% of the county's Covid-19 cases (329).