SOQUEL—Santa Cruz County Sheriff's deputies on Thursday arrested a man after finding a massive amount of illegal drugs and firearms in his Soquel residence.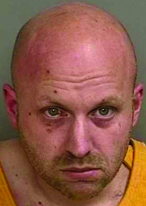 Eli Burry, 39, was charged with possession of narcotics for sale, possession of a controlled substance while armed and weapons violations. He was booked into Santa Cruz County Jail in lieu of $1 million bail, jail records showed.
According to sheriff's spokeswoman Ashley Keehn, detectives with the Narcotics Enforcement Team served a search warrant at Burry's residence on the 2700 block of South Main Street in Soquel.
During the search they found nearly one pound of methamphetamine, in addition to packaging material and scales.
The detectives also found 13 firearms, which included two classified as unregistered assault weapons, two shotguns, several handguns and more than 5,000 rounds of ammunition.