WATSONVILLE—A new coffee shop has opened on Aviation Way, rounding out the Watsonville Hangar business complex that has been growing steadily the past couple of years.
Honeylux Coffee is a specialty coffeehouse offering its own signature blend of java, as well as espresso drinks, teas, pastries and more.
Married couple Ashley Malone and Travis Nelson had just lost their jobs due to the pandemic when they began exploring new career paths.
"I think a lot of people went through this," Malone said. "Asking, 'Is this the time to change course, find a new career? What do we really want to do?'"
Nelson's father, knowing his son's passion for coffee, was the one who planted the seed of the idea. He had heard there was space at the Hangar and that the owners wanted it to be filled with a coffee shop, so he encouraged the young couple.
"We were hesitant at first," Malone said. "It seemed like a really bold move. We didn't have any idea what we were doing. But the more we talked about it, and actually came to look at the space … the vision came to life."
Nelson had gained knowledge and experience in the field working at a restaurant in Florida, where he and Malone attended college together, and then at Verve Coffee Roasters in Capitola when they moved back to California.
"[Verve] is where I really got into specialty coffee," Nelson said. "I learned a lot, working there."
Honeylux sources its coffee from Santa Cruz roaster 11th Hour. Malone knew owner Brayden Estby, who had started up the venture with his brother Joel, from middle school. Together they created a signature Honeylux coffee, made from a blend of Columbia and Guatemalan beans.
"It's a 50/50 blend," Nelson said. "The Costa Rican is a bit lighter, floral and fruity. The Guatemalan is more traditional. When you put them together it creates a really nice balanced coffee. It's something traditional and specialty coffee drinkers alike can enjoy."
Honeylux is located at the end of the Watsonville Hangar complex, which also includes Beer Mule, Zameen at the Hangar, Mr. Z's Crepes and Teas, Aloha Hola and Ritual Ride Cycle Studio. Malone said they have been welcomed with open arms by the burgeoning hub.
"We have to give credit to the people who have been here in this space before us, [they] made it what it is," she said. "This has already cultivated such a great community. For us to be part of that, and the fact that everybody's been so welcoming, [they] embraced us … We, hopefully, can build on that rapport with everyone, and keep building onto that community, that trust."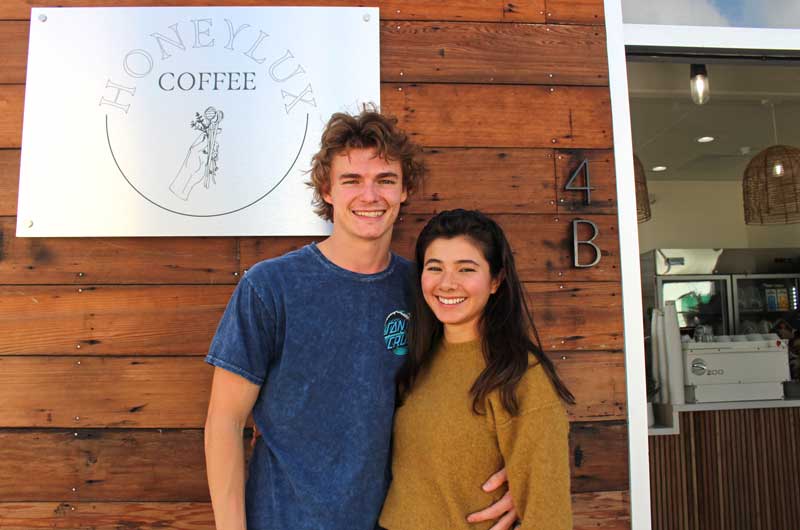 Nelson said they wanted to bring "a different type" of coffee shop to Watsonville, where people can have an experience beyond just picking up a cup on the go.
"You want to be excited about the place you're in," Nelson said. "A place you want to stay and hang out."
As for its name, Malone says they were looking for something "ethereal" and unique. Both 'Honey' and 'Lux' were potential names, before they chose to just put them together.
"'Lux' means 'light in Latin.' So basically it means 'sweet light,'" Malone said. "The color and feel of that … it just ties into everything."
Added Nelson: "I thought it would be a good idea to have something that no one else had. We could stand out a bit more."
Honeylux Coffee, 45 Aviation Way Ste. 4B, officially opened on Oct. 15 with a special Grand Opening celebration. The shop has been attracting more customers each day, Malone said, many who have heard about it by word of mouth.
"I want people to come and enjoy themselves, let this be a place of meeting and celebrating," Malone said. "We've already had so many people who have brought back their friends and family."
Nelson said he was excited to further specialty coffee in Watsonville.
"A lot of people grab a coffee and say 'Oh this is good! It tastes so different!'" he said. "That's really cool to hear."
For regular updates follow Honeylux on Instagram @honeyluxcoffee.