SALINAS—Watsonville High freshman Katelynn Ruiz was the first runner to cross the finish line to help lead the Wildcatz to a team win in the Pacific Coast Athletic League Cypress Division Center Meet No. 3 on Wednesday.
Ruiz won the 3-mile race in 19 minutes, 38 seconds at Toro Park in Salinas.
Christopher High junior Sarah Arcelo (20:16) placed second and Wildcatz junior Dahlia Barranco (21:00) was third.
Watsonville posted a team score of 36, followed by Santa Catalina (62), Monterey (68), Rancho San Juan (89) and Christopher (99) to round off the top five.
Watsonville senior Dominique Cervantes-Samudio (22:29) took ninth to post a top-10 finish, followed by Juniors Edith Rodriguez (22:57) in 14th and Ana Ruiz (22:58) in 15th for the Wildcatz.
Next up, Watsonville is scheduled to compete in the Terry Ward Bellarmine Invitational on Saturday before it heads into the PCAL Championship at Toro Park on Oct. 30.
Ramirez wins Santa Lucia race: St. Francis sophomore Monserrat Ramirez took first place in the PCAL Santa Lucia Division No. 3 Center Meet on Wednesday.
Ramirez finished in 20:00, outrunning 27 other runners in the 3-mile course at Toro Park in Salinas. Pacific Collegiate School sophomore Rosa Paten (21:29) took second and junior teammate Sophie Mateja (22:39) took third.
St. Francis juniors Arianna Fernandez (27:27) took 16th and Claire Burke (28:08) was 19th for the Sharks, who have an incomplete team.
PCAL Mission Center Meet: Monte Vista Christian School junior Caelan Gilliam placed fourth out of 42 runners at Thursday's PCAL Mission Center Meet No. 3 at Toro Park in Salinas.
Gilliam finished the 3-mile course in 21:10. Carmel sophomore Christiana Kvitek won in 20:18, helping the Padres secure the team win with a score of 15.
Freshman Kylie Brunelli took seventh in 21:35 for the Mustangs, who had an incomplete squad.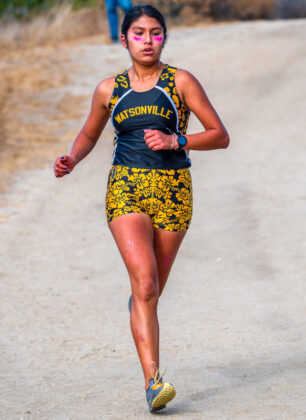 Boys cross country
PCAL Cypress Center Meet: St. Francis senior Julian Vargas took third in the PCAL Cypress Division Center Meet No. 3 at Toro Park in Salinas on Wednesday.
Vargas completed the 3-mile course in 16:57, finishing behind York senior Michael Julian in a blazing 15:18 mark and Marina senior Steven Aspeitia in 16:43.
Junior Santiago Ramirez (18:31) took 11th for the Sharks, who had an incomplete squad.
Watsonville senior Sebastian Abonce (17:27) took fourth and senior teammate Emanuel Renteria-Garcia (18:04) took sixth to help the Wildcatz win the meet with a score of 38.
Watsonville senior Daniel Mata (18:38) took 12th, sophomore Eli Romero (18:49) placed 14th and Rodrigo Barranco (18:50) finished 15th.
The Wildcatz (38) were followed in the standings by Soledad (65), Rancho San Juan (68), Monterey (85), York (113) and Pacific Collegiate (127).
PCAL Mission Center Meet: MVC junior James Ponzio placed second out of 53 runners in the PCAL Mission Center Meet No. 3 on Thursday.
Ponzio finished the 3-mile course at Toro Park in 16:12, just behind Gilroy senior Nicholas Guzman (15:58) and slightly ahead of Carmel junior Aiden Tarantino (16:32).
Seniors Michael Martin (18:26; 19th) and Koen Vandenberg (18:52; 28th), junior James Rose (18:54; 29th) and sophomore Aarush Nalawadi (19:19; 35th) all scored for the Mustangs.
MVC finished with a team score of 105 for fifth place, finishing behind North Monterey County (42), Gilroy (88), Hollister (97) and Carmel (98) and ahead of Everett Alvarez (108), Stevenson (141), Seaside (188)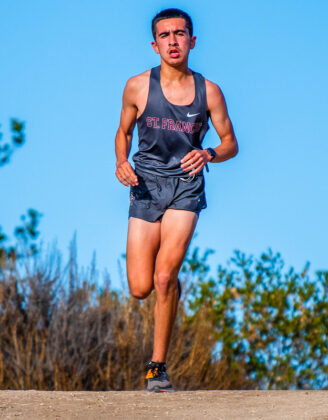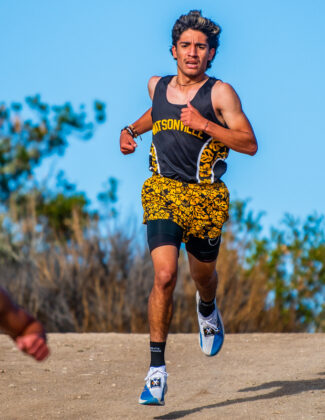 Girls tennis
Aptos 6, Santa Cruz 1: Holly Hegna, Autumn Zaretsky and Ashley Lavender earned singles wins in straight sets for the Mariners in their win against the Cardinals on Thursday.
With the win, Aptos remains atop with a 6-1 record in the Santa Cruz Coast Athletic League standings.
Hegna beat Sasha Wolfsen 6-3, 6-2 in the No. 2 spot and Zaretsky knocked off Annelisa Timar 6-2, 6-3 at No. 3.
Santa Cruz High's Tallia Harper, the three-time SCCAL champ, remained unbeaten with her 6-0, 6-0 win over Rebecca Fuller.
Annika Lee and Madison Phillips, Chloe Chausse and Taylor Hilger, and Jilliane Beltran and Erin Schmidt earned doubles wins in straight sets for the Mariners, who host Soquel (5-2) on Tuesday at 4 p.m.
The Mariners and Knights shared the league title in the spring.